Trading Update May 21st
The S&P index hit all time highs and pulled back soon after again in a remarkably similar day when compared to yesterday's trading session. We had a mixed bag across all sectors with the Financials remaining in positive territory and some of the High Flyer/Internets pulling back.
We're noticing weekly call premiums starting to decrease as the volatility comes out & people have started slowing down on a lot of the buying activity. Sell these premiums worked well today in many of the high volatile names but it is a risky strategy since you are basically trying to pick a top. Luckily, for the savvy tape reader out there, writing options can be a very powerful strategy for environments like this.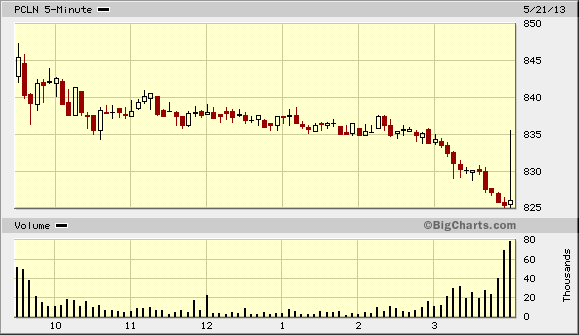 One thing you have to keep in mind is that, from the morning hours, this stock was basically on a 140 point run for the month of May. Now, think about the Google (NASDAQ: GOOG) price target increase to $1,000 signalling the temporary high for its equally substantial run up. Same thing is happening here. When the last retail sucker is in the game and people are paying ridiculously high premiums for the volatility, that's when the shit hits the fan. Take a look at this $850 Weekly Call I was able to write this morning ABOVE $9.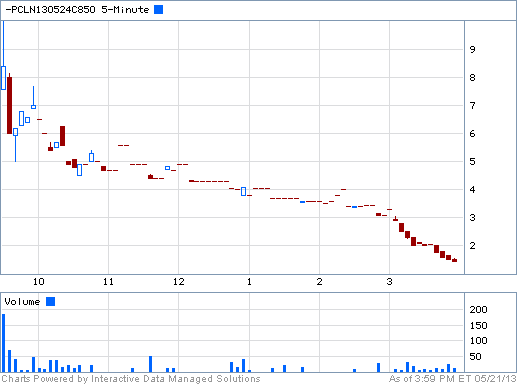 So what you see above is everyone EXPECTING further continuation higher on the stock AND already paying for that same move. Add $9 on top of an $850 strike and what you have is a lot of people betting on more all time highs. Once the tape no longer supports that theory though, the first to recognize this can get some serious bang for their buck!
What I'm focusing on for the near future is the short opportunity and that one 200 point DOW drop which will be upon us soon enough. I'd like to capitalize on shorts in Netflix (NASDAQ: NFLX), Priceline, (NASDAQ: PCLN) & Google but will be patient and will let the tape tell me when.
If you missed our webinar on Tape Reading the other day, make sure to check it out as well as all of our other free video content!
The following article is from one of our external contributors. It does not represent the opinion of Benzinga and has not been edited.
Posted-In: Options Markets Trading Ideas
View Comments and Join the Discussion!