Pleading The 25th: Critics Invoke Little-Known Amendment To Oust Trump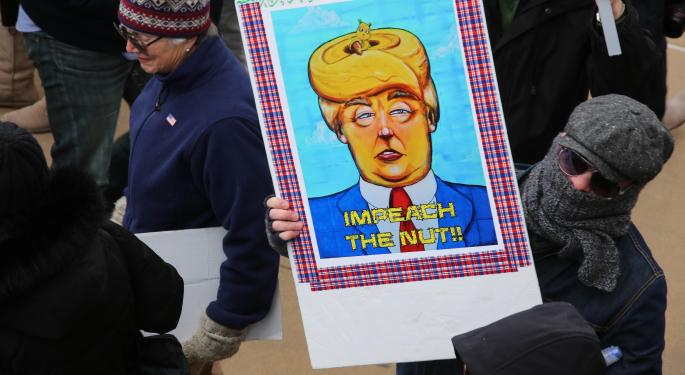 The 25th Amendment to the U.S. Constitution, passed after former President John F. Kennedy was assassinated to ensure a smooth transfer of power if a president dies or is considered unfit, has suddenly become a serious topic of conversation surrounding President Donald Trump.
For all the talk of impeachment, which is decided by the U.S. House if a president commits an illegal act, pundits are batting around the 25th because of questions about the president's erratic behavior, inconsistencies in policy and outbursts on social media.
New York Times conservative columnist Ross Douthat raised the prospect of invoking that particular amendment last week, and the chatter over the idea has only increased.
He wrote that a president needs "some basic attributes: a reasonable level of intellectual curiosity, a certain seriousness of purpose, a basic level of managerial competence, a decent attention, a functional moral compass, a measure of restraint and self-control."
"Trump is seemingly deficient in them all," he wrote, adding that Trump has a serious and damaging "incapacity to govern."
What It Takes To Plead The 25th
Loads of commentators weighed in, both pro and con.
Charles C.W. Cooke of the conservative National Review was aghast at the suggestion and addressed Douthout head-on, arguing that the move cause the country to lose its composure.
"[I] think that missing from Douthout's piece is a serious attempt to grapple with just how much of a psychic shock such a move would inflict upon this country — especially on those voters who backed and liked Donald Trump," he wrote.
Under the law, Trump's removal from office would start with Vice President Mike Pence, who would need a majority of the Cabinet to declare Trump unfit and ask Congress to remove him. If Trump refused to step down, each chamber would need to pass the measure telling Trump "You're fired" by two-thirds of the vote.
It states explicitly that the president can be discharged by the Cabinet's "written declaration that the President is unable to discharge the powers and duties of his office."
Congress passed the measure in 1967 because the Constitution used ambiguous wording on the line of succession if a president dies or becomes physically or mentally incapable of doing the job, with advocates of using the amendment on Trump presumably considering him belonging in the latter category.
Congress felt the need for clarity following the murder of Kennedy. Vice President Lyndon B. Johnson had once suffered a heart attack and the next two people in line were House Speaker John McCormick, 71, and Senate President pro-tempore Carl Hayden, 86.
Trump's Troubles Affecting His Ability To Govern?
Trump's missteps, dizzying changes of position, angry outbursts on Twitter Inc (NYSE: TWTR) and failure to fill key roles in important agencies have given his critics enormous ammunition and confounded his fellow Republicans, whose inability to pass a budget proposal, a healthcare law and a tax overall are often blamed on the president's careening behavior.
FBI Director James B. Comey, who was leading a wide-ranging investigation into whether the Kremlin colluded with Trump aides to sabotage the the candidacy of Democrat Hillary Clinton, was fired after Trump purportedly told him to back off on the investigation, which the White House denies.
Complicating matters for Trump are allegations that he bragged one day later about sacking "nut job" Comey to Russian Foreign Minister Sergei Lavrov, and then spilled information about a highly classified espionage operation that may have compromised an intelligence asset.
The Justice Department appointed former FBI Director Robert Mueller as a special counsel overseeing the Russian-Trump investigation, which is expected to characteristically thorough and in fact may take many months, if not years.
Related links:
Special Prosecutor Holds Key For How Trump Impeachment Might Unfold
Former Nixon Library Historian Has Familiar Feeling About Trump
_________
Image Credit: By Paul Sableman (Impeach the Nut!!) [CC BY 2.0 (http://creativecommons.org/licenses/by/2.0)], via Wikimedia Commons
View Comments and Join the Discussion!
Posted-In: 25 Amendment 25th Amendment Carl HaydenFutures Politics Top Stories Markets General Best of Benzinga