China Calls US Pressure on Yuan 'Unwise & Short-Sighted'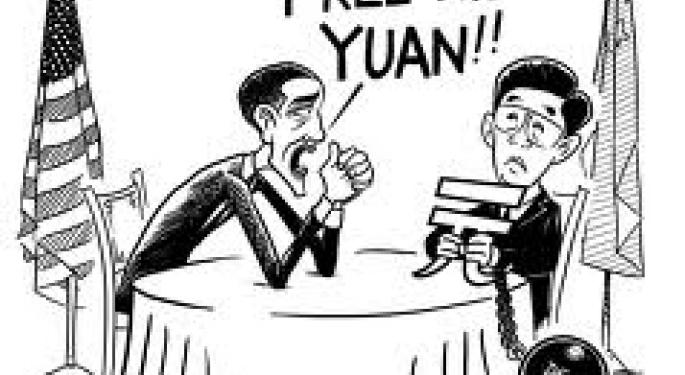 China said on Tuesday that US pressure on Beijing to boost the value of the yuan was "unwise and shortsighted", after President Barack Obama criticized the country's exchange rate policy yesterday, reported the AFP. This can be interpreted in China-speak, that the criticism is working.
"Recently, there have been some non-harmonious voices in the US criticizing the yuan exchange rate," foreign ministry spokeswoman Jiang Yu said in a statement on the ministry's website.
"Some in the US are even bringing up using all possible means to push yuan appreciation. This is unwise and shortsighted," she said.
On Monday, Obama warned Beijing that the the US-China economic relationship must be a "two-way street." Obama charged that the yuan "is valued lower than market conditions would say it should be."
The Obama administration maintains that Beijing is keeping its currency artificially low against the dollar to make its exports more competitive, and is getting frustrated over the lack of progress.
Beijing pledged in June to raise the value of the yuan, which is pegged to the dollar Since then the currency has gained only about 1.9 percent against the greenback.
"They have said 'yes' in theory but in fact they have not done everything that needs to be done," said Obama, ahead of a meeting with Chinese Premier, Wen Jiabao, later this week in New York.
Posted-In: China currency exchange ratesNews Futures Currency ETFs Economics Markets
View Comments and Join the Discussion!