Has China Found The Bottom?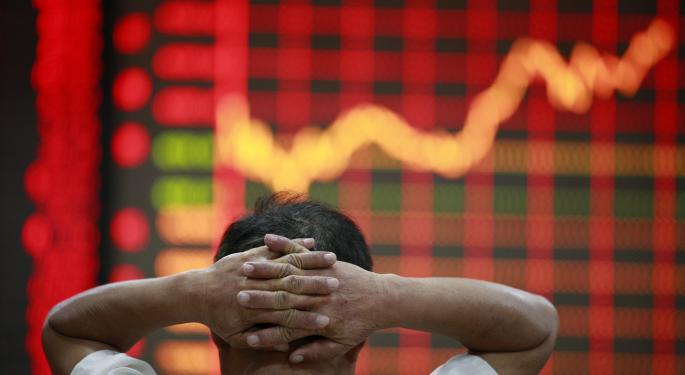 There's a strong contender for the best chart in financial markets right now.
During the financial crisis of 2008, China implemented monetary stimulus that would make Paul Krugman blush and didn't stop until M2 money supply expanded 30 percent year over year in late 2009.
Since then, China has steadily reigned in credit and M2 growth is now a mere 14.7 percent year over year. The U.S., on the other hand, was slower to stimulate its economy during the crisis but has kept the monetary spigots wide open ever since.
China Large-Cap ETF (NYSE: FXI) / S&P 500 ETF (NYSE: SPY)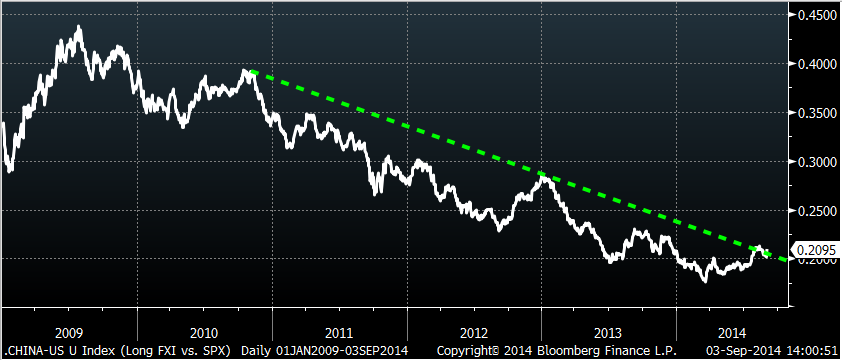 The differing approach to economic recovery is evident when looking at the ratio of Chinese versus U.S. large-cap equities. The U.S. has outperformed China very steadily since 2009.
However, recently Chinese stocks have accelerated and it looks as though the bottom has been put in place. The position recently broke through its three-year trend line, and there are fundamental reasons to believe it will move much higher.
Related Link: Ukraine Should Have Seen The Russian Invasion Coming
The Fed has made it exceedingly clear that QE3 will expire in October, and higher interest rates should be expected after that. Meanwhile, the Chinese have been engaging in a form of "stealth stimulus" since April. Some of the stimulus has been fiscal, including tax breaks for small enterprises, targeted infrastructure outlays and incentives to encourage lending in rural areas.
In addition, Citigroup has described the PBOC's approach to monetary policy as "qualitative easing," where the central bank adds riskier assets to its balance sheet without increasing its size. The new measures are already starting to show up in economic data, notably China's July manufacturing activity rising at its fastest pace in more than two years.
This is not to say that Chinese stocks will rise while U.S. equities decline, but rather that China should outperform given the forecasted policy environment going forward.
In this case both the fundamentals and charts have aligned to create what should be a slow and steady appreciation higher.
Tags: China Paul Krugman
Posted in: Forex Global Economics Markets Best of Benzinga