Find Price Action Within the EURUSD
A lot of new traders start off adding one indicator to their chart, then another, and another. What is it about these squiggly lines that gets people all excited? Are they colorful on the chart? Does it make nice artwork? No, they are looking for answers, the reason behind the next move of an asset. The astonishing thing is, the candles on the chart tells you more than enough information. This information will lead you to better decision making over the long run. Why go overboard with trading indicators when price action is all you need. You can get a complete definition of price action here or you can search other online outlets.
Deciding where to enter a trade will be your first real big goal to conquer. It's getting to this point which takes the time and patience. To help you get there, you'll need to understand price action. Over the past year, traders at binaryoptiontrading.com have been using an area of support and resistance that shows up quite frequently. This has only been followed on the EURUSD, but may be found on other currency pairs as well. When price hits, what they call "the 42"; price has a tendency to stall in the direction it was going and then reverse. It's not always exact, but it's quite incredible of the reaction it gets. For example, recently price has been working it's way around the 1.34420 area. As price comes up or down to this price point, seller or buyers move in.
Using the chart below we will break this down into finer detail. Notice how price was trading below the 1.34420 purple line for about 5 hours. It eventually made it's way up to this line. As soon as the buyers pushed price to this level, the sellers moved in and took over. Actually, in this case you can see the fight that occurred on the 5 minute candlestick chart. For about 45 minutes the fight continued and eventually the reversal worked, pushing down the EURUSD to new lows. The whole number 1.3400 is a another sample of price action, but this can be covered in another article all by itself.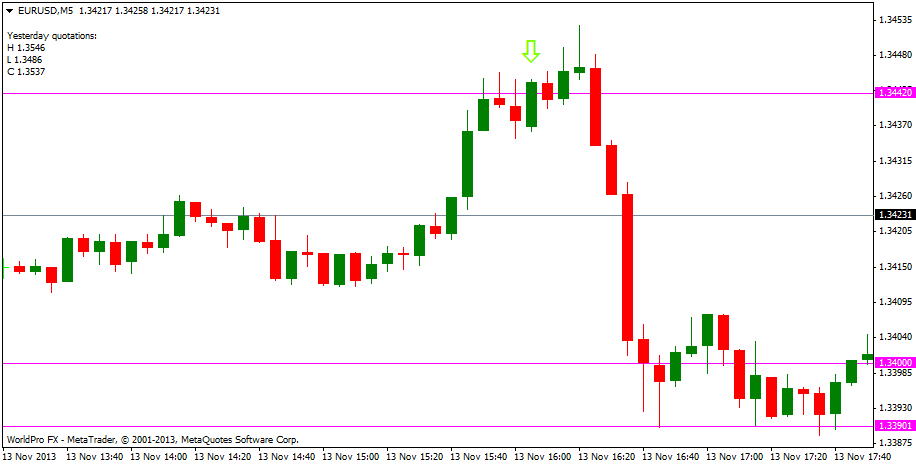 It's important to remember that price will not react the same every time it hits this area. Sometimes it will turn before it hits the number, or push through. It's not an exact, but it gives traders an area to watch price action perform some magic. Also, there are other caveats to consider when trading around this level, but it's best to read up on this from the site mentioned above.
Developing a trading strategy is quite difficult. If you're able to open your mind to support and resistance you'll learn that there are many different ways to trade. Over time, you will stop using indicators and just let price help you find a good trade. The next time you are watching the EURUSD, mark a line on your chart right at this level "the 42" and see what happens. As long as you give it an open mind you can at least determine for yourself of whether you want to add this method to your trading toolbox.
The preceding article is from one of our external contributors. It does not represent the opinion of Benzinga and has not been edited.
Posted-In: Forex Markets Trading Ideas
View Comments and Join the Discussion!