UK CPI Preview: Inflation Set To Decelerate, Still Way Off BoE's Target In February
The Consumer Price Index (CPI) is expected to have decelerated to 2.8 percent y/y in February with core inflation seen decelerating to 2.5 percent over the year in February, the Office for National Statistics (ONS) is due to announce on Tuesday, March 20 at 8:30 GMT.
With inflation in the UK coming out at 2.8 percent y/y in February, the actual CPI will fall just below the Bank of England staff forecast of 2.9 percent y/y.
The UK CPI has been rising at 3.0 percent y/y pace for last two months since December after inflation peaked at 3.1 percent in November last year. The main reason for the UK inflation to decelerate from the recent peak is inflation development one year ago, that has increased the basis for comparison with current year-to-year growth rate actually decelerating in what is known as a base effect. The base effect relates mainly to food and transport prices and Sterling's recent appreciation that is lowering the import prices. Twenty months from the fatal Brexit referendum and subsequent steep and profound Sterling's depreciation, negative exchange rate effects on UK inflation should be all absorbed.
Analysts from Nomura expect the oil prices and Sterling's appreciation effect to push the inflation in the UK lower by almost 1 percent over the year.
With inflation decelerating and getting closer to the Bank of England 2 percent inflation target, the probability of rate hike in the UK as early as this May increases. The Bank of England lowered its short-term inflation forecasts in February Inflation Report saying that "sustained above-target inflation remains almost entirely due to the effects of higher import prices following sterling's past depreciation. These external forces slowly dissipate over the forecast, while domestic inflationary pressures are expected to rise."
At the same time, the Bank of England said that "monetary policy would need to be tightened somewhat earlier and by a somewhat greater extent over the forecast period than anticipated at the time of the November Report" lifting the rate hike expectations to May 2018. With the change in the number of expected rate hikes for the mid-term horizon of next three years from two 25 basis points rates hike to three 25 basis points, Sterling expected to be boosted although short-term Brexit deal related headlines dominate the news.
Should the UK inflation decelerate more than expected, the probability of May rate hike increases, especially in combination with positive Brexit deal-related news and further increases of nominal wage growth that is due to be delivered by the ONS this Wednesday.
A decade of UK inflation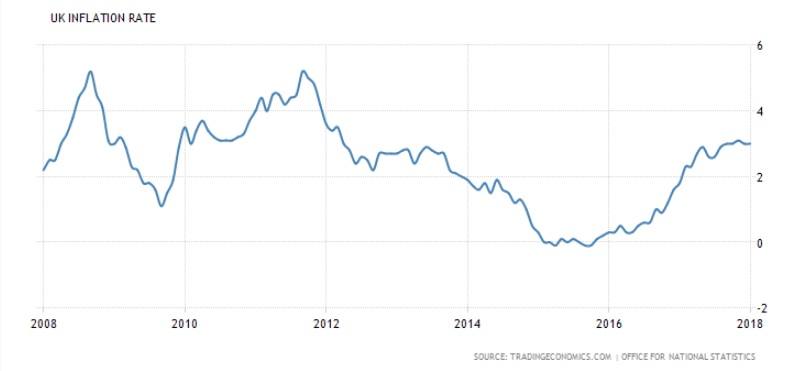 View Comments and Join the Discussion!