How Do We Quantify An Emerging Market?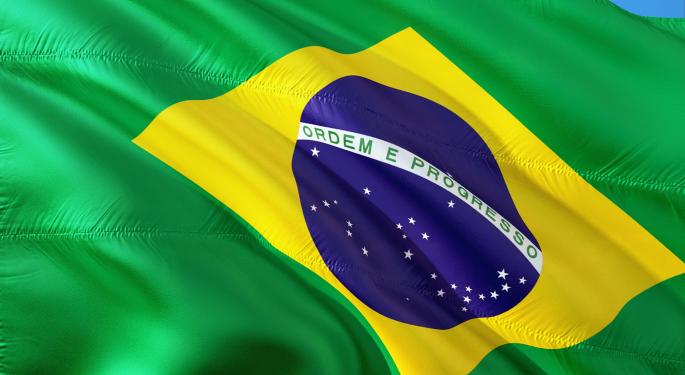 As one of Wall Street's favorite buzzwords, the term "emerging market" gets thrown around quite a bit. Broadly defined, an emerging market is a country whose business and financial infrastructure is somewhere between being underdeveloped (like, say, Kenya) and highly complex (like the United States). Within that spectrum, those nations whose economies are experiencing strong or rapid growth toward a more globalized and technical form are generally labeled as emerging markets.
That is an extremely broad metric. And from a cursory examination of various emerging market funds, it can also be highly arbitrary. Some indexes include certain countries that others do not, only adding to the uncertainty investors can find themselves feeling when investigating emerging market investments.
While there are differences in opinion on what hard numbers quantify an emerging market, there are particular figures most indexes look at when determining whether a particular nation qualifies. Those figures typically include statistics on the nation's economy, like Gross National Income (GNI) and Gross Domestic Product (GDP) as well as figures on the strength of the country's equity market like the average value and market cap of their businesses.
Again, these figures will vary from index to index. However, for reference, let's take a look at one of the most widely tracked emerging markets indexes, equity provider MSCI. You can get a full picture by reading MSCI's full rundown of its market classification standards. For now, we'll just cover the basics
For starters, the MSCI Emerging Markets Index index includes 25 nations across four continents.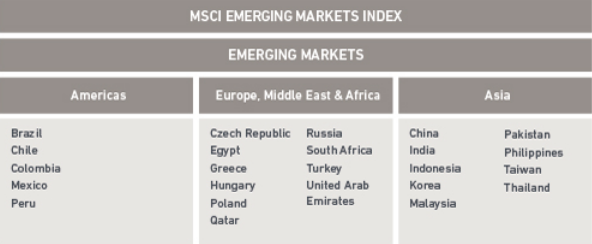 Table from www.msci.com/emerging-markets
MSCI issues these designations based on market-wide categorization standards. The majority of these standards analyze the minimum size, value and scope of all companies traded on each country's exchange.
Even within the broad emerging market category there are tiers. For example, the countries with the top three weightings in the Direxion Daily MSCI Emerging Markets Bull (EDC) and Bear 3X (EDZ) Shares are all from Asia: China (24.35 percent), South Korea (15.6 percent) and Taiwan (11.97 percent).
To be categorized as emerging, a the total market capitalization of a country's exchange must be between $1.26 billion and $2.52 billion. Additionally, the total size of the securities available on the exchange, its total float market cap, must be between $630 million and $1.26 billion and its Annualized Traded Value Ratio, a measure of security liquidity based on average price and free-float market cap, must be between 15 and 20 percent.
Among the less quantifiable criteria used by MSCI, the company also analyzes qualitative information relating to a nation's global economic infrastructure. To be included in the emerging markets index, a nation should have "significant" ease of capital in- and outflows as well as openness to foreign ownership of businesses. Additionally, the efficiency of its businesses operational framework, the reliability of corporate policies and standards, must be "Good and Tested" with only "modest" or minimal instability within the country's institutions, such as corruption or insufficient regulation.
While MSCI's criteria for inclusion as an emerging market are different from that of FTSE International, which includes 22 countries, or Nasdaq's, which covers 21, these criteria are roughly similar. In each case, there are often multiple rounds of review and reassessment to determine whether a country fits within the index's stated range of qualifications. Often, this can also include further sub divisions or classifications into adjacent classifications.
Photo credit: public domain
Posted-In: direxion Direxion Funds Emerging Markets emerging markets ETFsEmerging Markets Emerging Market ETFs Markets ETFs
View Comments and Join the Discussion!