Boeing's Deal With Iran: More Than Just Selling Airplanes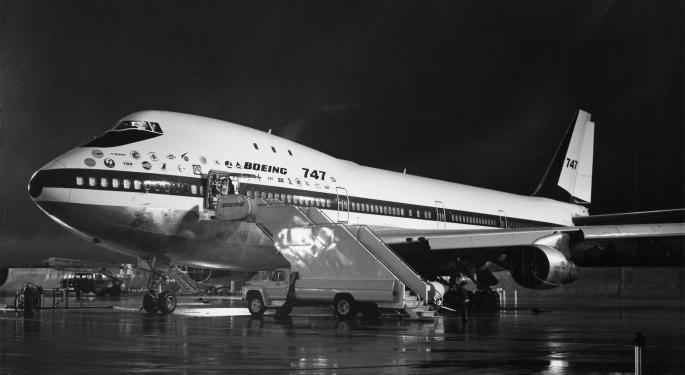 Boeing Co (NYSE: BA) and the government of Iran have signed a provisional agreement for the sale or lease of more than 100 of Boeing's aircraft to the country's national carrier in a deal valued at around $20 billion.
If the deal is finalized, Boeing will naturally benefit from the price tag of the deal but Iran's government and economy would be an even big winner.
According to NPR, a deal with Boeing could encourage other international companies to open up to the possibility with doing business with Islamic Republic, which still remains labeled as a state sponsor of terrorism by the U.S. Department of State.
The First Major U.S. Company To Engage Iran
Boeing is the first major U.S.-based company to engage with Iran since international sanctions against the country were eased in exchange for Iran's pledge to end its nuclear program.
However, there are still many sanctions still in place against Iran, especially among banks. As such, a deal with Boeing would need to be done without using U.S. dollars or any U.S. financial system.
Related Link: Boeing, Airbus Talks With Iran "Ongoing"
NPR quoted Elizabeth Rosenberg, a worker at the U.S. Treasury Department, as saying all eyes are on Boeing to see if it can find a way to conclude its business deal without violating the remaining trade sanctions.
"The real test will be to see if Boeing is able to carry this deal through, will they be able to work out the financing," Rosenberg told NPR. "That's a huge 'if,' that's probably the hardest part of this."
Rosenberg added that a successful deal with Boeing may imply that the nuclear agreement is fair, and Iran would be more likely to stick with it.
"Having this kind of very large deal go through with a lot of support from the U.S. Treasury, it becomes a measure of insurance for longevity for the nuclear deal," she added.
View Comments and Join the Discussion!
Posted-In: Boeing Iran Elizabeth RosenbergEmerging Markets Politics Travel Markets Media General Best of Benzinga