Post-Brexit, Save Over $100 Daily On A Visit To London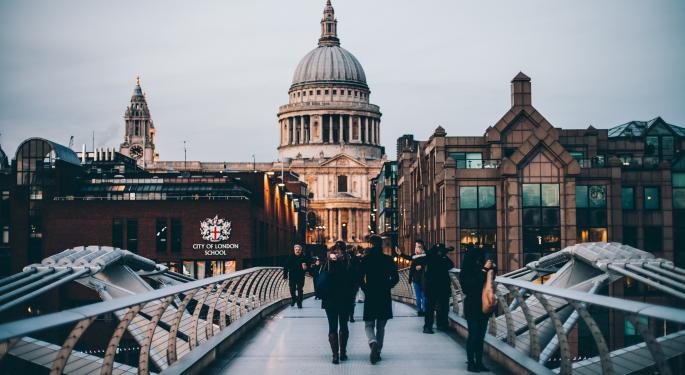 London is one of the most expensive cities in the world to live in and visit.
According to the UK-based Telegraph, London ranked the sixth most expensive city in the world — its highest level on the "Worldwide Cost of Living" survey since 2007, when it ranked third at that time.
However, it is now cheaper to visit London following the collapse of the country's currency, the British pound, on the heels of the Brexit voting results.
Travelers to London would need to fork over $1.50 to buy one British pound on June 23, which was the day the British people voted on the country's status within the European Union.
As of Thursday morning, it now costs $1.30 to buy one British pound. The currency collapsed after the Brexit vote, as the country decided the fate of the country is better served without un-elected politicians in Brussels having a certain degree of veto power over British lawmakers and politicians.
Related Link: London Fintech Companies See Bleak Outlook Following Brexit
However, the decision to leave the European Union also places a large degree of uncertainty over the country's trade policies with major partners across the world.
For the time being, travelers to London could save some serious cash through every day activities, at least according to CNN Money. For example, a stay at the luxurious Langham hotel now costs $387 a night, but pre-Brexit the 5-star hotel would set you back $450 a night.
A £20 taxi ride is now $5 cheaper than it was just a few short weeks ago, while two tickets for "Kinky Boots" is $34 less.
CNN Money stated that a full day of activities in London should be approximately $130 cheaper. Travelers can pocket the extra cash or take advantage of the savings and splurge on afternoon tea at the Ritz.
View Comments and Join the Discussion!
Posted-In: Brexit Brexit Vote cnn moneyEmerging Markets Travel Markets Media General Best of Benzinga