South Korea Might Be The First Country To Activate The Mass-Market Adoption Of Blockchain Technology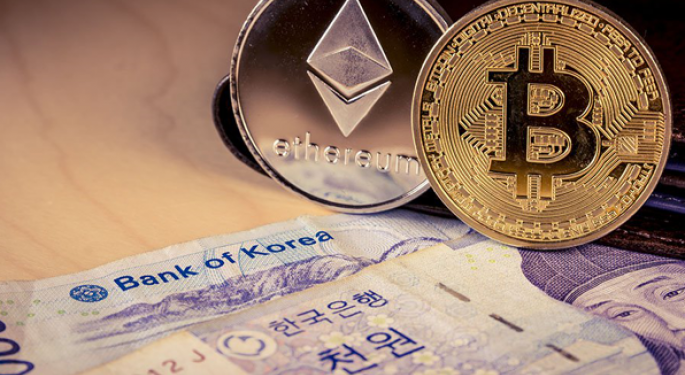 If any country has the highest odds of being the first to witness the mass-market adoption of cryptocurrency, that would be South Korea. A recent study showed that about 22.7 percent of South Koreans in their twenties were using cryptocurrencies, 19.3 percent of the country's citizens in their thirties were using crypto, and as much as 12 percent of people in the their forties are invested in cryptocurrencies.
In an interview with Forbes, Steve Lim, CSO of South Korean crypto exchange CoinOne observes that "People are crazed over it (cryptocurrency). Grandpas and grandmas come to our office lobby and say they want to put [in] half a billion won ($447,000). We ask them how they heard about us, and they say, 'I heard about you through a friend who invested a couple thousand and made a killing, and I want to do it too' … but they have no idea how to use the app or email."
South Korea has a strong presence in the global cryptocurrency market
Cryptocurrencies are still regarded with a fair amount skepticism, disregard, or outright indifference in many countries. Hence, studies showing how much interest people have in cryptocurrencies are valuable yardsticks for measuring the odds of mass-market adoption. A Statista report on the depth of cryptocurrency awareness in South Korea as at November 2017 suggests that as much as 21.6 percent of the sample size has heard about cryptocurrencies in general as seen in the table below.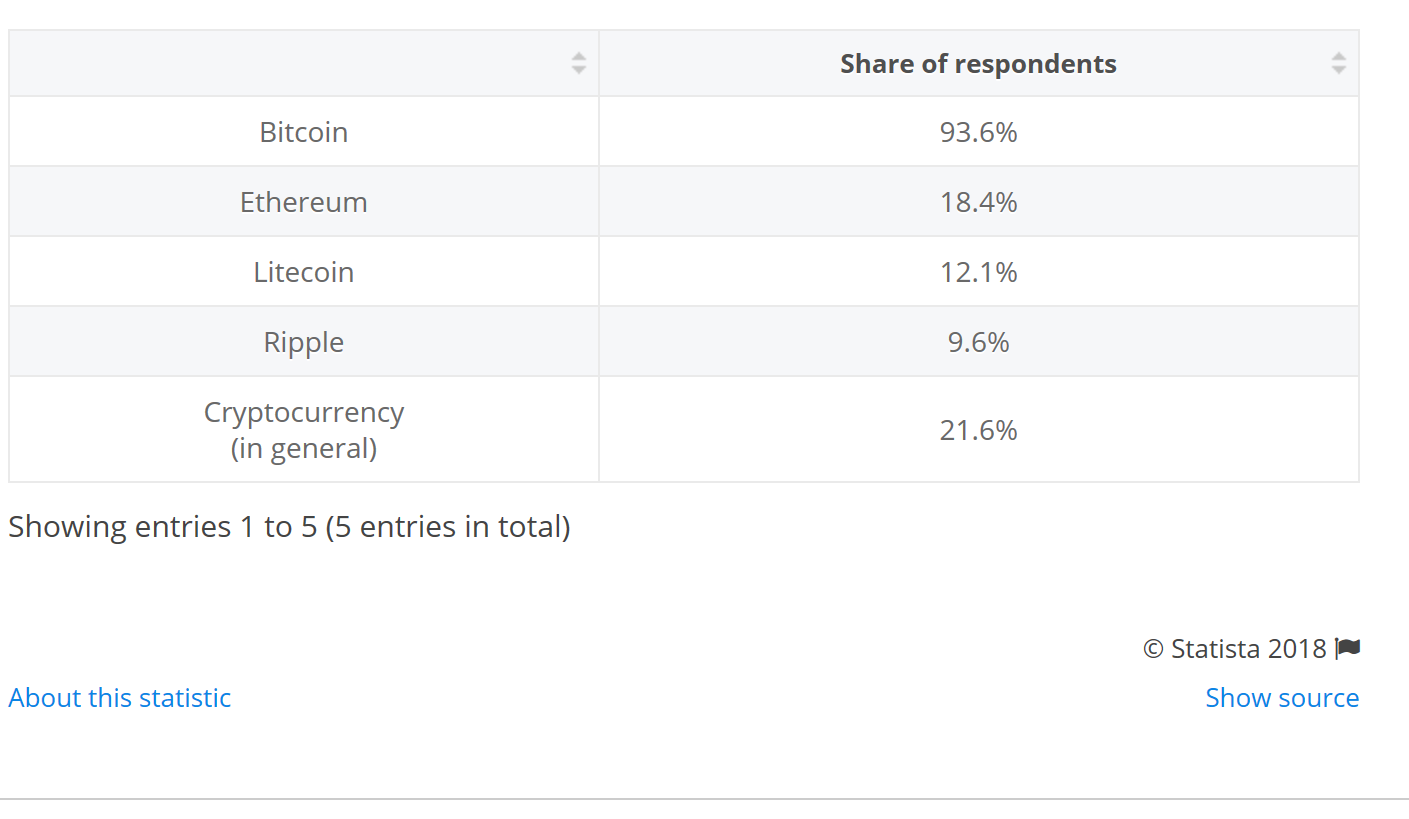 The chart below shows the volume of Bitcoin trade in local currencies globally. For the week ending August 25, the total volume trade was $46.19 million down from $53.21 in the week ending August 18.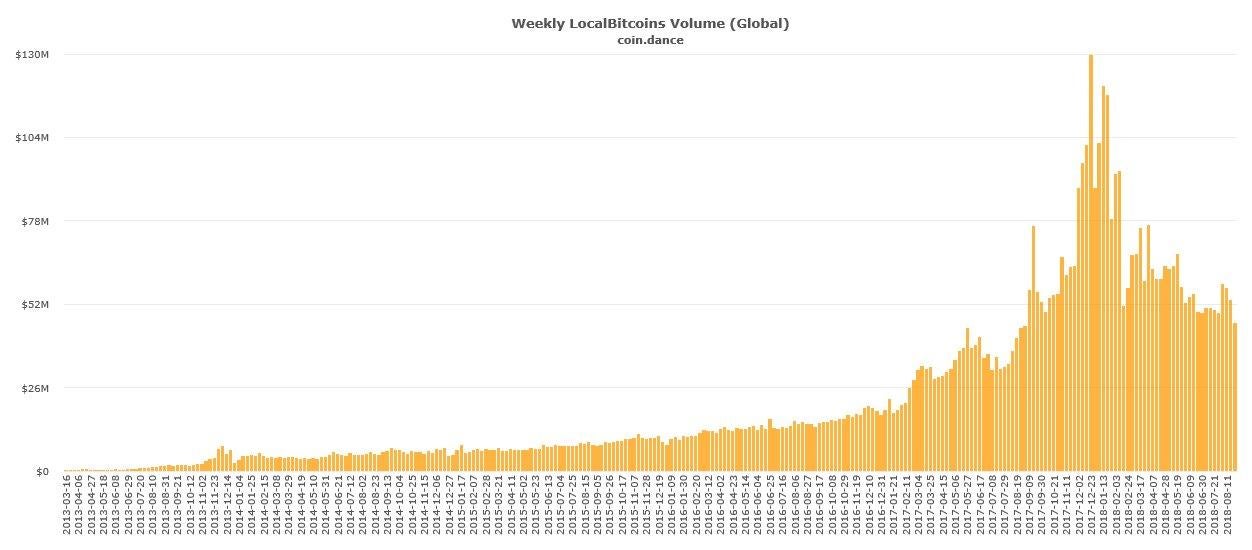 Digging deeper into the data by country, shows that the South Korea alone accounted for about 68.7 percent of the total weekly volume in the same period. The chart below shows the local Bitcoin volume trade in (South Korea) from 2013. In the week ending August 25 was 31.76 million Won up from 23.98 million Won in the previous week.

One of the key drivers of South Korea's strong presence in the cryptocurrency space is relative laissez-faire approach of the government, which is being careful not to dampen the investment enthusiasm. Leon Shi, Partner at Node Capital observes that "from the policy environment, Korea is relatively loose at present… If South Korea's policy remains relatively loose, it will soon become a core area of Southeast Asia's and even the global's blockchain development."
South Korea is looking beyond cryptocurrency to Blockchain
South Korea is one of the biggest hubs for cryptocurrency globally — the country has as many as 3 million people invested in cryptocurrencies. It is home to two of the largest cryptocurrency exchanges in the market, and South Koreans will soon be able to buy stuff with cryptocurrencies in more than 6,000 stores across the country.
One of the reasons behind South Korea's rapid adoption of cryptocurrency is that its millennials are faced with an unemployment rate of 11.6 percent, which is much higher than the national average of 3.6 percent and the global average at 5.5 percent. This generation has in turn found opportunities to make money investing and trading in cryptocurrencies.
Demand for cryptocurrency (particularly Bitcoin) combined with anti-money laundering regulations has even created a phenomenon known as the Kimchi Premium, wherein crypto prices on South Korean exchanges are anywhere from 10 to 40 percent more expensive than elsewhere.
South Korea has started taking proactive steps towards harnessing the teeming interest in emerging financial technology such as cryptocurrency to drive a new wave of economic growth. Last month, a press release from the Financial Services Commission (FSC) in South Korea revealed plans for a major restructuring to birth a Financial Innovation Bureau that will guide the operation of new technologies such as Blockchain and artificial intelligence. Earlier in May South Korean regulators revealed that they are starting to develop a framework on how certain types of ICOs could be legalized in the country.
Next month, South Korea will be hosting Block Seoul, which is billed to be one of the largest blockchain conferences of its kind. The conference will be a platform for creators, investors, and experts to have serious conversations about the current state of blockchain technology, its real-world applications, and its relationship with existing systems.
The 4-day conference will among other things serve as a connection hub for ICOs, financial institutions, investors, and VCs. At the conference, an integrated matchmaking technology designed specifically for the event will help to optimize relationships to build mutually beneficial and synergistic collaborations.
The conference also boasts an interesting array of high caliber speakers across a diverse range of backgrounds, industries and economies. For instance, Jimmy Wales, the founder of Wikipedia, General Michael Hayden, a former directors of CIA and NSA, Andre Ornish, founder and CEO of Luna, and Henry Lie, Chief Investment Officer at Yeoman's capital are few of the many speakers at the conference.
Posted-In: Bitcoin Kimchi Premium South KoreaCryptocurrency Fintech Markets
View Comments and Join the Discussion!