Bullish Momentum Returns To Cryptocurrencies: Is it Time to Start Buying EOS Again?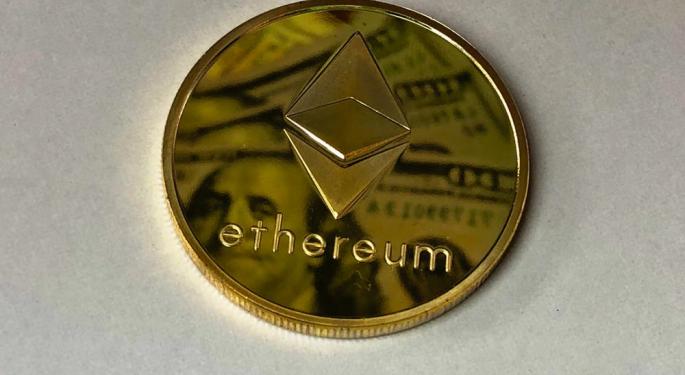 The cryptocurrency market is off to an interesting start this week, as investors start to build up momentum to break free from the bear hug that has depressed the markets for much of this year. A quick glance at CoinMarketCap this morning shows that the market seems to be in a general recovery mode that might see cryptocurrencies moving up from the dust of their 2018 lows.
EOS is leading the pack among the top-20 coins by market capitalization as its sports 8.13 percent gain top $7.70 at the time of writing – this morning's gain brings a glimmer of hope after the cryptocurrency had dropped to a low of $6.50 last week.
Binance Coin is delivering a decent 7.40 percent gain to trade around $13.14, Cardano is up 7.01 percent to trade around $0.14 and Tezos is booking a 6.71 percent gain. Interestingly, other top dogs are not left behind –Ethereum with 4.93 percent gains, Bitcoin Cash with 5.27 percent gains, Litecoin with 5.38 percent gains, and Stellar are booking 4.87 percent gain. Interestingly, the market doesn't seem to be particularly enthused about the prospects of Bitcoin, and the world's number 1 cryptocurrency is only up 2.92 percent.
All eyes on EOS
EOS started 2018 as a top performer among cryptocurrencies as it went on to book gains when other cryptocurrencies were recording steep declines. In May, EOS had delivered a massive 160 percent year-to-date gains to trade around $22.89 – in the same period, the market cap of the general cryptocurrency industry was down more than 30 percent and Bitcoin as lost more than 38 percent. The more interesting point about the EOS' rally was that the coin wasn't yet live and nobody was sure if the EOS team would be able to execute the lofty ideas in their whitepaper.
In the last couple of weeks however, EOS had eventually succumbed to the bear-pressure after it ended its year-long ICO. Traders and analysts have postulated different reasons for the decline in the price of EOS. Some people believe that the coin had been overhyped from the beginning and that it's only starting to find it fair market price. Other posit that investor confidence in EOS is waning because of the confusion about its mainnet.
Setting up the trade
Nonetheless, I am optimistic about the prospects of EOS and investors might want to start looking for strategic entry positions to buy more of the cryptocurrency as soon as the bullish rally returns in full swing. Using Capitalise, I tried setting up automated cryptocurrency trade in which I would purchase EOS based on the market performance of Bitcoin. Capitalise is a DIY algorithm creator platform that allows user set up automated trades without any prior knowledge of coding using natural language instructions.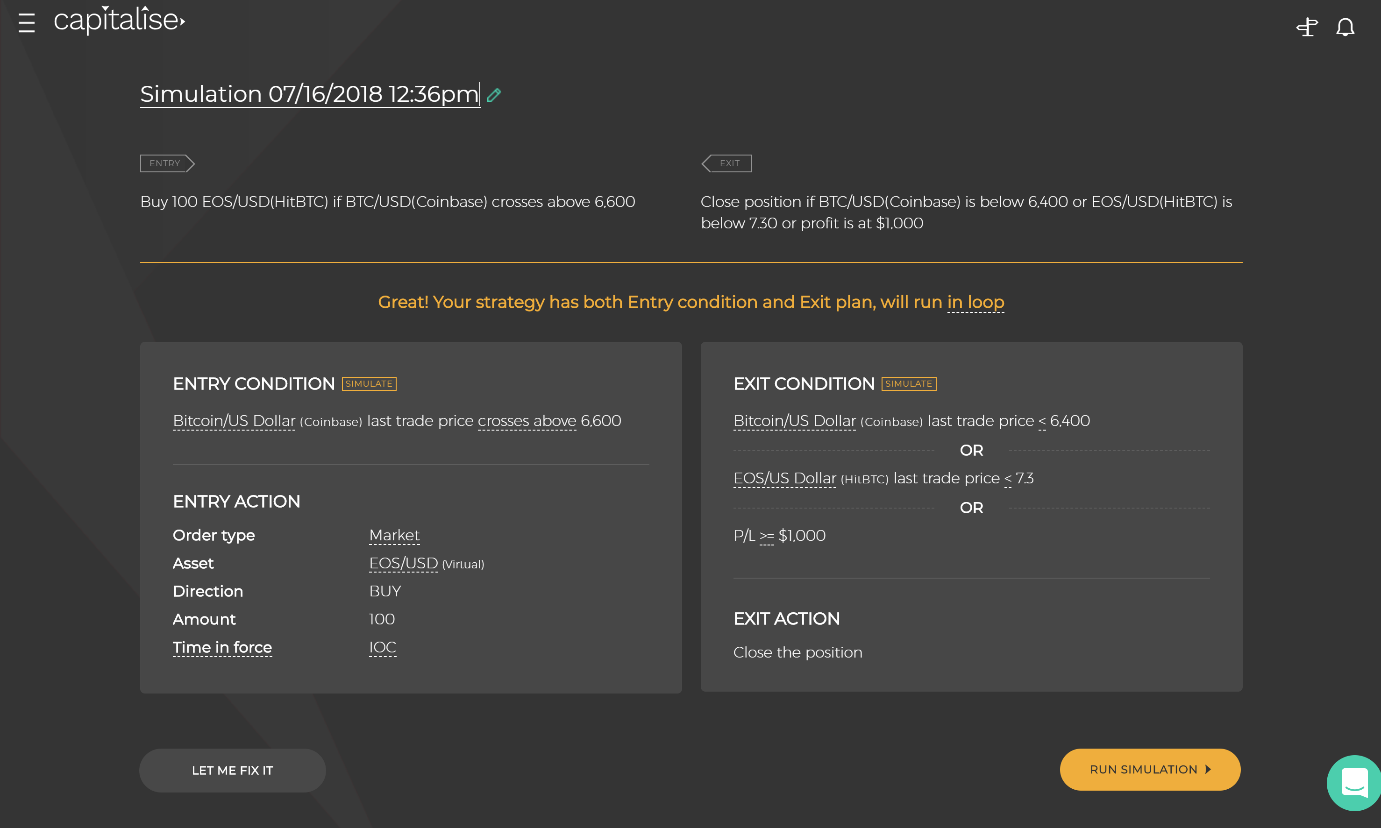 In the screenshot above, my entry position instructed Capitalise to buy me 100 EOS/USD on the HitBTC exchange if the price of BTC/USD pair on Coinbase crosses above $6600. My exit plan instructed Capitalise to close the position if the price of BTC/USD pair drops below $6400 or if EOS/USD starts trading below $7.30. I also choose to run the strategy in a loop as opposed to a one-time deal, but the position will close out if my strategy is successful and I make $1000 in profits – wildly aggressive huh.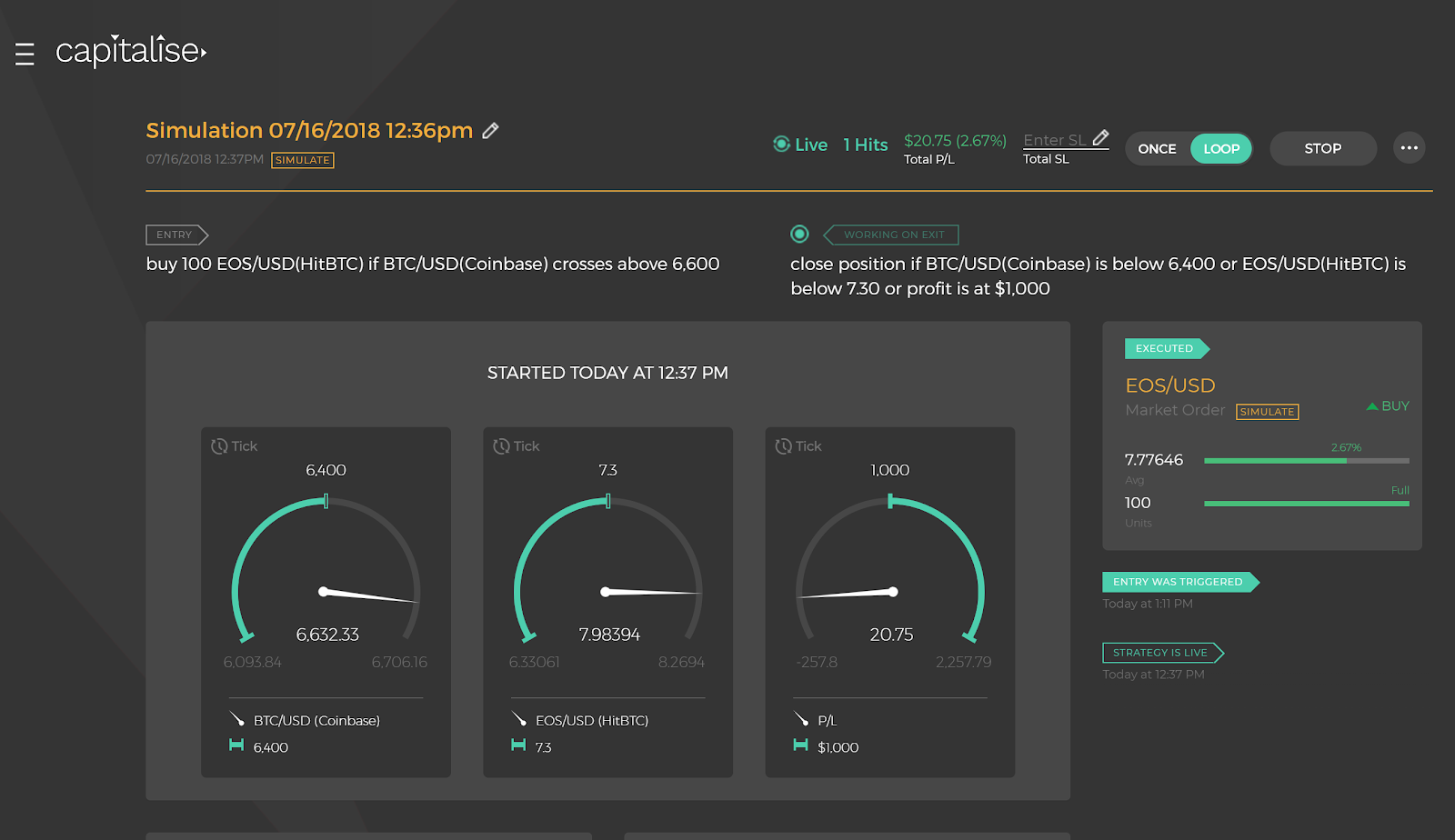 The screenshot below 4 hours after setting up the trade shows that the entry command has been triggered and the trade now active. As at the time of writing, BTC/USD is trading around $6,632, EOS/USD is trading up around $7.98, and the trade is up with an ROI of $20.75 or 2.67 percent. It is instructive to know that I set up this trade in simulation mode – Capitalise allows you to simulate the performance of your strategy will real world data so that you can know how the trade is likely to fare before you commit actual trading dollars.
From the foregoing, the current bullish momentum flowing through the markets has the potential to lift all the boats and it will be interesting to see how the general cryptocurrency market fares in the next couple of days. Nonetheless, we can reasonably suspect that there's a positive correlation between Bitcoin and EOS – gains in the price of BTC is translating to bigger gains in the price of EOS. I will be paying more attention to the price charts of BTC after which I'll go ahead to commit actual cash to buying more EOS.
View Comments and Join the Discussion!
Posted-In: Bitcoin Ethereum LitecoinCryptocurrency Fintech Markets General