Here's Why You Should Know What The 'Sharing Economy' Is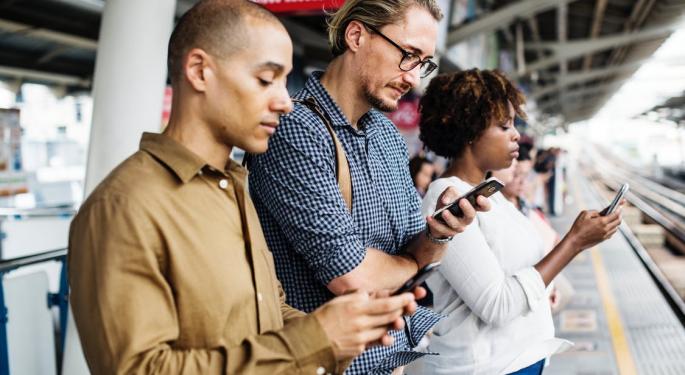 Major shifts in consumer habits not only change the way we think about the economy, but lead the direction for where the economy is heading. One of the most obvious examples of this sentiment is seen with the ever-increasing growth of the so-called "sharing economy." Companies like Uber, Lyft, and Airbnb have all been crucial in this major disruption. With new consumers entering the market all the time, their tastes and preferences change.
Uber and Lyft have been major disruptors for the taxi industry, even resulting in protests by some taxicab groups and an actual ban from a court decision made in Rome, Italy. Uber not only gave consumers additional choices for short-term travel, but they allowed the same user base to also make money from the platform and utilize vehicles they already own to make money with the same service they use all the time. Likewise, Airbnb has been a massive disruptor to the traditional hospitality industry. When consumers are no longer dependent on the traditional sources of goods and services, it's clear that many seek out other alternatives. Like Uber, Airbnb allowed the very same customer base to also double as the providers as well. This is why the "sharing economy" is growing so rapidly; not only are consumers given more options, they're even able to earn income when they're not consuming. It's a win-win.
In fact, this booming industry is still looking at even more growth, and it's not likely to end anytime soon. According to a recent study from The Brookings Institution, the sharing economy is estimated to grow from a $14 billion industry in 2014 to a $335 billion industry by 2025, and they're not the only ones keeping an eye on this industry either.
MasterCard Inc. (NYSE: MA) published some literature from their newsroom with projections for the future of the sharing economy as well. According to their estimates, a variety of sectors are looking to see even more growth from the sharing economy. MasterCard projects this growth in different sectors from 2013-2025 as follows.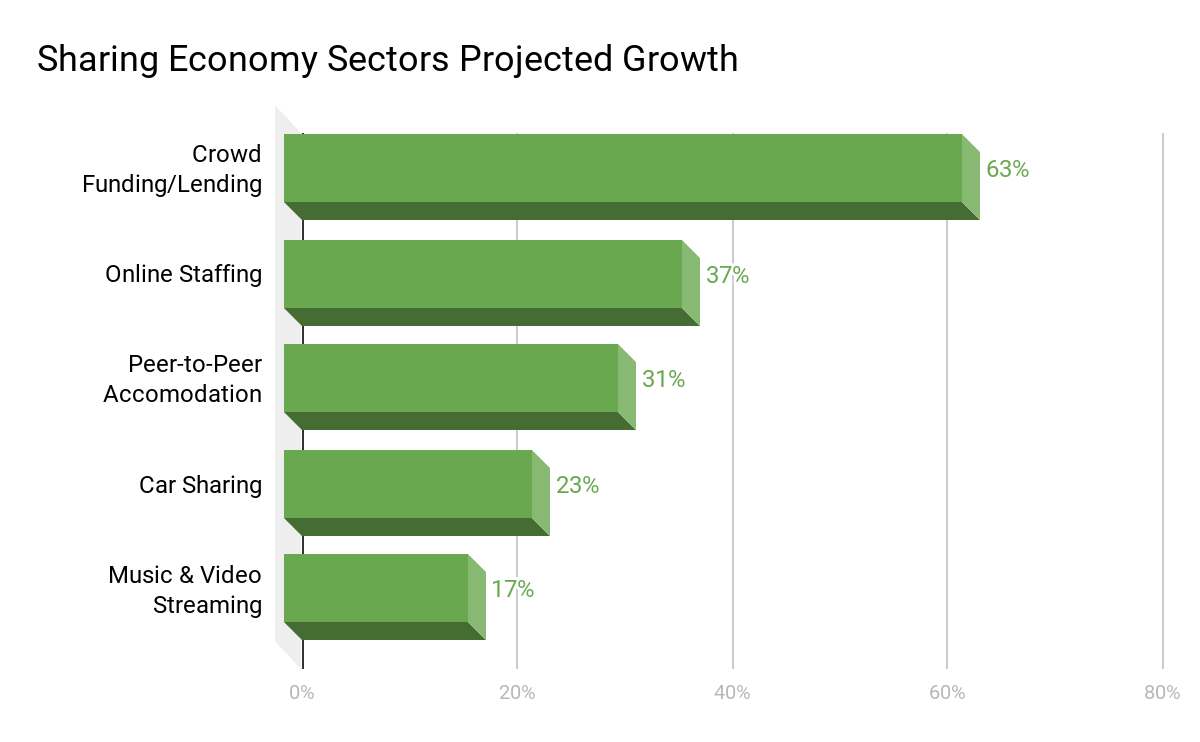 MasterCard Newsroom, "The Sharing Economy: Understanding the Opportunities for Growth"
Clearly, there is a significant amount of recognition that the sharing economy is going to be a major player in coming years. As consumers start taking advantage of different sources for their goods and services, they're paying attention at how it can benefit them as well. Crowd funding and lending, the sector MasterCard projects is going to see the biggest growth,not only allows borrowers to get approved outside of traditional lenders, but it also allows non-traditional sources to become lenders too.
Likewise, the second highest projected growth is in online staffing. With companies like TaskRabbit, Upwork, and Freelancer growing, the sharing economy is aiding in the "gig economy" as well. Companies are not only taking advantage of the cost-effective strategy of working with freelancers, but many would-be employees are seeking the freedom that comes with being a freelancer. At this point, investors should be getting a pretty clear picture of what direction the economy is heading.
More Distributed Disruption?
Besides being a bit of a mouthful, "distributed disruption" is shaping up to be one of the biggest trends for the new economy. A sharing economy is distributed by nature. Goods and services are no longer being provided by a single, centralized source. Instead, the actual product being offered is owned by those operating within the ecosystem. For example, Uber drivers (who are legally independent contractors and crucial in the "gig economy") own the vehicles used to drive others around. Likewise, Airbnb utilizes property owned by those participating on the platform.
Another disruptor that's been breaking into multiple industries recently is blockchain technology. The distributed nature of blockchain tech may play a major role in increasing the efficiency of a distributed, sharing economy. Some companies have already taken notice of this trend and are diving in now. On project in particular, ShareRing, is an example of the two "distributed disruptors" being combined to complement each other well.
One of the issues with the sharing economy now is that even though the goods and services are distributed, the way consumers connect with them is not. Users still have to go through large, centralized companies to access these distributed services, while sharing their payment methods on multiple platforms. But wouldn't it make more sense for the platform to be distributed as well? That's what ShareRing is focusing on, by utilizing a one stop cryptocurrency for the sharing economy. In addition, if a central service runs out of funding, falls victim to outages, or any other factor causes the system to experience failure, whether temporary or permanent, consumers are out of luck.
With a distributed model using blockchain technology to connect consumers and providers, the industry no longer needs to worry about those concerns. The sharing economy is expanding rapidly and blockchain is a natural addition.
Posted-In: Airbnb Blockchain Lyft UberCryptocurrency Fintech Markets General Best of Benzinga
View Comments and Join the Discussion!