Today In Cryptocurrency: CoinDesk Consensus Highlights, Amazon Blockchain Partnership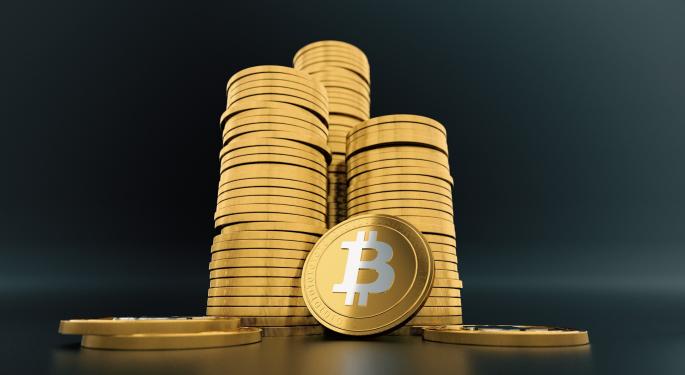 The cryptocurrency market continued its sluggish start to the week on Tuesday, with most major currencies trading down more than 3 percent. Here's a look at some of the headlines that were moving the cryptocurrency market today — and which currencies were on the move.
Headlines
Highlights from day one of the CoinDesk Consensus conference, which is part of Blockchain Week in New York, included talks from FedEx Corporation (NYSE: FDX) CEO Fred Smith and St. Louis Federal Reserve president James Bullard. Smith said blockchain could be the next "big disruption," potentially revolutionizing international trade. Bullard issued a word of warning about the risks associated with decentralized currencies gaining and maintaining widespread public trust, using the collapse of the Venezuelan bolivar as an example.
Coinbase, the largest U.S. cryptocurrency exchange, launched four new products aimed at appealing to large institutional investors that have so far been mostly leery of crypto investing. The company said it hopes Coinbase Custody, Coinbase Markets, The Coinbase Institutional Coverage Group and Coinbase Prime will help unlock $10 billion in institutional cash that is currently not invested.
Less than a week after Facebook, Inc. (NASDAQ: FB) put together its own blockchain team, Amazon.com, Inc. (NASDAQ: AMZN) announced a new partnership with blockchain startup Kaleido. Amazon is hoping to give its AWS cloud customers a simple platform on which to build their company utilizing blockchain technology.
Price Action
The Bitcoin Investment Trust GBTC (OTC: GBTC) traded at $14.08, down 2.7 percent.
Here's how several top crypto investments fared Tuesday. Prices are as of 3:30 p.m. ET and reflect the previous 24 hours.
Bitcoin declined 3 percent to $8,517;
Ethereum declined 3.1 percent to $712;
Ripple declined 5.2 percent to 70 cents;
Bitcoin Cash declined 7.5 percent to $1,357;
EOS declined 10.4 percent to $12.83.
The three cryptocurrencies with at least $1-million market caps that have made the biggest gains over the past 24 hours are:
BunnyCoin: $6.3-million market cap, 74.1-percent gain.
PeepCoin: $5.4-million market cap, 70-percent gain.
STRAKS: $2.5-million market cap, 56.7-percent gain.
The three cryptocurrencies hit hardest in the past 24 hours were:
Carboncoin: $1.4-million market cap, 43.9-percent decline.
BuzzCoin: $1.7-million market cap, 33.7-percent decline.
Experience Points: $25.7-million market cap, 28.9-percent decline.
Related Links:
Today In Cryptocurrecy: CoinDesk Consensus Kicks Off, Eisman Says Cryptos Have No Purpose
Blockchain, Blockchain, Blockchain! Your Guide To This Week's Crypto Conferences
View Comments and Join the Discussion!
Posted-In: today in cryptocurrencyCryptocurrency News After-Hours Center Markets Best of Benzinga