Coinbase President Asiff Hirji Talks State Of Crypto Market, Coinbase Index Fund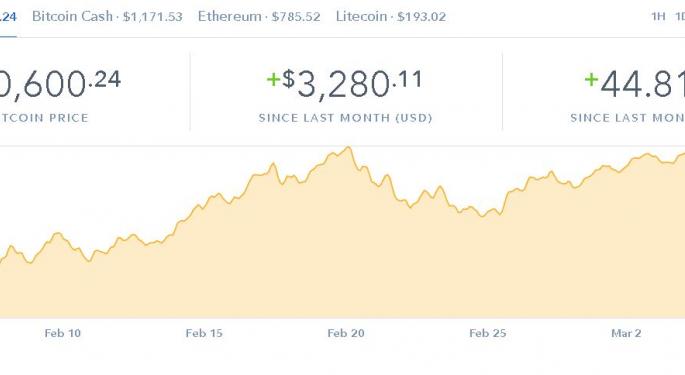 Coinbase President Asiff Hirji announced the launch of the Coinbase Index Fund Tuesday and discussed the state of the cryptocurrency market in a CNBC appearance.
The Coinbase Index Fund
The Coinbase Index Fund is a market cap-weighted index underpinned by the Coinbase index. The launch of the fund will help to accelerate the maturation of the cryptocurrency asset class, Hirji said.
The Coinbase Index Fund will be "very simple to use [and an] easy way to get exposure to the crypto assets that we offer on our exchange," Hirji said during an appearance on CNBC's "Fast Money."
Coinbase Asset Management, a separate legal entity, will buy the assets in the fund and work to market-weight and rebalance them. The fund will have no minimum holding period requirements.
"This is a vehicle to be as simple as possible, to be as friendly as possible — [it] gives you easy in, easy out, low fee and is completely transparent," Hirji said.
The index fund will only be open to accredited investors upon its launch, but Coinbase is working with regulators to ensure that it will eventually be open to all investors.
The State Of Cryptocurrency
The decrease in cryptocurrency trading volumes since December is likely a result of lower volatility and prices among cryptocurrencies, Hirji told CNBC.
"The higher the asset price and the higher the volatility, you'd expect more trading behavior," he said.
"Given that volatility is slightly down and given that the asset prices are down, our volumes are not where they were in December."
Despite lighter trading volumes, Hirji said cryptocurrency as an asset class is maturing, and overall trading volume is still healthy.
When asked about whether Coinbase will add new coins, Hirji said Coinbase is committed to adding new coins to the platform but is laying out framework to evaluate digital currencies and maintain a healthy ecosystem.
"When we are thinking about listing a token, we look very hard at how open it is to market manipulation."
Coinbase is awaiting further regulatory certainty before adding more assets.
"We are trying to legitimize this asset class," he said. "We're the leader in this space. We take it very seriously."
Related Links:
Bitcoin Private Aims To Combine Best Of Bitcoin, ZClassic
An ETF Levered To The Cryptocurrency Trade
Screenshot from Coinbase.
Posted-In: CNBC Coinbase Fast Moneym Asiff HirjiCryptocurrency Markets Media Best of Benzinga
View Comments and Join the Discussion!