The Companies Behind The Chips That Power Cryptocurrency Mining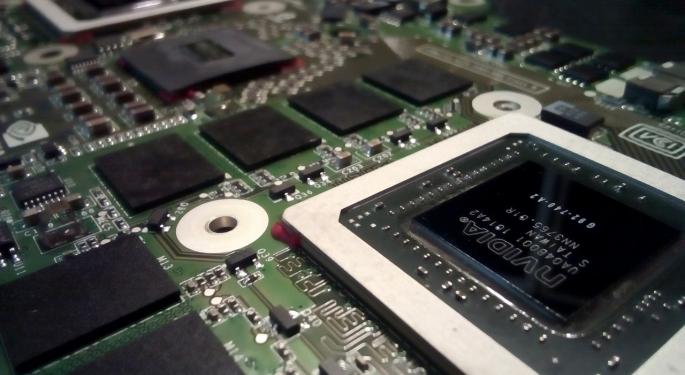 Cryptocurrencies have spawned several cottage industries, and one is the manufacture of chips for cryptocurrency mining.
Cryptocurrency is a form of digital money meant to be used as a medium of exchange, and it uses cryptography to secure and verify transactions, as well as to control the creation of new units of a cryptocurrency.
Mining Explained
Mining is a decentralized computational process that accomplishes two tasks:
It confirms transactions in a trustworthy manner using computational power.
It creates new digital currency in each block.
Transactions are bundled into blocks. They are then authenticated by miners by checking aspects such as whether same coin has been spent again before the transaction is vetted whether and the input and output amount match.
The header of the most recent block is selected and linked to the new block as a hash. The proof of work problem is then solved, after which the new block is added to the local blockchain and propagated to the network.
The network nodes that assemble the transactions in order to form a new block are called miners. As a reward for the mining, the miner is paid with units of the currency.
To avoid creation of large volumes of new blocks, which could potentially devalue the digital currency, miners are required to solve complex mathematical problems called a proof of work.
Related Link: Cryptocurrency Mining: What It Is, How It Works And Who's Making Money Off It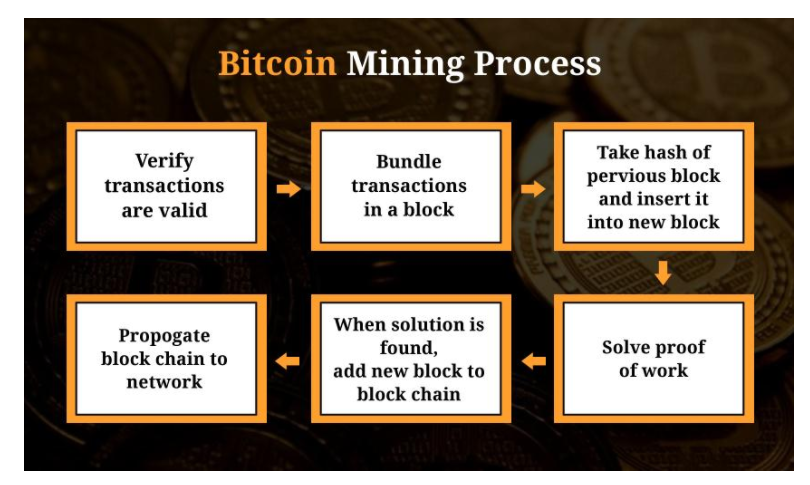 Source: Cryptocoinjudge.com
Mining Hardware
Miners initially used regular central processing units, or CPUs, for mining. These weren't fast enough, and graphic processing units, or GPUs, slowly took their place. GPUs could accomplish the task 50 to 100 times faster than the CPUs and consume much less power per unit of work.
In 2011, custom mining equipment was introduced. It was based on field-programmable gate array, or FPGA, processors and could be connected to computers via USB.
The latest in the evolution cycle is mining hardware that uses application-specific integrated circuit, or ASIC chips. The machines using ASIC chips mine at an exhilaratingly fast pace and consume much less power than FPGA or GPU mining rigs.
See also: Samsung Enters The Cryptocurrency Mining Space, Announces First-Ever Stock Split
GPU Mining Chips
Advanced Micro Devices, Inc. (NASDAQ: AMD) and NVIDIA Corporation (NASDAQ: NVDA) now supply GPUs to AIB, or add-in-board, partners that develop mining cards.
AIB partners use GPUs from AMD or Nvidia on a board to bring out a complete and fully usable graphics card or AIB to the market.
AMD GPUs for Mining
AMD Radeon RX 580
AMD Radeon RX Vega 56
AMD RX Vega 64
AMD RX 480
Nvidia GPUs for Mining
Nvidia GeForce GTX 1070
Nvidia GeForce GTX 1080 Ti
Nvidia GeForce GTX 1070 Ti
FPGA Mining Hardware
FPGAs are integrated circuits that are programmable in the field after manufacturing. Though FPGAs boast superior performance relative to CPUs, or GPUs, they was not quite successful, as mining FPGAs were overworked compared to consumer-grade FPGAs, resulting in errors and malfunctions while mining, according to Bitcoin.stackexchange.com. So the technology slowly and steadily gave way to ASIC chips.
Related Link: How One Cryptocurrency Hedge Fund Manager Posted 83% Gains
ASIC Mining Chipmakers
Bitmain
China-based Bitmain is a bitcoin miner and developer of ASIC mining chips. Its widely used AntMiner hardware uses ASIC chips. The company's AntMiner S9 hardware uses a BM1387 chip built using Taiwan Semiconductor Mfg. Co. Ltd. (ADR) (NYSE: TSM)'s FinFet technology.
Each of the Antminer S9s uses 189 chips.
Other Bitmain Hardware
The AntMiner L3+ for Litecoin mining uses a BM1485 chip.
The AntMiner R4 for Bitcoin mining; uses BM1387 chips and is marketed for at-home mining.
Bitmain, the pioneer, is said to be monopolizing the mining community, boasting about 29 percent of global hashing power through its Antpool and BTC.com mining pools, according to Cointelegraph.com.
Avalon
The China-based Avalon Project has many bitcoin mining machines that use different ASIC chips such as A 3222, A 3233, A3233, A3212, A3218, A3256, A3255 and A3233.
The project is handled by Canaan Creative.
Spondoolies Tech
Spondoolies Tech, an Israeli firm, brought out ASIC mining hardware but shut down May 4, 2016.
Ebang Communications
Ebang launched its 12-nm Bitcoin ASIC miner, E9 miner, in December 2016 using 14 nm bitcoin ASIC chips developed in-house.
Taiwan Semiconductor Manufacturing
Taiwan Semiconductor Manufacturing, or TSMC, fabricates mining chips for companies such as Bitmain. TSMC recently received sizeable orders from Bitmain for fabricating its mining chips, according to Digitimes. The report said TSMC-affiliated Global Unichip and Advanced Semiconductor Engnrng Inc (ADR) (NYSE: ASX) will jointly handle the back-end packaging and testing orders.
Samsung
Most recently, Samsung Electronics confirmed it will produce ASIC processing chips in its own foundry in collaboration with Taiwan Semiconductor, marking the first entry of a mainstream company into the sector.
View Comments and Join the Discussion!
Posted-In: ASIC Bitcoin BlockchainCryptocurrency Education Top Stories Markets Tech Best of Benzinga