Cramer's 'Dream Market' Of Alternative Fuel Stocks: Quantumscape, Plug Power And More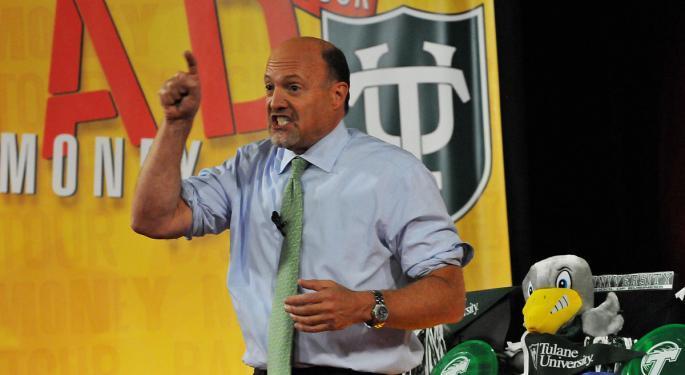 Tech stocks along with banks, aerospace, retail, and many other sectors have all had "their day in the sun" and now is the time for investors to pay closer attention to a "dream market" of alternative fuel companies, according to Jim Cramer.
Hydrogen Power: At top of the list are potential power giants of the future like Plug Power Inc (NASDAQ: PLUG), Cramer said Tuesday on "Mad Money." The hydrogen fuel cell company has seen its stock skyrocket more than 1,000% in 2020. Fellow hydrogen cell company Bloom Energy Corp (NYSE: BE) is up 300% while Ballard Power Systems Inc (NASDAQ: BLDP) is up 200%.
EV Play: Self-driving electric vehicles won't be possible without companies that manufacture the technology that powers the cars.
Luminar Technologies Inc (NASDAQ: LAZR) is a manufacturer of laser-based sensors and competes against Velodyne Lidar Inc (NASDAQ: VLDR).
EV cars will need access to charging stations. At the forefront of that market is Blink Charging Co (NASDAQ: BLNK) and its stock has soared from a 52-week low of $1.25 to a high of $48.70 in 2020.
But at the end is Cramer's top pick, Quantumscape Corp (NYSE: QS), a maker of a lighter and faster-charging battery for EVs.
Related Link: Watch Out, Elon Musk. These EV Startups Are Trying To Take On Tesla
Rare Earth Minerals: Rare earth mineral company Mp Materials Corp (NYSE: MP) is a U.S.-based company with "a hammerlock" on magnets for electric engines, Cramer said.
Why The Interest: These "alternative energy-adjacent companies" boast expertise in unique technologies that used to be "too expensive" but have now become a lot cheaper to produce, Cramer said.
The group is also benefiting from a potential catalyst from a Joe Biden administration that will be more supportive of alternative energy, Cramer said.
View Comments and Join the Discussion!
Posted-In: Electric Vehicle EV Jim Cramer Mad MoneyCommodities Small Cap Markets Media Best of Benzinga