Tesla + SolarCity = The 'Apple Store' For Electricity?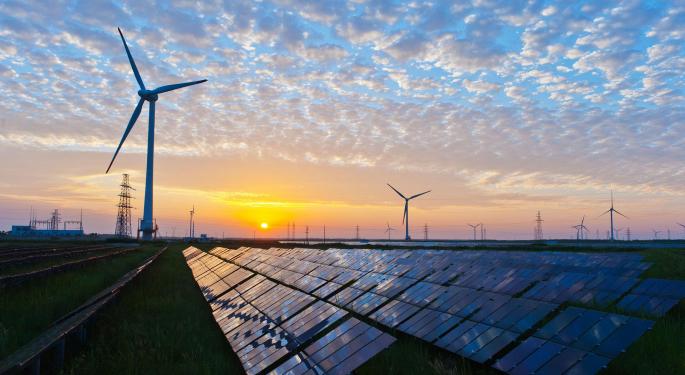 When consumers enter a typical Apple Inc. (NASDAQ: AAPL) store, they can purchase a smartphone, tablet, music player, smartwatch and a computer in one shot. Apple also offers educational activities, including free presentations that offer potential consumers a hands-on experience.
According to an opinion piece by Bloomberg's Tom Randall, the solar industry is in dire need of an "Apple store," and the combination of Tesla Motors Inc (NASDAQ: TSLA)'s business with SolarCity Corp (NASDAQ: SCTY) could create exactly that.
Stepping Into The Future
Walking into a car dealership to buy a car isn't a new concept for consumers. Walking into a Tesla dealership to get information on solar panels most certainly is. This concept also solves a major hurdle for solar panel buyers who simply don't even know where to start to make a purchase.
Related Link: Tesla Is Talking With Sheetz About Putting Chargers In Gas Stations
"What ties the cars-plus-solar Tesla store together is an implicit guarantee of good customer service and sophisticated technology that's easy to use," Randall wrote. "That's branding that can never quite come together so long as Tesla and SolarCity remain separate companies. But together, it just might expand the entire market for solar."
Randall further quoted Hugh Bromley, an analyst at BNEF who suggested that Tesla's future could very well be in the energy services. He also said that Tesla's CEO Elon Musk's intentions "are larger than simply adding a third product category" — the first two being Tesla's own electric cars and battery storage systems.
Tesla could very well end up creating and selling its own electricity network, but can only do so under a combination with SolarCity.
Tesla is set to cut the ribbon on what will prove to be the world's largest battery factory, while SolarCity will reveal a new line of high-efficiency panels.
Randall concluded, "Is SolarCity a major distraction for Tesla? Probably. Does it add existential risk to both of these long, cash-torching bets? Most likely. Are the conflicts of interest messy? Definitely. But could the deal also result in the world's first clean-energy juggernaut, a company that does for solar power, batteries, and electric cars what Apple did for computers, phones, and software apps? It's worth considering."
Posted-In: Apple Store BloombergCommodities Top Stories Markets Media Trading Ideas General Best of Benzinga
View Comments and Join the Discussion!