Starbucks vs. Dunkin' Donuts: Which Is The Better Bet?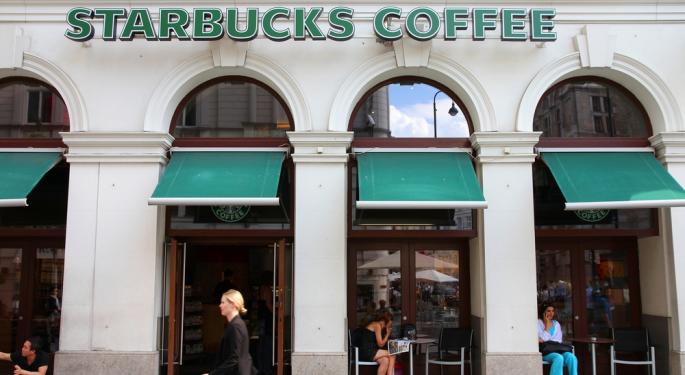 Starbucks is everywhere!
While that cry became a rampant cliché in American pop culture, and fodder for many a late-night talk show monologue, Starbucks (NASDAQ: SBUX) often seems to be on virtually every corner of every street in metropolitan America. While exaggerated, that claim can certainly feels true sometimes -- especially when driving through most major cities.
In more realistic terms, the franchise has more than made its presence known in the United States.
There are very few incorporated cities and towns in this country that don't have at least one Starbucks outlet. That being the case, it would seem that Starbucks has a veritable monopoly on the gourmet coffee market.
But there this other outfit called Dunkin Brands (NASDAQ: DNKN), parent company of the 50-year-old Dunkin' Donuts coffee chain, that is giving Starbucks a run for its competitive money.
So which stock would you rather invest in, Starbucks or Dunkin' Brands?
Starbucks made a niche in the gourmet coffee market by charging upwards of $6.00 for a cup, and making it fashionable to pay such an outrageous amount. You would think such a high mark-up would be economic suicide for a company -- but it has actually behooved the company to do so.
Related: Dollar Tree vs. Family Dollar: Which is the Better Bet?
As a relatively new, publicly-traded company, Dunkin' Brands and its flagship entity Dunkin' Donuts has upped the ante in the market.
Dunkin's strategy has been manifold -- but one of the key elements has been to basically copycat Starbucks in their choice of locations. Almost anywhere that you find a Starbucks you will find a Dunkin' Donuts within a few blocks. And while Starbucks is far and away the leader in terms of the overall numbers of outlets, Dunkin' is making some serious headway in that department.
Starbucks enjoys a market cap of $53 billion versus the comparatively tiny cap of $5 billion for Dunkin', but Dunkin' has demonstrated a level of innovation and consumer attraction that Starbucks simply does not have. Dunkin' stores are becoming every bit as contemporary and inviting as Starbucks, and customer feedback indicates the donuts offered by Dunkin' are far superior to Starbucks' pastry offerings, which could mean the difference over the next three to five years.
Dunkin's earnings-per-share skyrocketed nearly 25 percent in the second quarter of 2013 from a year prior, which dwarfed that of Starbucks -- and revenue was up fully six percent for Dunkin'.
With Starbucks as the clear market leader for the time being, it may seem like a classic case of David versus Goliath. But David is growing exponentially with each passing quarter.
So, which is the better stock investment? The short-term seems to favor Starbucks, but the long-term may be giving the nod to Dunkin'. In the end, it is for the savvy investor to make the call.
View Comments and Join the Discussion!
Posted-In: cafes coffee food and beverage retailCommodities Restaurants Markets General Best of Benzinga