Interest Rates, Gold, Trade: Benzinga Trading Summit Panelists On Where The Market Is Headed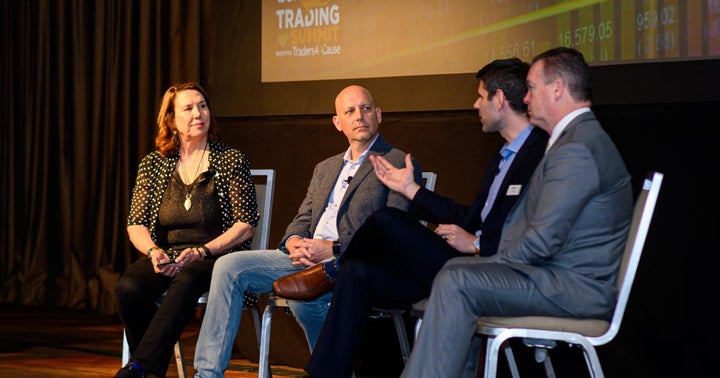 JJ Kinahan, TD Ameritrade Holding Corp. (NASDAQ:AMTD)'s chief strategist; Nicholas LaMaina, TradeStation's senior vice president of product management and strategy; and Matt Weller, senior market analyst at Forex.com, talked the future of the market at the Benzinga Trading Summit in New York City on Thursday.
The panel was moderated by Investopedia's Theresa Carey.
Exciting Time
TradeStation's LaMaina discussed market indicators that are on the docket in the next three to nine months, including Federal Reserve decisions on interest rates.
"We plan to launch the ability for our customers to deploy capital into digital assets. We're hoping that it will be released sometime late summer, maybe beginning of autumn," he said of the TradeStation platform.
Forex.com's Weller said the market is "pretty exciting" at this time.
Two themes are likely to drive the market in the months ahead, he said. One is the ongoing Sino-American trade war; Weller said the upcoming G20 meeting will determine how long global monetary policy is in turmoil.
The second theme is business activity, he said. "As we've seen so far, a lot of firms have been able to accelerate purchases and kind of minimize the impact of that."
Event-driven volatility trading may also be seen due to other global developments like the brief tariff standoff between the U.S. and Mexico, he said.
TD Ameritrade's Kinahan also delved into the impact of tariffs.
"These things take longer than expected. And in many ways I think it's keeping the market in an artificial range because people are very nervous."
People are nervous to buy near the highs, but at the same time a fear of missing out exists, he said.
A Focus On Rates
Weller said all major central banks are looking at interest rates.
"We just saw the Fed yesterday take a big double shift. So what traders will be looking at is sort of the relative differences in those monetary policies — and everyone is cutting interest rates."
Kinahan posed a hypothetical question about interest rates.
"The only question I have for many people who are so excited about this is: do they realize why they're lowering rates? It's not because the economy's improving."
Gold was another focus for Weller.
"This is kind of the quintessential environment for precious metals, where you have low real interest rates around the world and concerns about geopolitical developments."
Related Links:
TradeStation Has Reinvented Their Brand, Now They Want More
TD Ameritrade Unveils Big Expansion Of Commission-Free ETF Roster
Investopedia's Theresa Carey, left; TradeStation's Nicholas LaMaina; Forex.com's Matt Weller; and TD Ameritrade's JJ Kinahan at the Benzinga Trading Summit on Thursday, June 20 at the Sheraton New York Times Square Hotel. Photo by Mandar Parab.
© 2021 Benzinga.com. Benzinga does not provide investment advice. All rights reserved.
---