Medical Marijuana Is Making Big Money In Maryland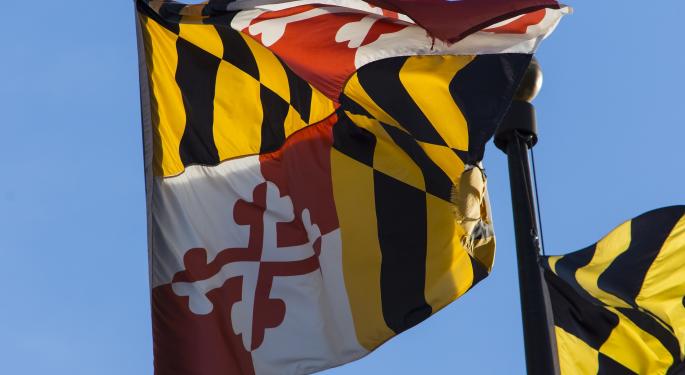 When medical cannabis became legal in Maryland last year, New Frontier Data projected 2018 sales would come in at around $46 million. For the first nine months of 2018, sales were $67 million.
New Frontier is now anticipating $100 million by next month. That's more than double expectations.
While the Free State is geographically small, it's a hotbed of hungry cannabis consumers with plenty of money to burn; Maryland ranks No. 1 in terms of highest median household income by state.
When compared to other states with high median incomes, such as Hawaii, California and Massachusetts, Maryland remains a fairly inexpensive state in which to live.
Marijuana is still only medically legal in Maryland, and it's already on pace to bring in $1 million in its first year. What happens with Maryland moves forward on adult-use legalization?
The Washington Connection
Insiders have already been predicting a 2020 ballot measure to legalize adult-use cannabis in Maryland. Some believe this could be expedited now that Democrats have taken a majority in the House of Representatives.
Washington, D.C. Mayor Muriel Bowser has long wanted to legalize the sale of cannabis. In the district, folks can legally grow and consume the drug, but they can't sell it.
In 2014, D.C. voters approved a ballot measure to legalize adult-use cannabis. Then Congress intervened and passed a law that prohibits the District from spending money on regulating the sale of cannabis.
The Constitution gives Congress the authority to control decisions made by local officials in D.C. Now that Republicans have lost control of the House, D.C. has an opportunity to finally do what voters wanted all along: legalize the sale and consumption of adult-use cannabis.
The Benzinga Cannabis Capital Conference is the premier gathering of cannabis entrepreneurs and investors in North America. Click here to learn more about the event, which takes place Jan. 15-16 in Miami, Florida.
This isn't a knock on any political party, by the way. Just an observation of the fact that it was primarily House Republicans who sought to intervene in DC's legalization program. Now that Democrats are in control, such interventions are unlikely.
The city's mayor is now preparing to submit a new legalization bill to the city council in early 2019.
What does this have to do with Maryland?
Washington, D.C. bumps up right against Maryland.
If D.C. legalizes the sale of cannabis, Maryland is going to lose a lot of business — and a lot of tax revenue.
Maryland's two most-populated counties — amounting to about 2 million people — are situated within minutes of the D.C. line. We're talking about roughly 2 million people. The rest of the state is anywhere from 30 minutes to 2 hours from the District.
Make no mistake: with a fully operational legal cannabis market in D.C., many Maryland residents doing will be doing the shopping. Would lawmakers in Maryland will sit by while D.C. collects the tax revenue?
With a fully legal market in D.C., the move to legalize adult-use cannabis in Maryland becomes a priority.
Stock Plays
Investors looking for more exposure to the Maryland cannabis market could consider the following stocks, with more likely to come:
Related Links:
7 Companies That Entered The Cannabis Space In 2018
View Comments and Join the Discussion!
Posted-In: Maryland New Frontier Data Washington D.C.Cannabis Long Ideas Top Stories Markets Trading Ideas Best of Benzinga