MediPharm Labs Hits 331-Pound Cannabis Extraction Milestone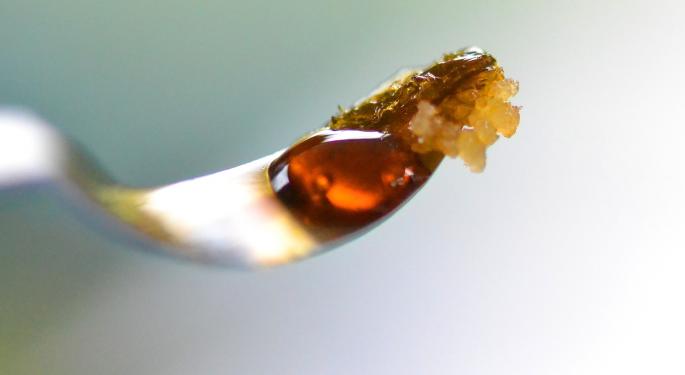 Canada-based MediPharm Labs (OTC:MLCPF) announced Wednesday that it completed the purification and production of 150,000 grams — 331 pounds — of cannabis extract.
This is a major milestone for the company, as it started daily production at the end of September after a Health Canada inspection. The company said it reached the production target ahead of schedule.
Supercritical CO2 Extraction
To obtain cannabis extracts, MediPharm resorts to a process known as supercritical CO2 extraction. It involves freezing carbon dioxide gas and increasing pressure, allowing CO2 to reach a "supercritical" state in which it behaves like a gas by filling an entire space, but also maintains its density like a fluid.
The supercritical CO2 is then passed through cannabis and in the process it extracts all trichomes, terpenes oils and waxes from the plant. The supercritical CO2 extraction is a new technology in cannabis processing, but it's been widely used in other plant extractions. It's considered one of the purest ways to obtain cannabis extracts, as it doesn't involve other chemicals and does not contribute to carbon emissions.
Founded in 2015, MediPharm uses three concurrent supercritical CO2 extraction lines. It plans to take delivery of two additional extractors in January and to expand its operations in the second quarter of 2019. The company plans to grow its throughput volume to 100,000 kg of dried cannabis per year.
Benzinga, which recently brought 600 investors to Toronto for the first-ever Cannabis Capital Conference, is hosting the Michigan Cannabis Business Roundtable at its Detroit headquarters Friday, Nov. 9.
Related Links:
Fresh Perspectives On Cannabis Arising From The Pacific Rim
The Latest In Cannabis-Infused Beverages: Marijuana Gin, Champagne And Rosé
Posted-In: Cannabis Extraction concentrates medical marijuana MediPharm Labs pot Recreational MarijuanaCannabis Markets Best of Benzinga
View Comments and Join the Discussion!