Medical Marijuana To Dominate European Market Growth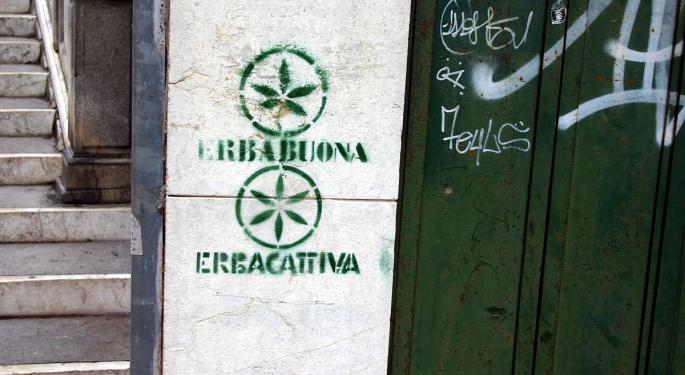 The global legal marijuana market amounted to $9.5 billion in 2017, growing by 37 percent on the year, according to a report by Arcview Market Research and BDS Analytics.
The largest market was the U.S., which totaled $8.5 billion. It was followed by Canada with $600 million.
Another small market with big potential is Europe, which is projected to reach the U.S. dollar equivalent of more than $130 billion by 2028, the report said. This suggests that Europe has the potential to become the largest cannabis market within a decade.
Medical Marijuana To Dominate European Market Growth
In the first six months of 2018, the European cannabis market saw more growth than in the previous five years, according to the "European Cannabis Report" released in July by Prohibition Partners.
The growth will be further helped by political, economic and social catalysts, the report said. Six European countries are working on legislation that would legalize medical cannabis.
When discussing the European cannabis market, it's important to point out the current political environment.
While the European Union represents a community of nations, much of the legislation has to be passed by individual countries.
With a rise in political conservatives on the continent, it's unlikely that marijuana laws will be further liberalized in countries like Poland or Hungary, although both have legalized medical marijuana for certain conditions.
For this reason, medical — not recreational — marijuana is expected to be the main industry segment in Europe for the time being. The continent has a population of over 740 million people and a large public health care system.
If all EU countries legalize medical marijuana, the market could be worth over $62 billion, and this figure could be reached by 2023, according to the Prohibition Partners report.
Countries Also See Advantages in Recreational Cannabis
While medical marijuana is the main focus of European politicians, some governments are also recognizing the potential in legalizing recreational use as well.
In Europe, cannabis accounts for a large part of the illegal drug market. Yet there's evidence and research that legalizing recreational marijuana has a positive effect on drug use among teens and lowers crime rates as companies. In addition, the legalization of recreational weed creates more jobs and brings in more tax revenue.
That's why Germany, Denmark, Malta, Greece and Italy have considered the possibility of a fully regulated cannabis market. Germany's place in this list is particularly important, as it has the most influence in the Union and usually sets the pace that other countries follow.
Prohibition Partners estimates the number of countries adopting medical marijuana is following a trend similar to Moore's law, with the number of countries that legalize medical cannabis doubling every two years.
It's possible that once the majority of the bloc passes the necessary legislation, the EU could provide a framework for regulating the marijuana market.
Businesses Smell Potential
The fact that Europe might one day become the largest cannabis market in the world is great news for companies in the sector.
The cannabis market is still in its early stages, and companies are establishing themselves in different segments: growing, distribution, R&D and more.
In countries such as Germany, companies are required to establish their own production of medical marijuana, while other countries chose to allow a handful of American and Canadian companies to import marijuana.
The Czech Republic chose to monopolize the cultivation of marijuana through a state-run company, but still allowed some international companies to set up production facilities, such as Canopy Growth Corp (NYSE: CGC) and MGC Pharmaceuticals Ltd (OTC: MGCLF). In case the government decides to allow other companies to cultivate marijuana or export to other countries becomes legal, these companies will have access to a larger market.
Canopy, Tilray Make Investments
In addition to the Czech market, Canopy has expressed its interest in some other states. In Greece, Canopy expressed interest in investing more than $55 million to develop a large production facility. Aphria Inc (OTC: APHQF) is another international company with plans to develop a large Greek cannabis production facility.
Another company with access to the European market is Tilray Inc (NASDAQ: TLRY), which in 2016 became the first company to export medical cannabis products from North America to Europe. Last year, Tilray, which exports its products to Germany, Croatia, the Czech Republic and Cyprus — with Ireland expected to be added soon — was allowed by the government of Portugal to start cultivating medical marijuana.
Related Links:
BNN Bloomberg: Diageo Wants Its Own Cannabis Deal In Canada
Everything You Need To Know From The Cannabis Capital Conference
Pro-marijuana legalization graffiti in Venice, Italy. Photo by Giovanni Dall'Orto/Wikimedia.
Posted-In: European Union France GermanyCannabis Eurozone Health Care Top Stories Markets General Best of Benzinga
View Comments and Join the Discussion!