EUR/USD Options: Investors Eyeing Completion Of Head & Shoulders Pattern
The EUR/USD pair left another lower high at 1.1879 last week and fell to a 6-day low of 1.1755 levels this Tuesday morning.
The widening of the US-German 10-year yield spread seems to have weighed over the common currency. The daily chart below shows the spot could be forming a bigger head-and-shoulders reversal pattern.
Daily chart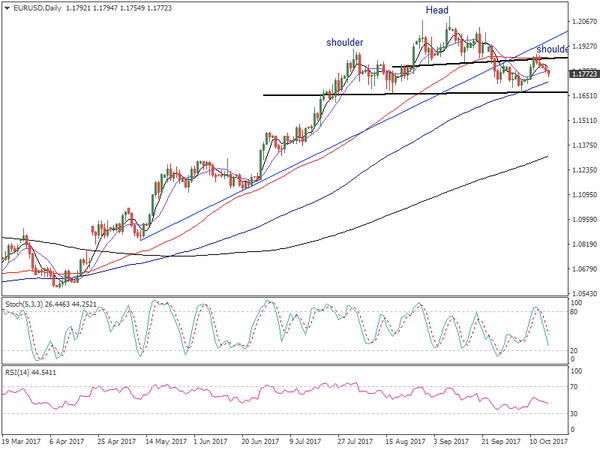 The chart shows:
A rejection at the confluence of 50-DMA (red line) and head-and-shoulders neckline last week. The small head-and-shoulders reversal was confirmed on September 26.
A bigger head-and-shoulders is in the making. The neckline support is seen around 1.1668 levels.
Stochastic and RSI favor further losses in the pair.
The 100-day moving average is still sloping upwards.
Technical view - the spot looks set to extend losses to head-and-shoulders neckline support of 1.1668. A break lower appears unlikely, given the 100-day moving average is still sloping higher...
EUR/USD November expiry options data published by the CME shows adds credence to the bearish technical view.
EUR/USD EUUX7 Open Interest Change: Current (Oct 16 - Prelim) vs Oct 10
Put Summary
Total
ITM
OTM
OI
Chg
OI
Chg
OI
Chg
51,764
4,175
8,777
102
42,987
4,073
Call Summary
Total
ITM
OTM
OI
Chg
OI
Chg
OI
Chg
47,060
2,283
6,817
47
40,243
2,236
Over the last week, the open interest/open positions in the put options increased by 4175 contracts. Meanwhile, the open interest in call options has gone up by 2283 contracts.
Clearly, the cheap out of the money put options are preferred as a hedge against a potential sell-off in EUR on Catalan crisis.
Open interest chart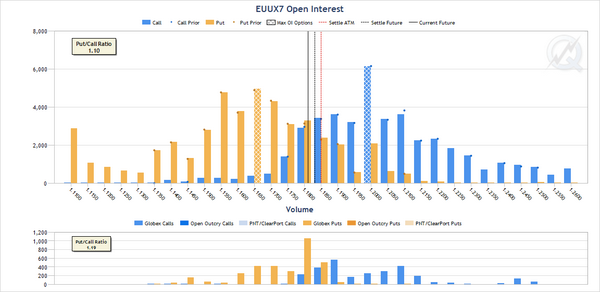 Max open interest build up is seen in 1.20 call and 1.1650 put.
View
The EUR/USD pair is likely to test 1.1650 (head-and-shoulders neckline support at 1.1668 + big build-up in 1.1650 Put).
On the higher side, a break above 1.20 would accelerate gains in the EUR/USD spot as call sellers would be forced to unwind their short positions.
View Comments and Join the Discussion!