#PreMarket Prep For The Week Of March 2: Gene Munster Answers Your Questions On Friday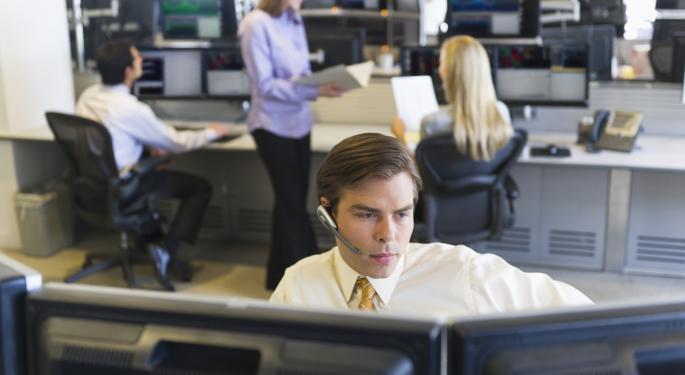 #PreMarket Prep is Benzinga's daily trading idea radio show hosted by Joel Elconin and Dennis Dick.
Piper Jaffray Analyst Gene Munster will join the show this Friday, March 6, on this week's #PreMarket Prep show.
Go here to find out how you can have the top Apple analyst answer your questions live on the show.
Be sure to tune in at 8:00 a.m. EST Monday-Friday here to tune in to the exciting show.
Monday, March 2, 8:35 a.m.
Jeffrey Hirsch (@AlmanacTrader), Editor-In-Chief of "The Stock Trader's Almanac"
Jeffrey Hirsh is also the editor-in-chief of Seasonal Sector Trades and Almanac Investor eNewsletter at www.stocktradersalmanac.com and author of "The Little Book of Stock Market Cycles" and "Super Boom: Why the Dow Will Hit 38,820 and How You Can Profit from It." He is a 25-year veteran of Wall Street and took over from founder Yale Hirsch in 2001.
9 a.m.
Scott Redler (@RedDogT3), Chief Strategist at T3 Live and T3 Trading Group
Scott Redler has been trading equities for more than 10 years and has more recently received widespread recognition from the financial community for his insightful, pragmatic approach. He began his career as a broker and venture capitalist where he was able to facilitate relationships that led him into trading. Beginning his trading career at Broadway Trading in 1999, Scott moved on with Marc Sperling to Sperling Enterprises, LLC after establishing himself as one of the best young traders in the firm.
9:20 a.m.
Chris Martenson (@chrismartenson), Economic Researcher and Futurist
Chris Martenson is an economic researcher and futurist specializing in energy and resource depletion, and co-founder of PeakProsperity.com (along with Adam Taggart). As one of the early econobloggers who forecasted the housing market collapse and stock market correction years in advance, Chris rose to prominence with the launch of his seminal video seminar: "The Crash Course" which has also been published in book form.
Tuesday, March 3, 8:35 a.m.
Nic Chahine (@racernic), Options Expert
Nic Chahine joins the show every Tuesday to discuss the week's options outlook. He's a Marketfy Maven and author of the Create Income with Options Spreads blog.
9 a.m.
G. Thomas Lackey Jr. (@gtlackey), Founding Partner and CIO of Barber Lackey Financial Group
Thomas Lackey is also a partner of Presidium Capital, LLC, an investment management firm. Prior to BLFG, Lackey was a Senior Account Executive and Manager at JP Atkinson and Associates. Over the last 21 years while working with clients and their investment portfolios, Tommy earned his Certified Financial Planner and Chartered Market Technician, among other industry designations.
9:20 a.m.
Aron Pinson (@MicroFundy), CFA, Co-Founder and the Chief Investment Officer at LPS Financial
Aron Pinson is the author of MicroFundy. He has more than a decade of professional financial market experience. He is a Chartered Financial Analyst and is a member of the CFA institute.
Wednesday, March 4, 8:35 a.m.
Fari Hamzei (@HamzeiAnalytics), Founder of Hamzei Analytics
Fari Hamzei joins the show every Wednesday, bringing his wealth of knowledge on aggressive equity options and index futures trends.
9 a.m.
Adam Sarhan (@adamsarhan), Founder and CEO of Sarhan Capital
Sarhan Capital, a boutique investment and advisory firm, strives to provide intelligent ideas that generate strong returns for its clients in all market environments. There are three primary services: asset management, institutional advisory and Independent research, which are rooted in an objective analysis of global capital markets and U.S. equities.
9:20 a.m.
Rod David (@IfThenTiming) Marketfy Maven and Author of Futures Market Timing
Rod David teaches how market behavior can identify targets and turning points for aggressively trading stocks, indexes and futures. In 1995, he founded one of the original technical analysis websites. He also founded the web's first free-access technical analysis chatroom in 1996. His analysis has been published or quoted in Barron's, MarketWatch, CNBC, Minyanville, The New York Times, Trader Daily, Futures Magazine, and Technical Analysis of Stocks & Commodities, among others.
Thursday, March 5, 8:35 a.m.
JC Parets (@allstarcharts), Founder of Eagle Bay Capital
JC Parets is a money manager, chartered market technician, technical analysis practitioner and blogger. He is also a Marketfy Maven and the author of Eagle Bay Solutions.
9 a.m.
Ryan Mallory (@SharePlanner), Founder of SharePlanner.com
Ryan Mallory is an accomplished swing-trader and founded SharePlanner.com in 2007. Mallory heads up the SharePlanner Splash Zone which is a swing-trading service that allows you to trade alongside of him in his chat-room, real-time, and make the same trades that he makes each day as well as receive his trade alerts via text and email too. He is the author of the book, "The Part-Time Swing-Trader" and prides himself on being completely transparent and open with his trading which also includes providing his past performance of all his Splash Zone swing-trades. His trades are purely technical and relies solely on price and volume for all his swing-trades.
9:20 a.m.
David Fabian (@fabiancapital), Managing Partner at FMD Capital Management
FMD Capital Management is a a fee-only registered investment advisory firm specializing in exchange-traded funds. David Fabian has nearly a decade of experience constructing actively managed growth and income portfolios using ETFs. David writes a daily ETF column for Benzinga and contributes his wealth management views on his company blog.
Friday, March 7, 8:15 a.m.
Gene Munster, Senior Research Analyst for Piper Jaffray
Gene Munster is a Managing Director and Senior Research Analyst at Piper Jaffray, specializing in Internet. He joined Piper Jaffray in 1995. Munster's Internet focus includes the U.S., Europe, China & Latin America. His coverage includes Google, Yahoo!, Amazon, Baidu, and MercadoLibre. In addition, Munster has covered the Digital Media space since 1995, including Apple.
9 a.m.
Sang Lucci (@sanglucci), Founder and Head Trader at Sanglucci.com
Anand Sanghvi, aka "Sang Lucci," has successfully traded equities and options since 2006, beginning his career as a proprietary trader at PTG Capital. After serving as head trader, he left in 2009 to trade his own account. He infamously turned $50,000 into over $2,400,000 and soon thereafter founded Sanglucci.com, a website specializing in the education of options traders and tape readers from around the world.
9:20 a.m.
Sean Udall (@UdallTechStrat), the Tech Stock Strategist
After nearly doubling his money on NVLS Systems in the early 1990's, Sean Udall has been hooked on tech stocks ever since. He has more than 20 years of experience working for some of the biggest firms in the country (Morgan Stanley, Salomon Smith Barney), managing over $350 million in client assets, and writing prolific content on the tech sector. Sean creates an edge over the masses with his expert strategies and delivers them directly to you everyday in his must-have TechStrat report.
Posted-In: Benzinga #PreMarket Prep Fari Hamzei Gene Munster Nic Chahine Scott RedlerExclusives Pre-Market Outlook Interview Best of Benzinga
View Comments and Join the Discussion!