Bank Of China Asset Management CEO Dr. Au King Lun On Global Investment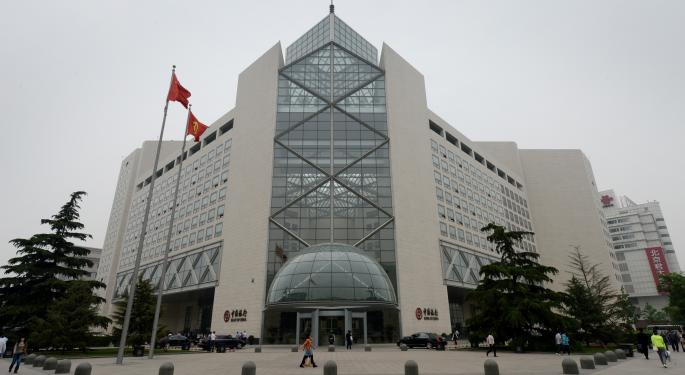 With Chinese leaders meeting to discuss economic reform over the weekend, the nation's banking system has been a topic of interest.  CEO of Bank Of China Asset Management Dr. Au King Lun helped bring their global strategies into better focus during an appearance on CNBC Monday. 
Dr. Au King Lun said that their greatest global investment in terms of value has been in Europe. 
"It's recovering really well," said Dr. Au King Lun. 
He said that the European recovery has been partially reflected in the market, so they're currently aiming at quality socks there to ride that growth, opposed to the laggards that they were investing in earlier in the year. 
The turbulence coming from Washington D.C. lately hasn't worried the Bank of China, despite the bank acting as a major player in both United State investment and debt. 
Related: Earnings Expectations For The Week Of November 4: Disney, Tesla, Groupon And More
"I look at it from a macro perspective. If you take into account the exposure to treasuries from all the state-owned enterprises, the figure would be much bigger than the official $1.3 trillion," said Dr. Au King Lun. 
"Obviously, we'll continue to invest in the U.S. market. It's by far the largest in the world, but also we need to look for ways to diversify our exposure." 
Dr. Au King Lun concluded by encouraging trust in the figures coming out of the Bank of China. While many analysts have seen their numbers as shaky and nontransparent, Dr. Au King Lun said that if you believe in the global accountancy firms which audit the world's major banks, then you should trust their reports. He also noted that they are required by law to get new auditors every six years. 
Jason Cunningham had no position with the mentioned entities while writing this article. Visit Jason on Twitter at @JasonCunningham and @Benzinga.
View Comments and Join the Discussion!
Posted-In: Bank of China Bank of China Asset Management CNBCPolitics Global Economics Media General Best of Benzinga