Market Wrap for October 28: Investors Push Apple Shares Lower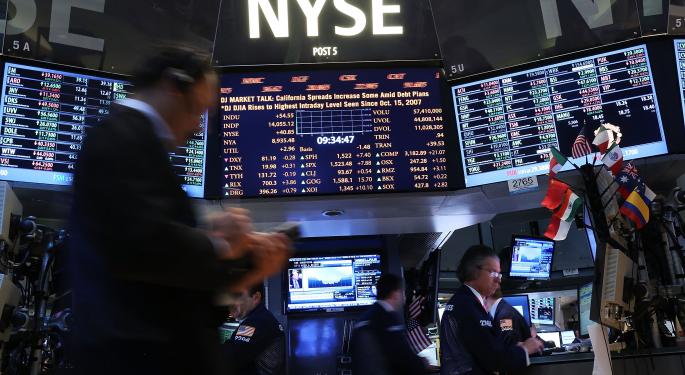 If traders wanted excitement in the stock market on Monday, they got it only in the tiniest of increments.
The market was quiet as investors waited for quarterly results from Apple (NASDAQ: AAPL) and appeared reluctant to make big decisions ahead of the Federal Reserve's two-day meeting that starts Tuesday.
Top Headlines
Apple's results came after the Standard & Poor's 500 Index struggled but succeeded in hitting new closing and intraday highs. The Dow Jones Transports also closed at new highs, but the Dow Jones Industrial Average and the Nasdaq Composite Index slipped in quiet trading.
Apple did beat estimates for its fiscal-fourth quarter, but the shares fell as much as 3 percent after hours as the initial reads on the results didn't impress investors. Shares fell $14, or 2.9 percent, after hours to $515.50. They'd risen 0.7 percent to $529.88 ahead of the report.
Revenue of $37.5 billion beat the Street estimate of $36.8 billion. Earnings of $8.26 a share were ahead of the Street estimate of $7.92 a share but down from $8.67 a year ago.
iPhone sales were up 25.6 percent, but sales of Macintosh computers and iPods were fell from a year ago. IPad sales were up 0.5 percent.
The company projected fiscal-first-quarter revenue of $55 billion to $58 billion. The first quarter is traditionally Apple's busiest because of holiday sales.
Major Indexes
The S&P 500 ended up 0.13 percent to 1,762. The Dow transports added 0.4 percent to 7,036. But the Dow industrials were off 1 point, or 0.01 percent, to 15,569. The Nasdaq Composite Index slipped 3 points, or 0.08 percent, to 3,940.
The Dow traded in a narrow range, just 66 points.
The market has had a terrific year in 2013, and the major averages are poised to finish October with decent gains. September and October are often the weakest and most volatile months. But September was a winner for stocks. In fact, the averages have fallen in just two months -- June and August.
A bull has to be cheered because November is the start of what's been historically the best six months for stocks. But the gains are so big this year -- nearly 19 percent for the Dow, 24 percent for the S&P 500 and 30.7 percent for the Nasdaq that bears say a sizable pullback is inevitable.
Equities Trading UP
Bristol-Myers Squibb Company (NYSE: BMY) shot up 6.38 percent to $51.88 after the company presented positive trial results of its lung cancer drug nivolumab as well as data from the drug clazakizumab, used to treat people with rheumatoid arthritis. Morgan Stanley upgraded the stock from Equal-Weight to Overweight and lifted the target price from $45 to $60.
Shares of Burger King Worldwide (NYSE: BKW) got a boost, shooting up 4.15 percent to $20.58 after the company reported a rise in its third-quarter profit.
Petróleo Brasileiro SA (NYSE: PBR) was also up, gaining more than 9 percent to $17.19 on third-quarter results.
Equities Trading DOWN
Shares of Chinese Internet company Sohu.com (NASDAQ: SOHU) were down 13.27 percent to $68.15 after the company reported a 20 percent drop in its fiscal-third quarter earnings and offered lower-than-expected guidance for the fourth quarter. The weakness also hurt shares of Sohu's parent Changyou.com (NASDAQ: CYOU). Shares fell more than 19.94 percent to $28.59 on the news. Edwards Lifesciences (NYSE: EW) was down, falling 4.96 percent to $73.24 on third-quarter =results.
Commodities
Crude oil moved up 0.85 percent to $98.68 a barrel on Monday, while gold slipped 0.02 percent to $1,352.20 an ounce. Silver traded down 0.45 percent to $22.54, while copper ended unchanged at $3.27 a pound.
Eurozone
European shares were lower on Monday. The Spanish Ibex Index fell 0.8percent, while Italy's FTSE MIB Index tumbled 0.24 percent. Meanwhile, the German DAX dropped 0.08 percent and the French CAC 40 fell 0.48 percent while U.K. shares declined 0.06 percent.
Economics
US industrial production increased 0.6 percent in September; economists had expected 0.4 percent growth. Capacity utilization climbed to 78.3 percent; the Street had expected 77.9 percent.
The pending home sales index declined 5.60 percent in September. The Dallas Fed general business activity index declined to 3.60 in October, versus a prior reading of 12.80. However, economists were expecting a reading of 10.00. The Treasury auctioned $32 billion in 2-year notes to yield 0.323 percent. The bid-to-cover ratio, a gauge of investor demand, was 3.32, slightly higher than the 3.3 average for the last 10 sales.
Posted-In: Earnings News Bonds Commodities Economics Federal Reserve After-Hours Center Markets Best of Benzinga
View Comments and Join the Discussion!