Market Wrap For October 3: Dow Falls Below 15,000 On Debt Battle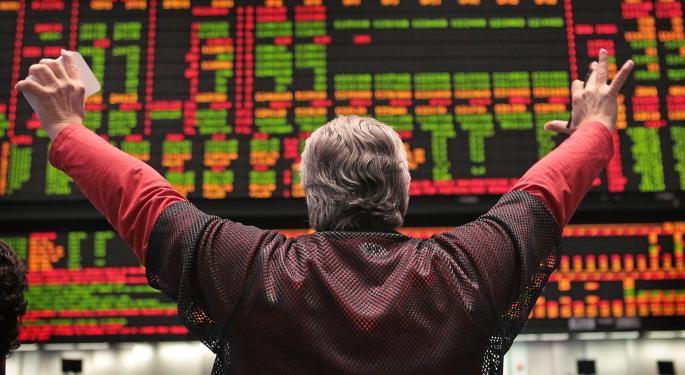 No progress seems be made resolving the debt ceiling crisis as deliberations continue for day three.
Analysts speculate market losses can be attributed to the stalemate. Shots rang out on Capitol Hill this afternoon, sending it into lock down. On top of this, somebody tried to drive their car into the White House.
Breaking the recent down trend, volume leapt higher Thursday, adding weight to the move.
Major Averages
The Dow Jones Industrial Average tumbled 136.66 points, or 0.9 percent, to 14,996.48.
The S&P 500 dropped 15.21 points, or 0.9 percent, to 1,678.66.
The Nasdaq Composite dropped 40.68 points, or 1.07 percent, to close at 3,774.34.
The Russell 3000 fell 8.1 points, or 0.79 percent to finish at 1,011.54.
Jobless Claims
Initial jobless claims bounced high after last week's six year low of 305,000. At 308,000, claims are better than the expected 315,000. Continuing claims were worse than expected at 2.92 million while analysts were expecting 2.81 million.
Retail Sales
Eurozone retail sales for September were much better than expecting. The figure rose 0.7 percent month over month, up from 0.1 percent the month before. This is half a percent than economists anticipated.
Stock Movers
CalAmp (NASDAQ: CAMP) shot up 14.24 percent to $21.35 after the company reported upbeat fiscal second-quarter results.
HomeAway (NASDAQ: AWAY) was up as well, gaining 8.17 percent to $29.74 on speculation of takeover talks with Priceline.com (NASDAQ: PCLN).
ICG Group (NASDAQ: ICGE) rose 9.74 percent to $15.39 after the company announced the sale of Procurian to Accenture plc (NYSE: ACN) for $375 million in cash.
Clean Energy Fuels (NASDAQ: CLNE) were down 5.69 percent to $13.01. The company reported that it will be the first company to commercially distribute a transportation fuel made from waste.
Herbalife (NYSE: HLF) was also down 6.61 percent to $68.26 despite the New York Post reporting that Bill Ackman had converted 40 percent of his short position to put options.
Imax (NYSE: IMAX) was down 8.63 percent to $25.95 after Cormark Securities downgraded the stock from Market Perform to Reduce.
Tesla (NASDAQ: TSLA) fell 4.61 percent to $172.64, continuing on yesterday's negative momentum.
Commodities
Crude oil moved lower with the stock market on Thursday. Near the close of equities, WTI crude futures were down one percent to $103.06. Brent futures gave up 0.45 percent to $108.70. Natural gas fell four pennies to $3.51.
Conversely, precious metals futures were mostly unmoved on the day. At last check, COMEX gold futures were down 0.27 percent to $1,317.20. Silver contracts fell 0.79 percent to $21.73 near the close. Copper futures gave up 1.33 percent and were last trading at $327.20.
Currencies
The U.S. dollar continues to fall after Wednesday's sell off. Near the close of equity trading, the PowerShares DB US Dollar Index Bullish ETF (NYSE: UUP), which tracks the performance of the greenback versus a basket of foreign currencies, was down 0.09 percent to $21.51.
The closely watched EUR/USD pair rose 0.31 percent on to $1.3621. Other big movers included the EUR/GBP, which rose 0.71 percent, and the USD/BRL which was up 0.44 percent on the day.
Volume and Volatility
Volume finally broke above the three month average with 149 million shares of the SPDR S&P 500 ETF (NYSE: SPY) trading hands heading into the close. This compares to the ten day average of 117 million and three month average of 125 million.
The VIX measure of volatility continued to surge higher Thursday, up 4.7 percent to 17.38. The metric is up 23.61 percent over the past five days.
Global Markets
Chinese and Korean markets were mixed for national holidays today. After a volatile day of trading, Japan's Nikkei dropped 0.09 percent.
European markets were mostly flat on the day. The Euro Stoxx index, which tracks 50 euro zone blue chips fell 0.55 percent percent. London's FTSE rose 0.18 percent, and France's CAC dropped 0.73 percent.
Posted-In: Earnings News Futures Commodities Forex Economics After-Hours Center Markets Best of Benzinga
View Comments and Join the Discussion!