The Top 10 Financial Tweets For Wednesday, August 28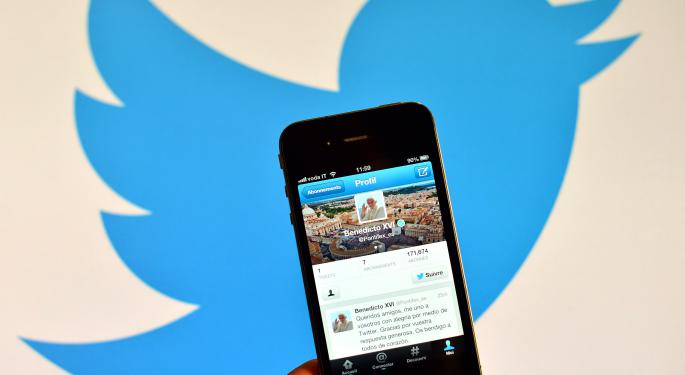 There are millions of tweets written every day. Benzinga sifts through the maelstrom of information to find the ten best tweets of the day that are either informative, insightful or just down right comical.
1. Bloomberg News
Bloomberg News ( @BloombergNews ) tweeted out the great irony of our banking system. It looks like the biggest banks may be the ones in need of huge loans now.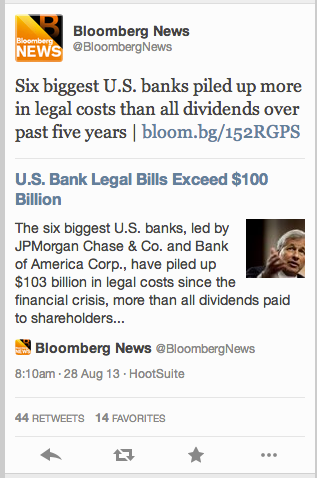 2. Zerohedge
European bonds have nothing on Russian ones. Zerohedge, ( @zerohedge ) tweeted out that Russia cancelled the second bond auction this month after 'extremely low' demand.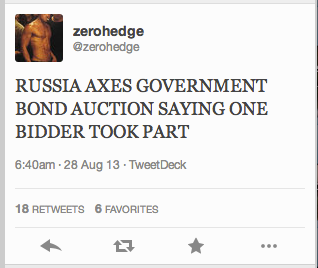 3. Fortune Magazine
Fortune Magazine ( @FortuneMagazine ) tweeted out a great article about how quickly panic escalated in the markets based on potential Syria attack. Is this a collective investor overreaction or their valid fear? Read on to find out.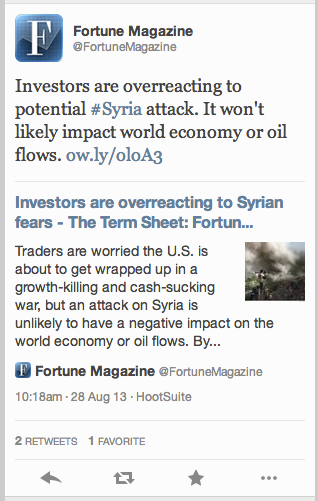 4. Financial Times
Financial Times ( @FinancialTimes ) tweeted out this morning that US pending home sales fall…for a second month in a row. Maybe it's time rising rates finally caught up with homebuyers.


5. MarketMinds
MarketMinds ( @marketmindss ) tweeted out thateveryone is pulling money out of India. This may be an omen that India will be the first EME domino to fall.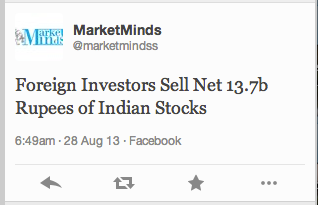 6. 9to5Mac
9to5Mac ( @9to5mac ) tweeted out that Apple (NASDAQ: AAPL ) is will be transcending more borders. Their three new iPhones could really 'wow' buyers or it could just be their overbearing market strategy.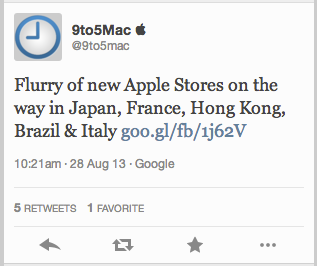 7. WhoTrades
German political shots were heard all across the world today. WhoTrades ( @whotrades ) tweeted out that Angela Merkel blamed her predecessor Gerhard Schroeder for allowing Greece to join the euro zone, thereby causing the current crisis.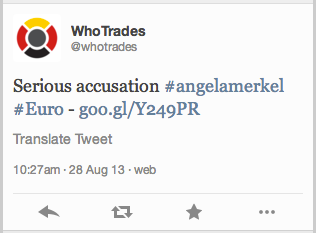 8. Business Insider
Business Insider ( @businessinsider ) tweeted out that the repercussions of a potential attack in Syria are spreading. The latest battlefield appeared to be the The New York Times (NYSE: NYT )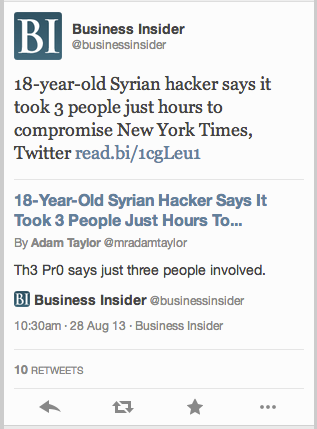 9. Daniel Gross
Daniel Gross ( @grossdm ), Newsweek/Daily Beast editor and columnist, tweeted out that the west coast in the U.S. is starting to look awfully European. Hopefully it won't follow in all the same financial footsteps.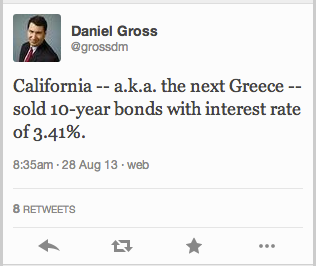 10. USA TODAY
USA TODAY ( @USATODAY ) tweeted out that even amongst market panic caused by developments in Syria, there is a silver lining. If you're willing to go long on crude, oil, and gas then it's possible you could take advantage of it.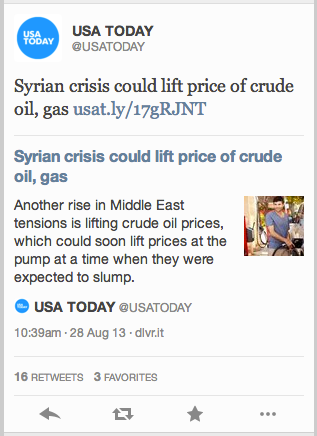 Posted-In: News Bonds Emerging Markets Eurozone Commodities Politics Global Markets Best of Benzinga
View Comments and Join the Discussion!