Market Wrap for Wednesday, July 10: Stocks Whipsaw Around FOMC Minutes, But Finished Nearly Unchanged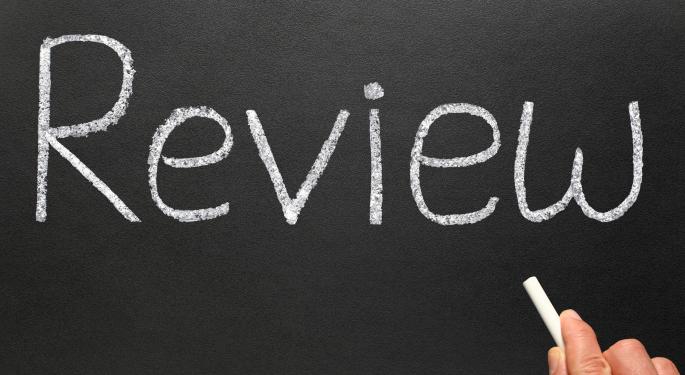 Trading on Wall Street was choppy around an afternoon release of the minutes from the most recent FOMC meeting on Wednesday, but by the close, the major averages were mostly unchanged.
The FOMC minutes showed that many Fed members want to see more improvement in the job market before tapering the central bank's current bond-buying program.
Nevertheless, consensus within the committee is building to scale back the stimulus effort in the near-term. The Dow Jones Industrial Average fell on the session, while the S&P was essentially flat and the Nasdaq recorded a moderate gain.
Major Averages
The Dow Jones Industrial Average fell around 9 points, or 0.06 percent, to close at 15,292.
The S&P 500 gained less than a point, or 0.02 percent, to close at 1,653.
The Nasdaq rose almost 17 points, or 0.47 percent, to finish at 3,521.
Wholesale Inventories
Wholesale inventories declined 0.5 percent in May compared to a decline of 0.1 percent for April. This compared to consensus estimates which expected inventories to rise 0.3 percent.
FOMC Minutes
The release of minutes from the most recent Federal Open Market Committee showed that members wanted more reassurance that the jobs recovery was on solid footing before ending the Fed's current quantitative easing program. Consensus appeared to be building, however, about the need to begin tapering stimulus measures soon.
Commodities
Energy prices continued to rise on Wednesday. At last check, NYMEX crude futures were up 2.44 percent to $106.06. Brent contracts had added 0.26 percent to $108.09. Natural gas was last trading up 0.33 percent to $3.67.
Precious metals were mixed on the session. COMEX gold futures added 0.21 percent to $1,248.50 while silver contracts were last trading down 0.07 percent to $19.13. Copper climbed 0.57 percent to $3.0820 on the session.
In the grains complex, corn and wheat were mixed. Corn lost 0.05 percent while wheat was last trading up 0.22 percent. Movers in soft commodities included cotton and lumber. Cotton prices rose a little less than 1 percent while lumber added 3 percent on the session.
Bonds
Bonds fell on the day, extending losses in the wake of the FOMC meeting. Near the close of equities, the iShares Barclays 20+ Year Treasury Bond ETF (NYSE: TLT) was down 0.74 percent to $106.64.
Yields on Treasuries were as follows on Wednesday afternoon: The 2-Year Note yield was 0.37 percent while the 5-Year yield was sitting at 1.52 percent. The yield on the 10-Year Note was at 2.68 percent and the 30-Year Bond yield was 3.69 percent.
Currencies
The U.S. Dollar fell sharply on the day. At last check, the PowerShares DB US Dollar Index Bullish ETF (NYSE: UUP), which tracks the performance of the greenback versus a basket of foreign currencies, was down 0.70 percent to $22.77.
The closely watched EUR/USD pair was last trading up 0.74 percent to $1.2882. Other movers included the USD/JPY, which fell 0.76 percent, and the AUD/USD, which lost 0.83 percent.
Volatility and Volume
The VIX was trading slightly lower late on Wednesday. At last check, the widely watched measure of volatility expectations had lost 0.35 percent to 14.30.
Volume was light on the day despite the FOMC release. Only around 104 million SPDR S&P 500 ETF (NYSE: SPY) shares traded hands on the session compared to a 3-month daily average of 144 million.
Stock Movers
Shares of Nu Skin Enterprises (NYSE: NUS) surged around 19 percent on Wednesday after the company lifted its second-quarter and full-year guidance.
Molycorp (NYSE: MCP) rose better than 15 percent on the day. The reason for the move was not readily apparent, but may have been driven by a technical breakout.
Cesaers Entertainment (NYSE: CZR) jumped almost 13 percent late on Wednesday after the company's new online gambling business said it would sell up to $1.18 billion in stock.
Pharmacyclics (NASDAQ: PCYC) was trading up a little less than 12 percent on Wednesday afternoon after the biotech firm said it had submitted a New Drug Application for ibrutnib to the FDA requesting priority review.
Family Dollar (NYSE: FDO) shares rose better than 7 percent on the day after the company reported its fiscal third-quarter earnings results.
Allscripts Healthcare Solutions (NASDAQ: MDRX) jumped 10 percent after the company said that it expects second-quarter bookings of more than $200 million.
Pandora Media (NYSE: P) lost more than 8 percent on Wednesday as investors worried about the imminent arrival of iTunes Radio as a competitor.
Rackspace Hosting (NYSE: RAX) fell around 7 percent after Amazon.com said on its cloud computing blog that it is cutting prices for its services by between 37 percent and 80 percent on various fees.
Nabors Industries (NYSE: NBR) fell a little more than 6 percent after saying that it expects second-quarter operating income will miss Wall Street estimates.
ADTRAN (NASDAQ: ADTN) shed 7 percent on the session in the wake of the company's fiscal second-quarter financial results.
View Comments and Join the Discussion!
Posted-In: Earnings News Bonds Broad U.S. Equity ETFs Guidance Futures Commodities Currency ETFs Best of Benzinga