Market Wrap for Monday, July 1: Stocks Rise, But Finish Off Session Highs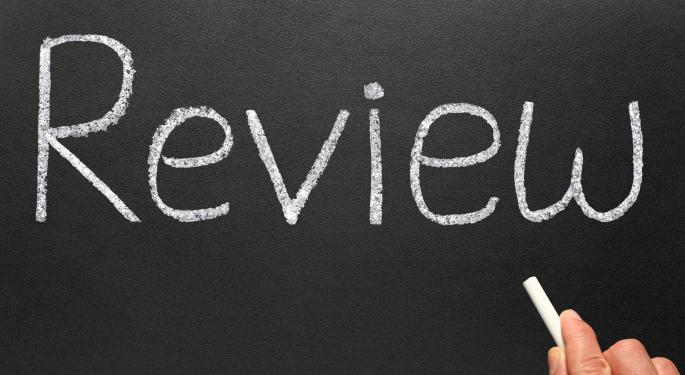 The U.S. stock market continued its near-term rally on Monday as the major averages look to make back losses from two weeks ago.
The Dow came close to re-taking the 15,000 level on a closing basis, but a late day sell-off sent the widely watched blue-chip average out just below that mark. The leader on the day was the Nasdaq, which registered a gain of just under one percent.
The greenback was slightly lower on the session while bonds closed slightly higher.
Major Averages
The Dow rose around 65 points, or 0.44 percent, to 14,975.
The S&P 500 added almost 9 points, or 0.54 percent, to close at 1,615.
The Nasdaq rose 31 points, or 0.92 percent, to 3,434.
ISM Index
The ISM Index rose to 50.9 in June from 49.0 in May. This compared to consensus expectations which expected the ISM Index to rise to 50.5. For a more detailed look at the index's performance in June check out this Benzinga Exclusive.
Construction Spending
Construction spending rose 0.5 percent in May compared to an increase of 0.1 percent in April. This was in-line with consensus estimates.
Commodities
The energy complex rose along with stocks on Monday. NYMEX crude futures climbed 1.42 percent to $97.93 while Brent crude contracts added 0.79 percent to $102.97. Natural gas rose 0.42 percent to $3.58.
Precious metals also rose on Monday. COMEX gold futures jumped 2.29 percent to $1,251.70 while silver was last up 0.49 percent to $19.57. Copper surged 3.24 percent to $3.1565 on Monday.
The grains complex was largely lower to start the week. Heading into the closing bell, corn futures were down almost 2 percent while wheat had lost 0.42 percent. Movers in soft commodities included sugar and cotton. Sugar futures were last trading down 1.36 percent while cotton had risen a little less than 2 percent.
Bonds
Bonds were slightly higher to start the trading week. Near the close of equity trading, the iShares Barclays 20+ Year Treasury Bond ETF (NYSE: TLT) was up 0.20 percent to $110.41.
At last check, yields were as follows: The 2-Year Note was yielding 0.35 percent while the 5-Year yield was at 1.38 percent. The 10-Year Note and 30-Year Bond were yielding 2.48 percent and 3.48 percent, respectively.
Currencies
The U.S. Dollar was slightly lower on Monday. Heading into the closing bell, the PowerShares DB US Dollar Index Bullish ETF (NYSE: UUP), which tracks the performance of the greenback versus a basket of foreign currencies, has lost 0.24 percent to $22.50.
The closely watched EUR/USD pair was last up 0.31 percent to $1.3059. Other movers included the USD/JPY, which rose 0.54 percent and the AUD/USD, which added 0.81 percent on the session.
Volatility and Volume
The VIX was lower late on Monday, but not my much. At last check, the widely watched barometer of volatility expectations had lost around 2 percent to 16.51.
Volume was lighter than usual on the day. Around 108 million SPDR S&P 500 ETF (NYSE: SPY) shares traded hands compared to a 3-month daily average of 144 million.
Stock Movers
Onyx Pharmaceuticals (NASDAQ: ONYX) jumped almost 51 percent after the company said that it had rejected a bid which valued Onyx at a 38 percent premium to Friday's closing price from Amgen. Onyx said that it is seeking potential buyers in the wake of the unsolicited bid from Amgen.
Best Buy (NYSE: BBY) climbed almost 9 percent after Credit Suisse resumed coverage on the stock with a Outperform rating. The firm also hiked its price target by 25 percent to $40.
Acura Pharmaceuticals (NASDAQ: ACUR) added better than 16 percent late on Monday after the company said that Pfizer will expand commercialization of a pain drug that uses Acura's tamper-resistant technology.
Endologix (NASDAQ: ELGX) had risen nearly 6 percent late on Monday after the company raised its full-year revenue outlook.
Zynga (NASDAQ: ZNGA) climbed better than 11 percent intra-day on Monday after a report surfaced that the company could name a new CEO.
Steinway Musical Instruments (NYSE: LVB) rose around 16 percent on Monday after the company agreed to be acquired by private equity firm Kohlberg & Co. in a $438 million cash deal.
InterDigital (NASDAQ: IDCC) lost almost 13 percent on Monday after an administrative judge overseeing patent-infringement claims against Nokia, Huawei Technologies, and ZTE Corp. ruled that only one of the company's patents had been infringed, but that the patent was invalid.
Insemed (NASDAQ: INSM) fell around 20 percent after Phase III data showed that a once-daily dose of the company's drug Arikace for pseudomonas aeruginosa in cystic fibrosis patients was not inferior to a twice-daily dosage of another drug. Investors, however, were hoping that the treatment would show superiority to the alternative medication.
View Comments and Join the Discussion!
Posted-In: Earnings News Bonds Broad U.S. Equity ETFs Guidance Futures Commodities Currency ETFs Best of Benzinga