Benzinga Market Primer: Tuesday, June 11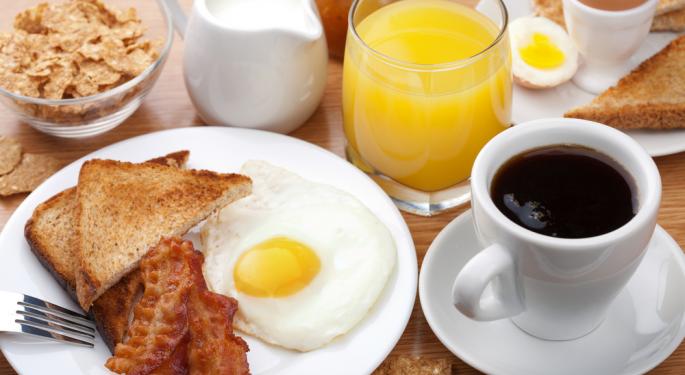 Futures Dip As Kuroda Disappoints
U.S. equity futures fell in early pre-market trade after Bank of Japan Governor Kuroda disappointed markets by not announcing a new plan to extend the maturity of cheap, 0.1 percent loans it had been making. The Bank did upgrade its forecast for the economy as expected but simply restated its lending goals, sending markets lower.
Top News
In other news around the markets:


Industrial production in the U.K. rose 0.1 percent in April vs. a flat reading month-over-month despite dropping from March's 0.7 percent gain. On an annualized basis, industrial production has fallen 0.6 percent vs. an expected drop of 0.7 percent and better than the prior reading of -1.4 percent.

Eurogroup Chief Jean Claude Juncker left Greece this morning following discussions with the government and made a rather optimistic assessment about the state of the Greek economy. However, the failed auction of state owned gas drilling rights Monday raises fears that the privatization program, a key tenet to the long-term sustainability of Greece's recovery, is failing.

The German High Court has begun proceedings in the case to try the legality of the OMT program launched by ECB President Mario Draghi last summer. The court noted that success of policies does not justify their constitutionality and that the "ends of ECB policy don't justify the means."

S&P 500 futures fell 6.5 points to 1,635.60.

The EUR/USD was higher at 1.3281.

Spanish 10-year government bond yields rose 1 basis point to 4.6 percent.

Italian 10-year government bond yields rose 1 basis point to 4.32 percent.

Gold fell 1.04 percent to $1,371.60 per ounce.
Asian Markets
Asian shares were mostly lower overnight following the disappointment from the Bank of Japan. The Japanese Nikkei 225 Index fell 1.45 percent and the Topix Index declined 0.97 percent. The Hang Seng Index fell 1.2 percent in Hong Kong and the Korean Kospi fell 1.2 percent while Australian shares edged higher by 0.41 percent, boosted by an improving business sentiment indicator and the devaluing Australian dollar.
European Markets
European shares were in the red in early trade, following Asian shares lower. The Spanish Ibex Index declined 1.00 percent and the Italian FTSE. MIB Index fell 0.92 percent. Meanwhile, the German DAX declined 0.96 percent and the French CAC 40 fell 0.86 percent while U.K. shares shed 0.82 percent.
Commodities
Commodities were lower overnight, following the broad risk-off theme in markets. WTI Crude futures fell 0.13 percent to $95.65 per barrel and Brent Crude futures fell 0.26 percent to $103.68 per barrel. Copper futures lost 1.08 percent to $320.60 per pound. Gold was lower and silver futures declined 1.46 percent to $21.61 per ounce.
Currencies
Currency markets were on the move in stellar fashion overnight as the yen strengthened rather violently and the Australian dollar continued to tank. The EUR/USD was higher at 1.3281 and the dollar declined against the yen by 1.57 percent to 97.21. Overall, the Dollar Index fell 0.26 percent on weakness against the yen, the Swiss franc, and the euro despite strength against the Canadian dollar and the British pound.
Notably, the yen strengthened across the board with the dollar, the euro, the pound, the Swiss franc, and the Australian dollar all dropping more than 1 percent against the yen. The stand-out pairs were the AUD/JPY, which fell 2.79 percent, and the GBP/JPY, which declined 2.49 percent. The Australian dollar was more broadly weak than against just the yen, dropping 1.37 percent against the U.S. dollar also. To note, Dennis Gartman of the Gartman Letter went long the AUD/JPY Monday morning.
Earnings Reported Yesterday
Key companies that reported earnings Monday include:


Annie's (NYSE: BNNY) reported fourth quarter EPS of $0.29 vs. $0.28 expected on revenue of $52.2 million.

Diamond Foods (NASDAQ: DMND) reported third quarter EPS of $0.05 vs. an expected loss per share of $0.17 expected on revenue of $184.9 million vs. $175.8 million expected. The company also restated Q2 earnings and named a new CFO.

Lululemon Athletica (NASDAQ: LULU) reported first quarter EPS of $0.32 vs. $0.30 expected on revenue of $345.8 million vs. $341.0 million. The company also announced that Christine Day was stepping down from her CEO position and that the company was to de-list its Canadian listed shares.
Navistar (NYSE: NAV) reported a second quarter loss of $4.65 per share vs. an expected loss of $1.20 per share on revenue of $2.53 billion.
Pre-Market Movers
Stocks moving in the pre-market included:


Lululemon (NASDAQ: LULU) shares declined 13.22 percent pre-market on the earnings as well as the other corporate news.

Navistar (NYSE: NAV) shares fell 4.66 percent pre-market after reporting a wider than expected quarterly loss.

General Mills (NYSE: GIS) shares rose 0.83 percent pre-market after the company raised guidance slightly but still sees full year earnings coming in shy of the street estimates by 1-2 cents.

Diamond Foods (NASDAQ: DMND) shares climbed 3.19 percent pre-market after better earnings.
Earnings
Notable companies expected to report earnings Tuesday include:


LDK Solar (NYSE: LDK) is expected to report a first quarter loss of $0.96 per share vs. a loss of $1.46 per share a year ago.

Oxford Industries (NYSE: OXM) is expected to report first quarter EPS of $0.78 vs. $1.12 a year ago.
Economics
On the economics calendar Tuesday, the NFIB Small Business Optimism Index is due out as well as the Redbook, weekly chain store sales, and wholesale trade data. The Treasury is also set to auction 4-week and 3-year note bills. Overnight, French Non-Farm Payrolls, German inflation, and the British claimant count change are expected.
Good luck and good trading.
Tune into Benzinga's PreMarket Info show with Dennis Dick and Joel Elconin here.
For a recap of yesterday's market action, read Benzinga's daily market wrap here.
Posted-In: Earnings News Bonds Guidance Dividends Futures Commodities Previews Best of Benzinga
View Comments and Join the Discussion!