The Turkey ETF Got Really Ugly Really Fast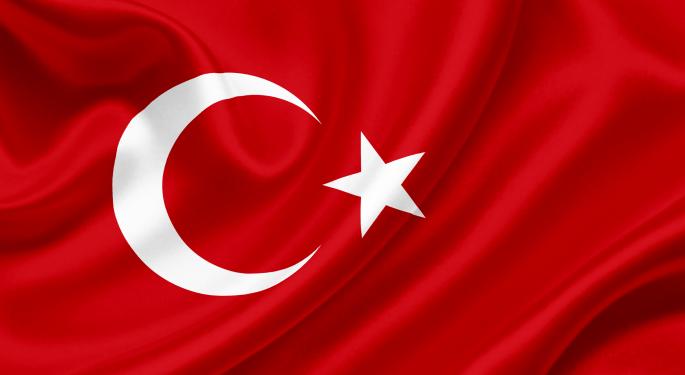 Shares of the once hot iShares MSCI Turkey Investable Market Index Fund (NYSE: TUR) are plunging Monday as political protests in the country have grown increasingly violent.
This is the worst spate of civil unrest and opposition to his authority since Prime Minister Recep Tayyip Erdogan took power a decade ago.
Erdogan has delivered economic growth to Turkey and that growth fueled an almost 50 percent gain one-year gain for TUR through last Friday. Turkey's improving economic fundamentals helped TUR hit a series of new highs as Turkey gained investment-grade credit ratings.
Investors took note, pumping over $300 million in new assets into TUR for the 12-month period ending May 27, but a growing number of Turks say the regime there has also adopted increasingly authoritarian tactics and has attempted to more aggressively Islamize Turkey's secular state, according to the Wall Street Journal.
The specter of an Arab Spring type of revolution in Turkey has hastened TUR's woes after Turkish equities were recently highlighted as pricey and vulnerable to chatter about the end of quantitative easing. This how bad things for TUR.
Currently sitting on an intraday loss of 8.5 percent, TUR is on track for its worst one-day performance in its slightly more than five-year history.
Last week, $7 million was pulled from the ETF, according to Index Universe data. It is not unreasonable to expect that number will grow.
Assuming a loss of about eight percent Monday, TUR will have fallen 15 percent in the past week. The last time TUR lost 15 percent or more in a week was in the fourth quarter of 2008.
In late 2009, Turkey was home to five days of Kurdish protests, but TUR traded higher in the face of those protests.
Monday is the first trading day of June and in that one day, TUR has accumulated enough of a loss to be more than a third of the way to its worst monthly performance since September 2008 when the ETF lost more than 23 percent.
Not Just Equities The Turkish protests are hurting the country's bonds as well as Turkish bond yields hit their highest level since 2006. The yield on benchmark two-year lira bonds rose 44 basis points to 6.51 percent, the biggest jump in percentage terms since June 2006, Bloomberg reported.
That explains why the iShares Emerging Markets High Yield Bond Fund (NYSE: EMHY), which allocates more than 18.6 percent of its weight to Turkey, is off 1.6 percent today on volume that is quadruple the daily average.
With the Turkish lira hitting its lowest levels against the U.S. dollar in nearly a year-and-a-half, bond denominated in the Turkish currency are not faring much better. For example, the Market Vectors Emerging Markets Local Currency Bond ETF (NYSE: EMLC), which features a mere 7.4 percent allocation to Turkish debt, dropped 0.72 percent today on volume that was nearly triple the daily average.
For more on ETFs, click here.
Posted-In: Long Ideas News Bonds Short Ideas Emerging Market ETFs Technicals Currency ETFs Forex Best of Benzinga
View Comments and Join the Discussion!