A New EM Bond ETF Comes to Town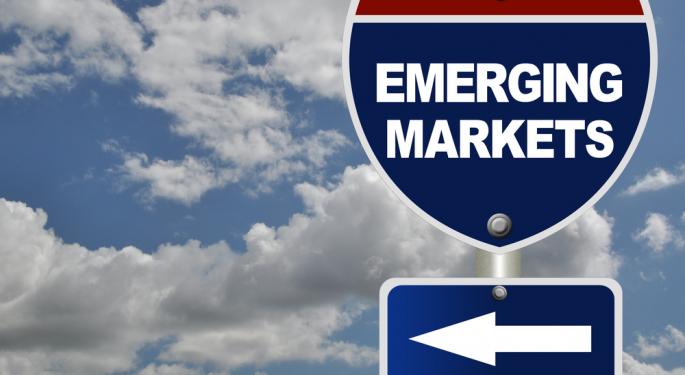 Emerging markets sovereign bonds denominated in local currencies have proven to be a popular destination for ETF investors looking for diversity and better yields beyond U.S. Treasuries. Those investors now have another ETF to choose from with Thursday's debut of the PowerShares Fundamental Emerging Markets Local Debt Portfolio (NYSE: PFEM).
The new PowerShares offering will compete directly with at least three other ETFs, which have over $4 billion in assets under management combined. The actively managed WisdomTree Emerging Markets Local Debt Fund (NYSE: ELD) is the largest multi-region local currency emerging markets bond ETF with $2.06 billion in assets under management.
With the PowerShares Fundamental Emerging Markets Local Debt Portfolio entering a corner of the ETF market littered with established competition, the new fund needs to offer something to stand apart from its rivals. PFEM does that by tracking a fundamentally-weighted index provided by Research Affiliates, one of the pioneers of fundamental indexes.
"Traditional bond indexes generally use some form of market-cap weighting where constituent weights are a function of both the amount of debt issued and the debt's current price. This approach can result in greater weights being assigned to issuers that have issued more debt. In contrast, the Fundamental Index approach developed by Research Affiliates, LLC weights bonds based on each country's economic footprint, resulting in a portfolio that is correlated to a country's debt service capacity," said PowerShares in a statement.
PFEM, which has an annual expense ratio of 0.5 percent, tracks the Citi RAFI Bonds Sovereign Emerging Markets Extended Local Currency Index. To qualify for the Index, countries must have at least a minimum domestic sovereign debt rating of "CC" by S&P and "Ca" by Moody's. Research Affiliates, LLC and Citigroup Index LLC jointly select the emerging market countries in the Index and country weights are determined once per year based on the RAFI methodology, according to the statement. The index and the ETF are rebalanced quarterly.
As of April 30, the index included bonds issued by the governments of Brazil, Chile, China (Offshore), Colombia, the Czech Republic, Hungary, Indonesia, Israel, Malaysia, Mexico, Peru, the Philippines, Poland, Russia, South Africa, South Korea, Thailand and Turkey. The ETF's top-five country weights are Russia, Brazil, Indonesia, Mexico and Malaysia, according to PowerShares data.
The Philippines, Chile, Peru and South Africa also receive weights of just over five percent. Thailand just misses the five percent mark with an allocation of 4.99 percent.
PFEM features an average yield to maturity and yield to worst of 5.07 percent. The new ETF's modified duration is 5.5 years.
In terms of credit quality, 45 percent of PFEM's 38 holdings are rated A by Standard & Poor's. Another 13 percent are rated AA and 23 percent are rated BBB. Five percent of the ETF's holdings are not yet rated by S&P.
PowerShares offers other fundamentally-weighted bond ETFs including the $813.7 million PowerShares Fundamental High Yield Corporate Bond Portfolio (NYSE: PHB) and the PowerShares Fundamental Investment Grade Corporate Bond Portfolio (NYSE: PFIG).
For more on ETFs, click here.
View Comments and Join the Discussion!
Posted-In: Long Ideas News Bonds Short Ideas Specialty ETFs New ETFs Emerging Market ETFs Currency ETFs Best of Benzinga