Benzinga Market Primer: Monday, May 6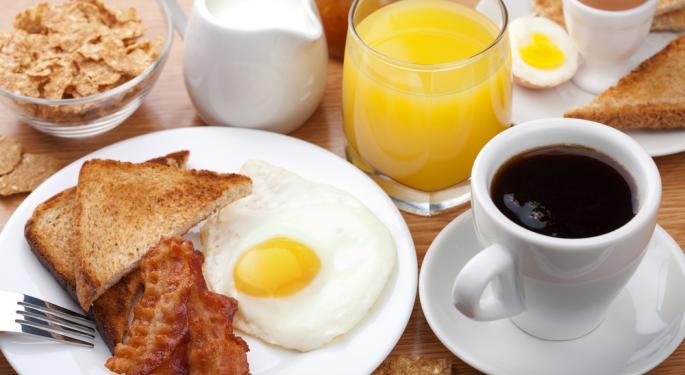 Futures Sightly Higher on Economic Data
U.S. equity futures rose slightly in early pre-market trade following the strong employment report from the U.S. and better than expected services data from the EU. Notably, Japanese and U.K. markets were closed overnight.
Top News
In other news around the markets:


To recap the employment report, the U.S. economy added 165 thousand non-farm jobs and 176 thousand private sector jobs while the unemployment rate unexpectedly fell and previous months data were revised sharply higher.

The eurozone's services sector contracted less than expected in April as the eurozone Services PMI rose to 47.0 from 46.6 in March on expectations of a flat reading. Strength was seen in Germany, France, and Italy in the report.

Spain's unemployment burden eased in April as the number of people claiming unemployment unexpectedly fell 0.91 percent in April on expectations of a gain.

S&P 500 futures rose 0.5 points to 1,609.00.

The EUR/USD was lower at 1.3106.

Spanish 10-year government bond yields fell 2 basis points to 4.02 percent.

Italian 10-year government bond yields rose 2 basis points to 3.84 percent.

Gold rose 0.58 percent to $1,472.70 per ounce.
Asian Markets
Asian shares were mostly higher overnight on the back of the strong U.S. employment report. The Shanghai Composite Index rose 1.17 percent and the CSI 300 Index rose 1.31 percent while the Hang Seng Index gained 0.99 percent. Also, the Korean Kospi fell 0.22 percent and Australian shares gained 0.52 percent.
European Markets
European shares were mostly lower overnight in thin trading following strong gains last week on the back of the ECB rate cuts and the U.S. employment report. The Spanish Ibex Index fell 0.37 percent and the Italian FTSE MIB Index declined 0.56 percent. Meanwhile, the German DAX declined 0.16 percent after reaching a new all-time high last Friday and the French CAC 40 fell 0.27 percent.
Commodities
Commodities were mostly higher overnight led by oil as natural gas futures fell sharply. WTI Crude futures rose 0.66 percent to $96.24 per barrel and Brent Crude futures rose 0.46 percent to $104.67 after Israel launched two air strikes on Syria to target Hizbollah weapons shipments from Iran. Natural Gas futures fell 0.77 percent to $4.01 per million BTU on warmer weather conditions. Copper futures fell 0.08 percent to $331.20 on weaker than expected retail sales and CapEx data in Australia. Gold was higher and silver futures gained 0.44 percent to $24.12 per ounce.
Currencies
Currency markets were rather quiet overnight as the yen continued its decline. The EUR/USD was slightly lower at 1.3106 and the dollar gained against the yen to 99.34. Overall, the Dollar Index rose 0.08 percent on strength against the yen, the Swiss franc, the pound, the euro, and the Canadian dollar.
Earnings Reported Yesterday
Key companies that reported earnings Friday include:


Berkshire Hathaway (NYSE: BRK-A) (NYSE: BRK-B) reported first quarter EPS (for the B shares) of $1.53 vs. $1.33 expected as shares reached a new all-time high in the quarter.

CBOE Holdings (NASDAQ: CBOE) reported first quarter EPS of $0.50 vs. $0.44 on revenue of $142.7 million vs. $135.87 expected.
Moody's (NYSE: MCO) reported first quarter EPS of $0.97 vs. $0.85 on revenue of $731.8 million vs. $718.01 million expected.

Madison Square Garden (NASDAQ: MSG) reported third quarter EPS of $0.49 vs. $0.33 on revenue of $412.4 million vs. $405.11 million expected.

Weatherford International (NYSE: WFT) reported first quarter EPS of $0.15 vs. $0.17 on revenue of $3.84 billion vs. $3.9 billion expected.
Pre-Market Movers
Stocks moving in the pre-market included:


Berkshire Hathaway (NYSE: BRK-A) (NYSE: BRK-B) shares rose 1.99 percent pre-market following the blowout earnings and comments from CEO Warren Buffett that the board has already been told who he would like as a potential successor to himself as CEO.

Advanced Micro Devices (NYSE: AMD) shares fell 1.39 percent after rising nearly 6 percent Friday.

Disney (NYSE: DIS) shares rose rose 0.39 percent after the strong release of Iron Man 3.

Newmont Mining (NYSE: NEM) shares rose 0.61 percent pre-market as gold prices rose.
Earnings
Notable companies expected to report earnings Monday include:


Tesco (NASDAQ: TESO) is expected to report first quarter EPS of $0.25 vs. $0.37 a year ago.

Anadarko Petroleum Corp. (NYSE: APC) is expected to report first quarter EPS of $0.93 vs. $0.92 a year ago.

Sott's Miracle Grow (NYSE: SMG) is expected to report second quarter EPS of $2.00 vs. $2.15 a year ago.

Vornado Realty Trust (NYSE: VNO) is expected to report first quarter EPS of $1.89 vs. $1.82 a year ago.
Economics
On the economics calendar Monday, ECB President Mario Draghi is set to speak followed by a Treasury auction of 3- and 6-month bills. Later, the TD Ameritrade Investor Movement Index is expected to be released followed by a Treasury STRIPS auction. Overnight, the RBA rate decision, French industrial production, and German factory orders data are due out.
Good luck and good trading.
View Comments and Join the Discussion!
Posted-In: Earnings News Bonds Guidance Dividends Futures Commodities Previews Best of Benzinga