Benzinga Market Primer, Tuesday November 27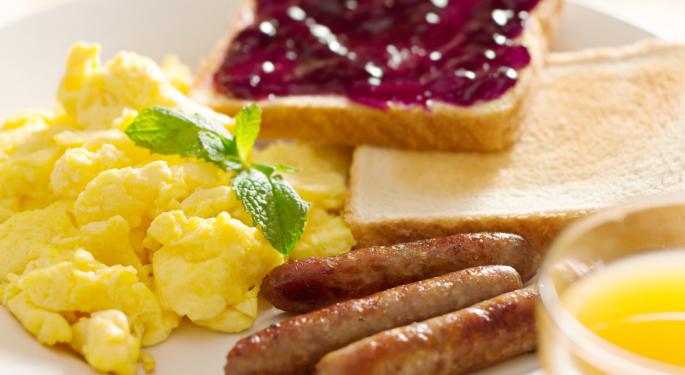 Futures Flat on Greek Deal
U.S. equity futures were flat in early Tuesday trade as the Troika of lenders reached an agreement to disburse Greece's latest bailout tranches and give the nation more time to repay its bailout loans. Ministers agreed to cut the interest rate Greece has to pay on its loans, suspend interest payments for a decade, and give the country more time to pay back the loans.
Top News
In other news around the markets:


Mark Carney, the current head of the Bank of Canada, has been nominated to succeed Mervyn King as the Governor of the Bank of England. Should his appointment go through, he will become the first foreigner to head the Bank of England.

The latest revision of U.K. third quarter GDP was released with the annual growth rate being affirmed at +1.0 percent and the quarterly rate being revised downwards by 0.1 percent to -0.1 percent quarter over quarter growth.

The OECD cut its global growth forecasts overnight, slashing its estimate for global 2013 GDP growth to 3.4 percent from 4.2 percent. The OECD cut its U.S. GDP forecast to 2.0 percent from 2.6 percent, its Eurozone forecast to -0.1 percent from 0.9 percent, and its China forecast to 8.5 percent from 9.3 percent.

S&P 500 futures were flat at 1,402.5.

The EUR/USD was lower at 1.2949 after rising above 1.30 overnight.

Spanish 10-year government bond yields fell to 5.608 percent.

Italian 10-year government bond yields rose to 4.769 percent.

Gold fell 0.15 percent to $1,747.00 per ounce.
Asian Markets
Asian shares were mostly higher overnight led by growth markets following the slash of growth rates in the larger economies by the OECD. The Japanese Nikkei Index rose 0.37 percent while the Shanghai Composite fell 1.3 percent and the Hang Seng Index fell 0.08 percent. Also, the Korean Kospi rose 0.87 percent and Australian shares rose 0.74 percent.
European Markets
European shares were higher following the Greek aid deal despite the cut in growth forecasts by the OECD. The Spanish Ibex Index rose 0.32 percent in early trade and the Italian MIB Index rose 0.2 percent as Greek shares rallied 0.72 percent. Meanwhile, the German DAX rose 0.48 percent, the French CAC 40 rose 0.29 percent, and U.K. shares rose 0.38 percent.
Commodities
Commodities were mixed overnight on mixed sentiment as price moves remained rather small. WTI Crude futures rose 0.05 percent to $87.78 per barrel and Brent Crude futures fell 0.1 percent to $110.81 per barrel. Copper futures rose 0.18 percent to $355.50 per pound following Australian shares higher despite weakness in China. Gold was lower and silver futures fell 0.32 percent to $34.12 per ounce.
Currencies
Currency markets were rather volatile overnight, with the euro rallying into the Greek decision and selling off heavily afterwards. The EUR/USD was lower at 1.2949 and the dollar rose against the yen 82.07. Overall, the Dollar Index rose 0.08 percent to 80.32 on strength against the euro, the Swedish Krone, and the Swiss Franc. The Canadian dollar was slightly stronger relative to the greenback in early trade after falling initially on the news that central bank chief Mark Carney is set to leave for England. Also, the pound gained initially and has continued to rally. Lastly, the Aussie dollar was stronger highlighting a positive risk tone in currency markets.
Pre-Market Movers
Stocks moving in the pre-market included:


Halliburton (NYSE: HAL) shares rose 0.52 percent pre-market as the stock recouped its 20-day moving average.

Bank of America (NYSE: BAC) shares rose 0.46 percent pre-market as regulators ruled that lawsuits against its Countrywide unit will be limited.

Monsanto (NYSE: MON) shares fell 0.24 percent in the pre-market following news that the Punjab government in India will require the company to build a new research facility for maize research to continue doing business in the area.

Hewlett-Packard (NYSE: HPQ) shares fell 0.16 percent pre-market as investors filed a class action lawsuit following the reported fraud and lack of due diligence in the acquisition of Autonomy.
Earnings
The earnings calendar is rather light Tuesday. Notable companies expected to report earnings Wednesday include:


Big Lots (NYSE: BIG) is expected to report third quarter EPS of -$0.24 vs. $0.06 a year ago.

Green Mountain Coffee Roasters (NASDAQ: GMCR) is expected to report fourth quarter EPS of $0.48 vs. $0.47 a year ago.
Economics
On the economics calendar Tuesday, speeches from Fed officials including Richard Fisher, Dennis Lockhart, and Ben Bernanke are expected. Also, same store sales, durable goods, and the Redbook are due out. Later, the S&P Case-Shiller Home Price Index and the FHFA Home Price Index will shed further light on the housing sector and consumer and investor confidence surveys are due out. Lastly, the Treasury is set to auction 4-week bills and 2-year notes.
Good luck and good trading.
View Comments and Join the Discussion!
Posted-In: Earnings News Bonds Guidance Futures Commodities Previews Forex Best of Benzinga