PIIGS Nations: Not Just Good At Accumulating Debt, but Pretty Good at Soccer Too
As the UEFA European Championship, commonly known as Euro 2012, continues through the first matches of the group stage, an interesting pattern arises. Of all sixteen nations in the tournament, only three nations, the Czech Republic, Italy, and Ireland, have not defaulted since the year 1300. However, the bailout of Irish banks in 2008 would have caused a bankruptcy without the sovereign bailout of Ireland, so it really seems as though only two of the nations have not defaulted.
Obviously, investors have been clamoring over the PIIGS nations over the last few years. For all of the success Spain is having in soccer, it has a default record that will trump any nation. Spain has defaulted FIFTEEN TIMES SINCE 1557, which makes it the leading serial defaulter. For reference, number fifteen is my favorite player on Spain, Sergio Ramos. Maybe he will have a good tournament if Spanish finances start to improve??
Greece is also a well-known serial defaulter, and according to This Time Is Different: Eight Centuries of Financial Folly, by Carmen M Reinhart and Kenneth Rogoff, Greece has spent 50.6% of its time since 1800 in default. Greece was able to pull out a 1-1 draw in its first match against co-hosts Poland, but will need to win some matches to advance from the easiest group, group A.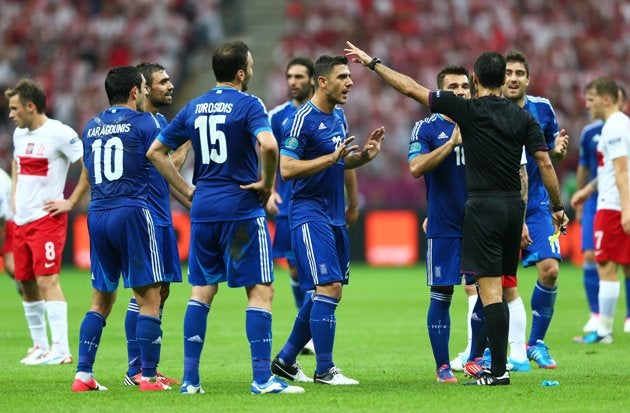 Portugal is the only PIIGS nation in the so-called Group of Death, and it will rely on its star forward Cristiano Ronaldo to emerge from the tough group. For those who don't know, Ronaldo was bought from Manchester United in England by Real Madrid of Spain in 2009 for a record signing fee of $131.6 million. Ronaldo plays a large part in the debt crisis because, along with Brazilian midfielder Kaka, his purchase was funded by a loan from Bankia, which was used as collateral at the ECB to get cheap financing last summer. Portugal lost to Germany in the first round in a hard fought game, but maybe they conceded just to get slightly more favorable terms in their bailout.
As mentioned, Italy and Ireland have not yet "officially" defaulted. However, the hosts, Poland and the Ukraine, can not say the same. Poland defaulted in 1936 and again in 1940 and then later in 1981, whereas the Ukraine defaulted famously in 1998-2000 and very nearly defaulted earlier this year. Speculation has been rising that the extra costs of hosting the soccer tournament may put the Ukraine over the edge and force them to default once again.
All in all, the Euro 2012 tournament is full of talent and potentially surprises, but is absolutely full of debt-laden nations' brightest soccer talents. Besides being a showcase of Europe's best soccer, all of the key players in the European Debt Crisis are present, so maybe something constructive will happen.
View Comments and Join the Discussion!
Posted-In: Bailouts Bankia Carmen ReinhartBonds Forex Hot Intraday Update Markets Best of Benzinga