Previewing This Week's Euro Crisis Calendar
Unless you have been living under a mountain, you would know that Europe has had problems recently. The rest of this week will be a real test of the effectiveness of austerity policies, as the economic data docket is loaded with all sorts of data. As confidence wanes in the resiliency and credibility of politicians, the data will truly tell us what the situation is on the ground.
Tomorrow, we have a Spanish bill auction at 4:30 am est. Spain is expected to auction off 3-month and 6-month Letras. At the last auction in April, yields almost doubled on both of these maturities. With the recent rise in benchmark yields for the Iberian nation and the partial nationalization Bankia recently, I would not be surprised if yields continued to rise. The market is becoming increasingly sceptical of Spain's ability to fund itself, and this will be the first test for Spain in a few weeks.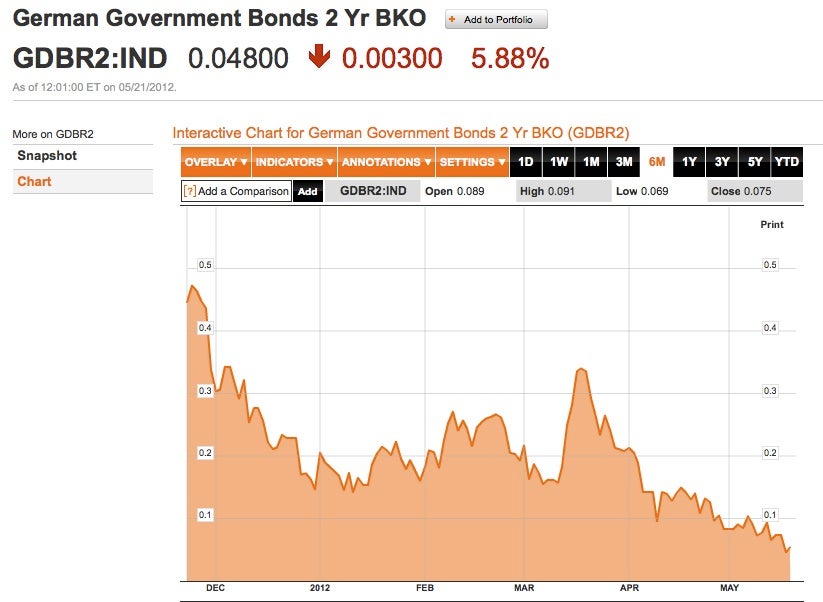 On Wednesday morning, at 5:30 am est, there is a German 2-year note auction, which will be closely watched. Last time, German 2-year yields collapsed and benchmark yields are trading near .05% currently. It would be hard to see anything lower than where the market is currently at the auction, but significant weakness in yields will crush confidence across the continent. The market currently believes that as long as Germany can stay away from the contagion, all will work out. If German yields start to move higher, well, as my fellow New Yorkers would say, fuggedaboutit.
Thursday brings us a maelstrom of data that will definitely affect all markets globally. On the heels of the HSBC China PMI on Wednesday night we get European PMI's, both manufacturing and services ones, as well as German GDP numbers. The market is anticipating +1.7% year-over-year growth in German GDP and any weakness will be taken as a sign that the European slowdown is starting to hurt Germany. Later that morning, at 4 am est, the European manufacturing and services PMI's are to be released, and consensus is expecting a continued contraction in both but a slight improvement over last month's reading. These are to be released coincidentally with the German IFO Business Climate Index, which is a great leading indicator for German growth. The market is expecting a slightly bleaker view of the German economy, with the index slipping from 109.9 to 109.4. All of these data points will collectively move all markets, from stocks, to bonds, to the commodity/currency complex.
On Friday, the data docket slows, with the exception of Spanish PPI data. But honestly, at this point, market sentiment will be set and traders will have a much better view of the current situation in Europe. As you can see in the chart below, the real problem in Spain is not too different than the problem that we experienced here in the US. Spain had a massive property bubble, just as we did, however, as delinquencies have declined in the US, delinquencies have stayed at elevated levels in Spain. Further, while home prices have fallen in the US, they really haven't moved all that much in Spain. You have to think that there is more pain to be had in Spain. If Bankia had to be bailed out at this point, I can only imagine how bad it will get once the banks are forced to write-down property values and take losses.
The ticker to watch is the iShares MSCI EMU index (NYSE: EZU), the ETF that tracks the performance of stocks across the European Monetary Union. Breakup and contagion fears dominate the marketplace, and it has only just begun.
Stock chart: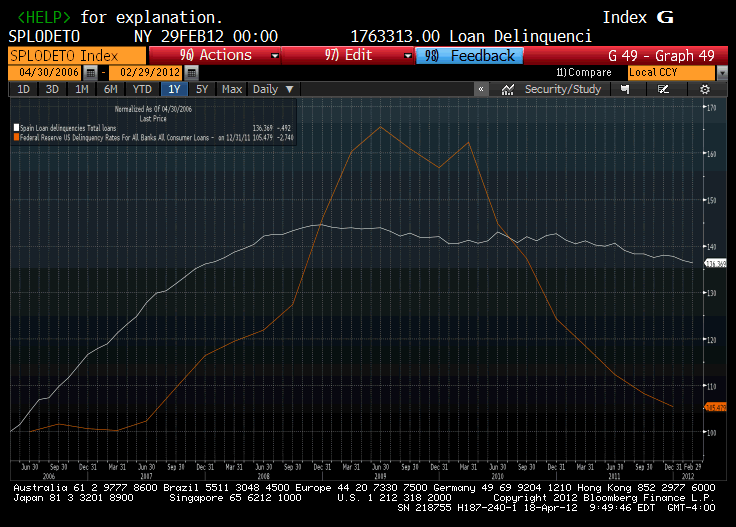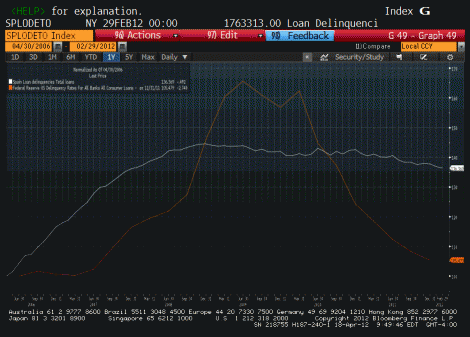 Posted-In: News Bonds Specialty ETFs Futures Commodities Previews Forex Events Best of Benzinga
View Comments and Join the Discussion!