Benzinga Interviews Hedge Fund Legend Michael Steinhardt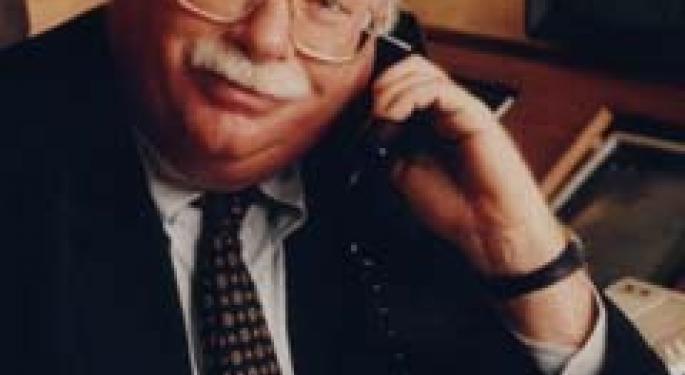 This October, Benzinga interviewed Michael Steinhardt. Today we are proud to bring you the first part of our video interview with the hedge fund legend.
How are you doing today Michael?
I'm fine.
Michael – your hedge fund that you started in 1965 returned approximately 30% annually before you closed it in 1995. Can you tell our viewers and listeners your general approach to investing and what attributed most to your success?
What I think attributed to most to success of the fund was a great deal of intensity, a desire to be the best money manager in America, and more hard work than in retrospect I should have given it.
Gotcha. But every year you were the best money manager.
I wasn't the best money manager every year, but I tried every year and for some fair number of years I really was the best or about the best. Over my 28 or 29-year period, my overall performance was certainly among the best.
I remember reading in your book, No Bull, in '94 when you had that troublesome year it bothered you to no end. And you basically said to yourself that in '95 I'm gonna get it back. And you did, you did amazing in '95. My question to you is: after having one bad year after 30, were you nervous going into '95?
I was always nervous going into a new year. I never quite…not nervous, but one of the great virtues of a business that's structured such that you start a new each year. And peculiarly, you start it around the same time as the Jewish New Year, which is around our fiscal year. Our fiscal year ended September 30th, and give or take the Jewish New Year comes in September or October.
It gives you the opportunity for a reckoning; for a period of introspection and reflection as to what the last year was – what you did right, what you did wrong. I usually focused a lot more on what I did wrong.
In 1994, I was miserable, having had the worst year of my life in many ways. I certainly intended to have a serious recovery from that in 1995. And I guess I also hoped that if I could have a good year I would probably end my career because I began to recognize that the difference between having X amount of money and Y amount of money was not that important. I only learned how to use happily and joyously a certain amount of money; I wasn't interested in making more I was interested in, or trying to become interested in the areas of life that I used to call virtuous and noble.
And that's what that was about; trying to find things in life that I would consider somehow on a higher plane than speculating in the stock market.
Doug Kass and Benzinga reader asks: With the benefit of hindsight, would you have not retired?
That is a fair question and one that I have pondered more than once in these 15 or so years. When I see some of the net worth statements of some of the people that have been in business these years, and… I don't know how well I would have done, but it's probably not unreasonable to think that I would have made an egregious amount money over this period of time.
It's easy to sound sanctimonious and say, "Well, I wasn't really interested in making more money." But at the same time, when these amounts are spoken of, you can't tell a little bit of would have, could have, should have.
Having said that, I do not regret what I've done. I do not regret the areas of focus that I've given and if I had it to do over again I don't think I'd do anything different.
Which did you enjoy more: giving away money now, or making money like you did before?
Early in my career, when I did things that I thought were really clever, when I made bets that were genuine contrarian bets, I would have a good deal of fortitude and courage and stubbornness to hang in during the early parts of the bets.
There were a few times when the best I made were really, in retrospect, heroic contra bets, and they worked. I really felt wonderful. Wonderful, because it confirmed what I was doing and why I was doing it. It was a human sense of real achievement. It didn't happen that often.
In the philanthropic world, I've done a lot of things, many successful, some not. But it's a different sort of gratification. And I sometimes think that I although many people believe that, say, Birthright, which is probably the most well-known of the philanthropic things I'm involved in, needs to change the Jewish world. I'm not as content as others are of the lasting durability, of the lasting impact of some of these things. It doesn't yet give me the satisfaction that I hope before I pass. Maybe I'll get it.
Birthright, and your charitable giving, which is nothing short of extraordinary, giving over 100 million dollars. You're a leader – there's no set leader in the Jewish world but you are a leader in this movement of getting young people to visit Israel. A lot of people have asked me what are you trying to achieve and do you think you'll get there?
Earlier on, you mentioned that you were an atheist. I am an atheist as well. So my relationship to my Jewishness is complicated. And it doesn't have a strong religious basis.
But what I do feel, to the depth of my being, is very proud to be Jewish, is very proud to of the history of the Jewish people, particularly the history of the last three or so hundred years. I sometimes say – and it's a bit of an exaggeration – but I sometimes say that my Jewishness started 300 years ago, long after the Bible, long after a lot of things had happened.
Because 300 years ago was the beginning of the enlightenment; the beginning of the period when Jews expanded to the point where there is an enormous growth of secular Judaism, where most of the people that you and I know are not Orthodox Jews. They may call themselves conservatives, but really, deep in their souls, they're secular Jews. They're confused Jews. They may show up at Synagogues on occasion but it's not the forefront of their lives. And they grasp to understand what it means to be both Jewish and American. To be both Jewish and secular. To lead both Jewish lives and lives as people who believe in science and believe in the values of America. And that's where we are.
And it's those people, the people who are both secular and Jewish, who have accomplished [so much].
Isn't it odd that we represent 2/10 of 1% of the world's population and perhaps 25% or 30% of the Nobel Prize winners? And in America, 24% of the Forbes 400 and only 2% of the population.
We have been achieving so far beyond our numbers that it's worthy to think about: what's the magic in being Jewish? And that's what I think about; those elements that allow us to be such great achievers. And of course, in doing so, we attract a great deal of admiration and a great deal of hatred and all sorts of other emotions. But I feel that we represent the best values and I've done more good things…
You don't find us massacring. You don't find us too much involved with the terrible crimes that go on in this world. And that's a long answer to the question of why I do what I do – is to promote those qualities that I associate with the Jewish people into the future.
There are other programs, but you don't want to lose that culture, so what you're doing, and I hope more people join and get more people to visit Israel and try to get people to assimilate and realize what these Jewish traditions are.
It's part Israel, it's part here. Think about the American Jewish experience here. We've done so much relative to our numbers. Maybe we've become a little too rich in America, maybe the center of the Jewish world is becoming Israel. But it's a special thing that I don't have all the answers to.
Ironfire Capital's Eric Jackson knows you're good friends with Bronfman, and he'd like to know if you have any info or insight on Bronfman buying back Seagram?
That they want to? I would be shocked. I would say the probability of them doing anything like that is truly remote.
You didn't ask, but I will say that I don't pay that much attention to markets. But I have one bet now, and I'll tell you what it is. I should emphasize that when you make bets that are counter census, that are against the world judgment, you lose sometimes too.
I believe a great bet right now is two short treasuries. Short, two-year treasuries. They yield about 40 basis points. If you bought a two-year treasury you'd be earning 40 basis points per year.
My feeling is that if we get any serious signs of a pickup in the economy, the interest rates could go up, and you'd make a lot of money on short treasuries. That is my bet of the moment.
Posted-In: Michael SteinhardtBonds Hedge Funds General
View Comments and Join the Discussion!