Easy News Trading Even For Beginning Traders
The Federal Statistical Office will release pricing news for Switzerland on Tuesday, early in the morning at 3:15 a.m. ET. Scheduled news like this can be ideal to trade, except that it is in the middle of the night, in the US. Using Nadex USD/CHF spreads with entry and expiration times can provide the opportunity for early entry, while still having limited risk because of the ceiling and floor. Profit and loss ends at the spread's ceiling and floor depending on which direction the spread is traded, long or short.
For this news event, based on how the market has reacted and moved in the last 12 - 24 months of news releases, an Iron Condor works well. With a spread bought below the market and a spread sold above the market, it is positioned well for profiting when the market pulls back from its initial reaction move, to center between the buy and sell prices of the spreads.
One spread is bought below the market with the ceiling where the market is trading at the time, and one spread is sold above the market with the floor where the market is trading at the time. Each spread needs a profit potential of $17 or more for a combined profit potential of $35 for the trade. This means the market can go as far up or down as 70 pips before it is at a 1:1 risk reward ratio point. Enter stop limit orders at those points. The breakeven points are 35 pips up and down from where the market is at entry. The market can settle anywhere within that 70 pip zone and make profit. If it settles directly in between the two spreads, then it hits max profit.
Trading news trades like this is a breeze with the right trading tool. The spread scanner, designed by traders for traders, was built for easy learning for beginners, with critical information at a glance for advanced traders.
Filters bring up the right markets and expiration times. For this trade, it is suggested utilizing Nadex USD/CHF spreads entering at 11:00 PM ET for 7:00 AM ET expiration. Each spread, whether trading it, selling it or buying it, shows the risk reward number along with a proportionally sized red green visual bar to accompany the number. This is the easiest way to find the right spreads: find the ones with the required profit potential, verify the ceiling floor parameters then enter the trade. For a spread scanner visual see below.
To view larger image click HERE.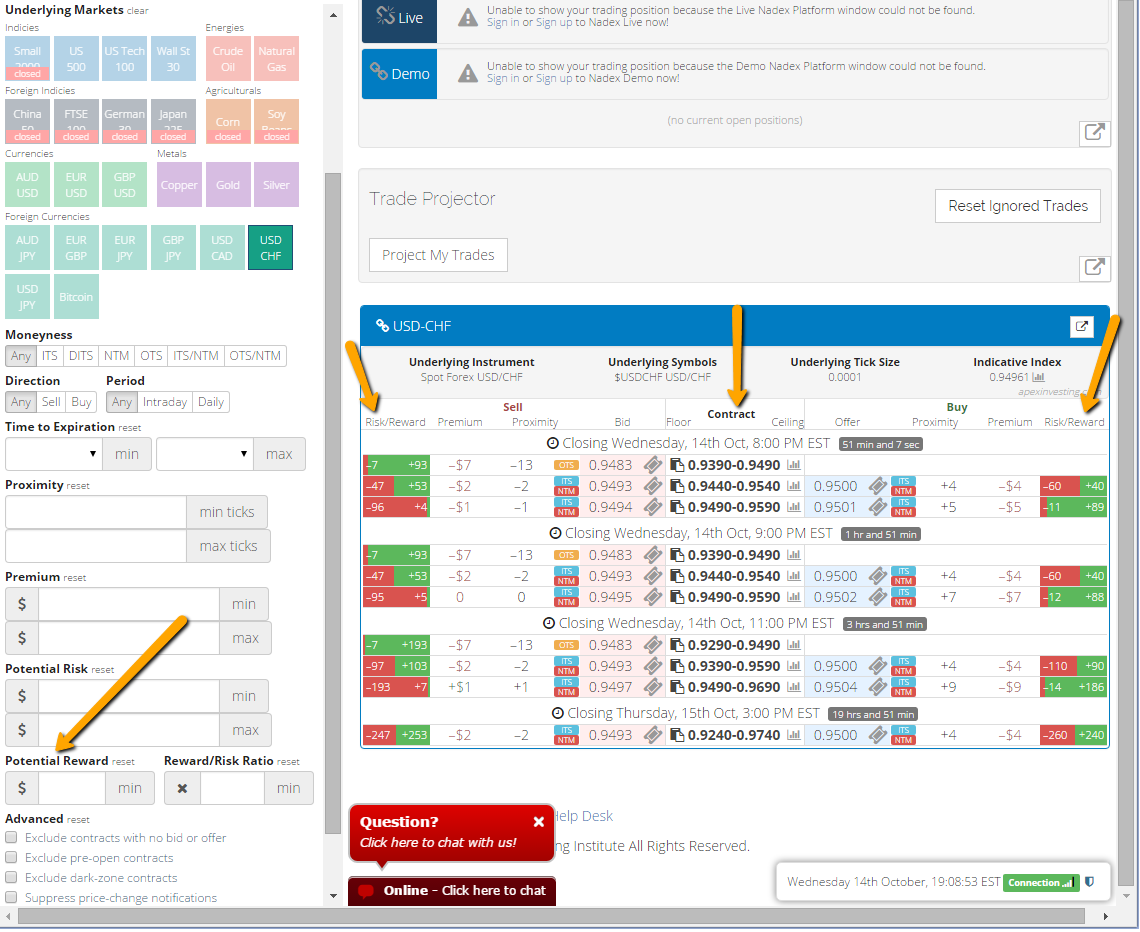 The spread scanner can be accessed free at www.apexinvesting.com, along with free day trading education.
Posted-In: Binary Options News Education Eurozone Futures Commodities Options Forex