Trading Forex Markets With Nadex Binaries And Spreads
Considering trading the forex markets? There are many ways to trade the forex markets with Nadex. Trades can be directional, premium collection or news trades. Nadex offers 10 of the most popular spot forex pairs as limited risk binary options and spreads, which can be traded 23 hours a day, six days a week.
Diagnostic bars are frequently used to plot price on charts. These bars are based on pips and price movement of the market. The chart below shows the diagnostic bars. A bar signifies when the market has moved 10-pips. The cyan-colored trend catcher arrow indicates that the market might be retracing up or down. The red (sell) or green (buy) arrow is a confirmation arrow to enter a trade potentially.
To view a larger image, click HERE..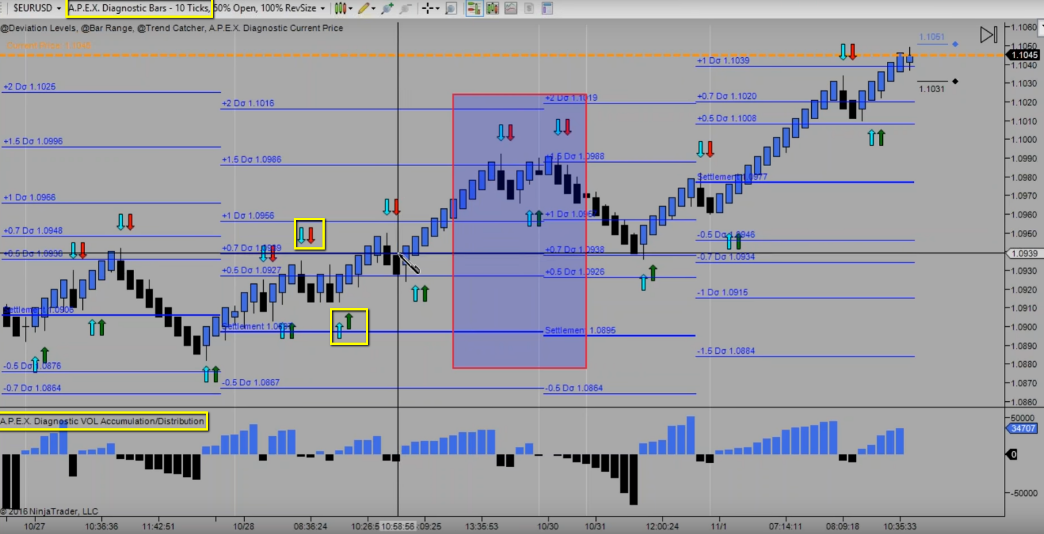 Near the bottom of the chart is the Volume Accumulation Distribution or VAD. Most people are familiar with volume, which measures the volume of a bar itself. VAD is different. It doesn't measure the volume in each bar. It measures the volume within the trend. It is a trend volume indicator.
As shown in the following image, the market moves up, then goes up again. However, a look at the VAD shows lower volume in the trend. When this happens, the trend may be running out of steam. Imagine someone running up a hill. This person may be going up, but they mare also losing energy and slowing down. They might even take a little break and then go a little higher. On the other hand, they may just turn around and come back down the hill.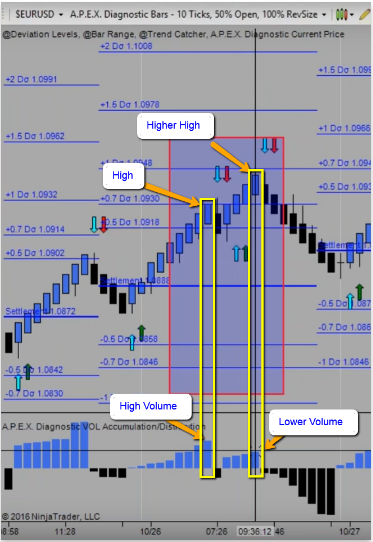 Deviation lines and the previous day's settlement can also be seen on the above charts. Deviation levels are calculated by looking at the implied volatility in the price of the options in conjunction with the bell curve to determine expected moves of the day. Markets generally have about a 68 percent probability of making a +/-1 deviation move in a day. They have a very small percentage of moving past a +/-1.5 deviation level and the percentage gets smaller the further away from the previous day's settlement the market moves.
When looking at a forex chart, it's common to see the market make a move to one of the strong deviation levels. Some traders like to see the market moving close to a +/-1 deviation or +/-1.5 deviation level. If the market has been moving directionally higher and it reaches a higher high that is near a +1 deviation level, which also shows lower volume, it may mean the market is about to reverse.
Please do not assume that just because the market has reached a strong deviation level, it is automatically the time to sell (or buy) for no other reason. It is possible that the market is merely taking a break. Also, do not jump into the trade simply because there is lower volume. Furthermore, do not enter a trade because an indicator like the trend catcher arrows appear signaling a potential buy or sell. Put all three of those together to "stack the odds in your favor."
A huge thing to keep in mind when trading forex is the news. Know when economic news events are scheduled for release. Several places online provide calendars of upcoming financial and economic news. Especially when trading forex, the perfect trade may be set up and news will be released causing some momentum to be pumped into that currency pair. The market could blow right through that trade, either for or against it. Do not be caught unaware.
Look at what the market has done in the last day, or even in the last few days. At this point, determine whether to trade binaries or spreads. A spread may provide more room for a really big move. An out of the money binary with only a $25 risk could also afford a nice move and a good return on investment.
When trading forex on Nadex, there are short-term five-minute trades as well as long-term weekly trades and many in between. Nadex is a Commodities Futures Trading Commission (CFTC) regulated exchange where all risk is defined before any trade is entered. There are no margin calls or stop outs.

To learn more about trading forex, visit Apex Investing.
Posted-In: Binary Options Education Eurozone Futures Commodities Options Forex Markets