How Does A Binary Option Work?
Although Binary transactions were minimally regulated when they first appeared as part of over-the-counter (OTC) transactions in the early 1970s, much of the controversy is removed when traded through a CFTC regulated US based exchange like Nadex.
What Is A Binary Option?
Similar to a regular option contract, a binary option is a limited risk contract based on a simple yes/no market proposition, such as, will the price of the markets go down by the end of the trading day. At expiration, a binary option, being an all or nothing condition, is worth either zero or one-hundred. However, when trading Nadex Binary Options, a trader is not locked into the trade. As long as another trader is there to take the opposite position, traders can enter and exit at any time until expiration. With this feature, profits can be protected and losses can be cut.
How Does A Binary Option Work?
Binary options are based on a simple yes/no proposition allowing traders to trade the financial markets. Their pricing is, in simplistic terms, based on the probability of a certain event happening. A contract can be closed before expiration to lock in profits or to help diminish loss, as the probability of the event increases or decreases with changes in time, pending news, and the price of the underlying market. A great benefit is that binaries offer limited trade risk, with the max risk and max reward completely known before the trade is ever placed. Binaries can be traded whether the market is in an uptrend, downtrend or flat, for traders who like to collect premium. Binaries can be traded on short-term intraday or weekly time frames. There are over 2,400 daily contracts on some of the most popular financial markets.
As an example, suppose there are reports being released in the early morning hours (ET) from Great Britain, which could have an effect on GBP/USD. A trader decides that the GBP/USD could be above 1.4920 at expiration or at least move in that direction before expiration. The GBP/USD >1.4920 (7AM) is bought for 53.75. GBP/USD is the underlying market. 1.4920 is the strike price. 7 AM is the expiration time. Buying means the trader believes that the underlying market, GBP/USD will be greater than (>) the strike price of 1.4920 by the expiration time of 7 AM ET. Selling mean that the opposite: the seller believes the underlying market, GBP/USD, will be equal to or less than the strike price of 1.4920 by the expiration time of 7 AM ET.
Traders can choose as many contracts as they like with each contract being worth a maximum value of $100. If the bought contract is held until expiration and the market expires greater than 1.4920, then the trade would receive the initial risk capital of $53.75 and the maximum profit of 46.25, less fees. The image below shows the maximum profit and loss before the trade is even placed.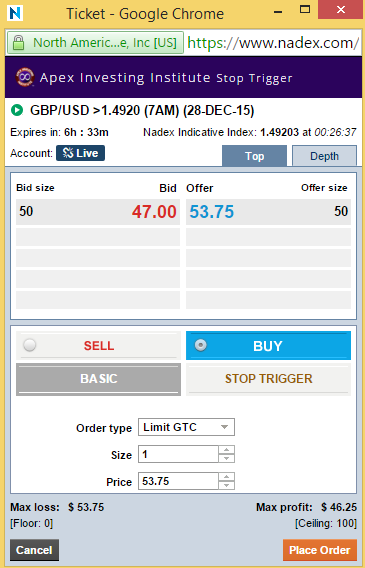 What Are The Pros Of Binary Option Trading?
Some of the advantages to trading binary options are limited risk, low collateral and short-term contracts. With limited risk, the maximum amount that can be lost on any trade is the original investment. There is no margin requirement and never a margin call. A low amount of collateral is required because binary contracts are priced between zero and $100. Binaries have contracts ranging from 5-minutes to one week, which is short-term trading.
What Are The Cons Of Binary Option Trading?
A new trader may come into trading binary options and since the risk seems low, may decide that education/training on how to trade binary options is not worth his or her time. Trading binary options is a simple concept, but it is like anything else of value. Time must be invested into learning the best strategies and when they can best be used. Risk management must also be incorporated into any type of trading.
Is Binary Option Trading Safe?
When traded through a CFTC (Commodity Futures Trading Commission) regulated exchange such as Nadex, binary option trading is safe. Nadex offers full transparency on every trade. They are not trading against traders. In fact, the only money they make is on the nominal fees charged when trades are placed through the exchange. Member funds are held in segregated bank accounts within the U.S.
Check Before Trading With Other Brokerages
The CFTC is designed to protect traders from fraud. A list is maintained on their website where traders can check any potential brokers or exchanges to ascertain their status. The website is found at sirt.cftc.gov.
Trading binary options can be a lucrative choice for short-term trading. However, it should only be entered into after careful study and demo trading. Free education is offered at www.apexinvesting.com.
Posted-In: apexinvesting binary binary charts binary optionsBinary Options Education Markets General