Too Busy To Day Trade? Evening Trade With The News
If you're looking to trade in the evening just check out what's happening in the news. There are scheduled news releases happening around the clock all over the world and forex markets react to them. Using Nadex spreads, there are some great strategies ideal for trading when it is unknown which way the market is going to move. When you trade a spread, it's like trading in a specified range of a market. Every spread has a floor or bottom level of the range and a ceiling or top level to the range. You can't win or lose outside of the floor or ceiling of the spread depending of course on which direction you trade the spread. This means you have capped risk and you know what your total possible risk is upfront before entering the trade.
Coming up on Wednesday at 4:30 a.m. ET, three reports regarding UK economic information will be released by the Office for National Statistics including:
Average Earnings Index
Claimant Count Change
Unemployment Rate.
That's not in the evening though, you say? No, it is not. That is why you put the trade on in the evening at 11:00 PM ET for an expiration of 7:00 a.m. ET. Based on market reaction over 12 - 24 months of released reports, it was found that a Straddle Strategy, risking no more than $40 combined between two spreads, was recommended.
A Straddle Strategy is ready to capture profit from either direction the market moves. It's also the strategy to use when it's expected the market will move a significant amount before pulling back or maintaining a level after a move. To accomplish this, you buy a Nadex GBP/USD spread above the market but with the bottom or floor of the spread where the market is trading at the time. You also sell a GBP/USD spread below the market but with the top or ceiling of the spread where the market is trading at the time. To find the right spreads with each spread risking only around $20 for a combined total risk of $40 or less, use the spread scanner. Below is an image showing the spread scanner with Nadex GBP/USD spreads.
To view a larger image click HERE.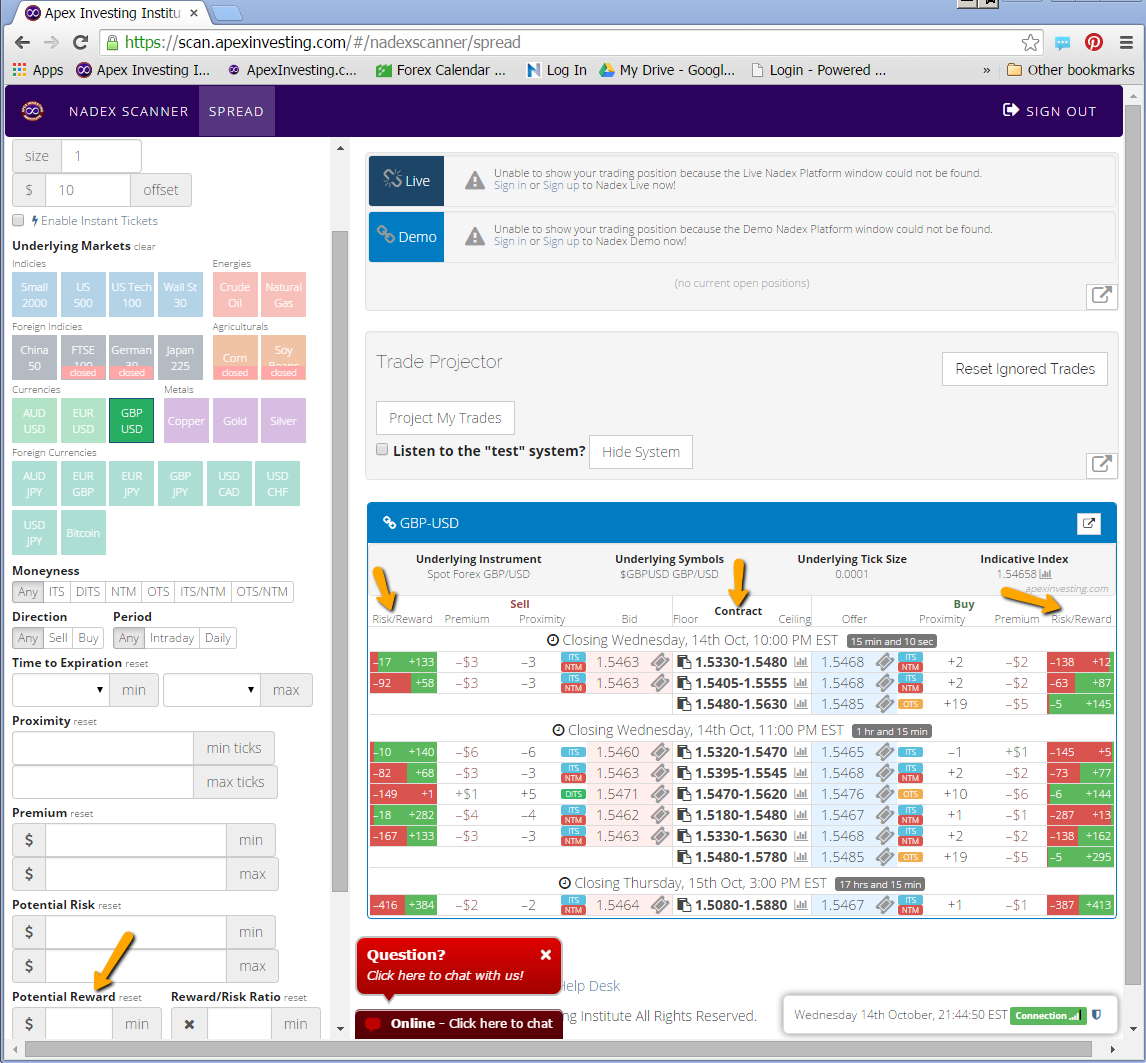 With a Straddle strategy there is no need to set up stop losses since your total risk upfront is capped and known to be low. What you want to do however is be sure to set up stop limit orders to lock in profit, once the market reaches that point. For a 1:1 risk reward ratio and to make approximately $40 for risking around $40, set your take profits where the market hits around 80 pips in both directions. That way no matter which way the market moves, you will have a stop limit order ready to take profit. One side may profit and then the market may pull back and the trade can be left on to see if the other side might profit.
To access the spread scanner and learn more about how to trade Nadex spreads and binaries, go to www.apexinvesting.com. There you will find free education on how to trade forex, futures, and CFDs as well, all part of a service by Darrell Martin.
Posted-In: Binary Options Education Eurozone Futures Commodities Options Forex Markets