A Trade For Either Direction The USD/CAD Goes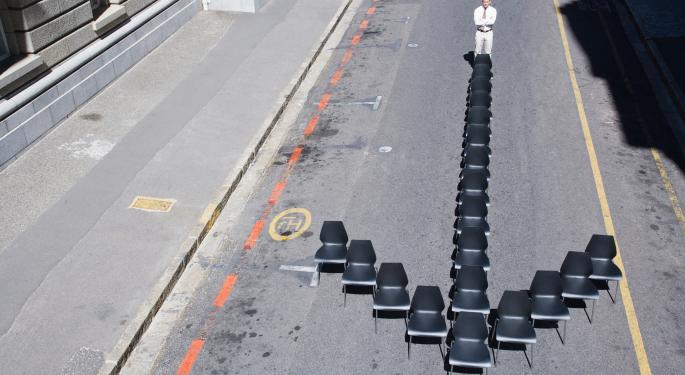 Many times common thought is that a market has to go up to make money. More experienced day traders realize that isn't the case, that it's possible to short a market as well and make money.
Then again, some think it's necessary for a market to move, and even move a great distance, to make a profit and that also isn't the case.
For this trade event and this strategy, the market can remain right where it is and not move at all for full profit.
The news event is Statistics Canada releasing the percentage change in Wholesale Sales and takes place at 8:30 AM ET, Thursday, August 20, 2015. The market to trade is USD/CAD using Nadex spreads.
You will watch the USD/CAD on a chart and trade two Nadex USD/CAD spreads. Spreads have a floor and a ceiling and you can't lose or profit past the floor or the ceiling based on which direction you are trading.
Use A Neutral Strategy Like An Iron Condor
The strategy to use for this event is an Iron Condor. This strategy is neutral because it doesn't matter which way the market goes and your trade still has the possibility to profit.
It's also a good strategy for when a move in a market is an anticipated distance that has shown to be consistent in the past. For this news release all of the above qualify.
The market has found to consistently move some, then tends to pull back, making for the ideal situation for an Iron Condor strategy.
Using Nadex spreads you will enter two spreads. If you drew or plotted them on your chart you would see that they are on top of each other. Buy the bottom spread with the ceiling of that spread being where the market is trading at that time.
Sell the top spread with the floor of that spread being where the market is trading at that time. You want your profit potential to be $30 or more. You can enter as early as 8:00 AM ET for 10:00 AM ET expirations.
If you aren't able to meet these parameters when setting up your trade, then stay away and don't place the trade. Wait for another trade another time, never force a trade.
Market Can Go Either Direction, Trade Can Still Profit
Wholesale Sales is the change in total value of sales at a wholesale level. Since retailers tend to order more products from wholesalers when retailers expect times coming up to be good, and their sales high, Wholesale Sales percentage numbers count as a leading indicator for an economy.
When the percentage number released is higher than forecast then it is good for currency. However, whether the number released is higher or lower doesn't matter for your trade, as long as the market either remains where it started when you placed the trade or pulls back to the center of your spreads, that is what you are looking for.
Your max profit is when the market returns directly to center between your spreads.
To learn more on how to trade the news and for a full news calendar complete with strategies, go to www.apexinvesting.com.
Nadex can be traded from 49 countries.
Posted-In: apexinvesting binaryBinary Options Education Previews Options Trading Ideas General Best of Benzinga