Last Week Ended With A Green Surprise For Options Traders; Will The Surprises Continue?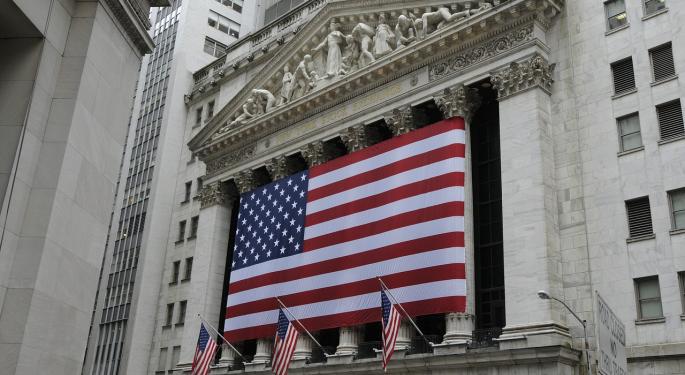 Scoreboard: Green With...Surprise?
Indices finished a green week with the Nasdaq strongest at new highs.
It was a strange end to the week with so much green concentrated in a handful of names. Most notably was Google Inc (NASDAQ: GOOGL) (NASDAQ: GOOG) up 16 percent. Other mega movers included Facebook Inc (NASDAQ: FB) up 4.5 percent, Trina Solar Limited (ADR) (NYSE: TSL) up 3 percent and Priceline Group Inc (NASDAQ: PCLN) up 2.7 percent.
Potentially due to a move in sympathy with Google and its late-Friday rip, markets closed green as opposed to the red; this surprise element comes from the fact that the internals (breadth) were negative on Friday, yet markets were perceived as ripping. Indeed, the Nasdaq closed in new highs, up 1.5 percent. The S&P 500 Index also closed green and close to new highs.
Yet, concern is warranted regarding Friday's price action. With Greek headlines positive and astronomical moves in mega stocks, the logical expectation would have been a broad market move; however, such move remained unactualized.
The picture continues to blur as the heat indices map for Friday shows that there were only a few green boxes, but they were massive boxes. Google and Facebook can easily account for the 0.9 percent jump in the S&P 100, which means that the SPDR S&P 500 ETF Trust (NYSE: SPY) could have closed down 0.7 percent on Friday without the moves in those stocks.
The Google Effect
The consensus Friday was that Google's move – due to the new CFO reigning in spending – should not be contagious to Facebook, for example. So Friday's sympathy moves may have been misplaced. In addition to Facebook's jump, Netflix, Inc. (NASDAQ: NFLX) and Apple Inc. (NASDAQ: AAPL) both experienced what could be categorized as sympathy gains, with Netflix donning a mega 20 percent move on fundamentally based earnings reaction.
Ranges
All the ranges are playing out within expectations. Markets are testing the upper limits of the range. It is prudent to always complete due diligence regarding big moves following extended periods of price meandering. For instance, markets have fallen several times on Greek scares.
PowerShares QQQ Trust, Series 1 (ETF) (NASDAQ: QQQ): Thanks to Google and others, the Qs broke out to new highs and are on target to reach the upper end of the range. What has been surprising once again is the speed with which the index is shrugging a sell off.
iShares Russell 2000 Index (ETF) (NYSE: IWM): Over the last four days, the small caps did almost nothing on balance. However, the moves were violent in both ways. Small caps are not directly influenced by outside earnings, for example by Google or Apple earnings, so they represent a better gauge for "the market."
VIX Index: The VIX under 12 historically means that markets are too lax and that downside potential increases. Next week is VIX's expiration week, so the data is muddled until then.
Related Link: Options Traders Still At The Mercy Of Non-Fundamentals This Week
Variables For The Week
Greece: The Grexit scenario seems to be dead, but they still have payments coming up and their banks are still closed; therefore, issues still loom regarding related stocks. For example, the bond market has acted as if it still doesn't believe the Greek issue is resolved.
Earnings: Apple at bat for earnings. Rates are not yet in focus for traders but they will be.
USD: Same for the U.S. dollar strength if it continues strong.
China: China's financial leverage still poses a potential for looming disaster.
Image Credit: Public Domain
Posted-In: Binary Options Bonds Eurozone Technicals Previews Options Markets Movers