Which Markets Move The Most On FOMC Days?
On Wednesday, July 30, 2014, the FOMC Statement was released at 2 pm ET. This report typically results in a very volatile market movement. While most traders want to take advantage of this volatility, a trader needs to know:
Which market has the most movement in points?
What is the dollar value of the anticipated movement?
Is there sufficient liquidity for entry and exit?
First, let's compare the actual point movement for the previous five announcements (most recent being June 18, 2014 and the last being December 18, 2013). Below is a chart with the future symbols for the following e-minis: FDAX, S&P 500, Nasdaq, Dow, Russell and Gold. As you can see, the e-mini Dow and FDAX move more than the other markets in this comparison.

However, the point value for each of the markets are different. The table below shows the point value for each of the markets listed above. (The FDAX point value is actually 25 Euros and, at today's currency exchange rate the US Dollar equivalent is $30.60.)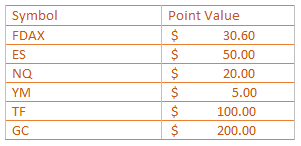 So although the e-mini Dow and FDAX move the most, which markets move the most in US dollars? The table below shows the total point movement in dollars.

Now the e-mini FDAX, Russell, and Gold are identified as being the biggest movers calculating the movements in US Dollars.
The next logical question is which market has the most liquidity? In other words, a trader needs to be able to get in and out very quickly. The table below shows the total volume for each of the e-minis. Based on volume, the most liquid most is the e-mini S&P 500 followed by the Nasdaq and the Dow.

While liquidity is important, it also is dependent on the number of contracts the trader is willing to trade. For example, if trading 200 contracts, the best market would be the e-mini S&P 500. However, if trading ten contracts, then any of the markets listed above will generally offer sufficient liquidity to enter and exit promptly.
Of course, with the high volatility that is generated from the FOMC announcement, other alternatives are to trade Binaries or the Nadex Bull Spreads, which caps the potential risk during these volatile periods. With the Nadex Bull Spreads, although your risk is still limited, the reward can be higher depending on where you enter the spread. Additionally, you can read more on how to use the Nadex Bull Spreads for trading the FOMC announcements by clicking here.
The preceding article is from one of our external contributors. It does not represent the opinion of Benzinga and has not been edited.
Posted-In: Binary Options Markets