Tim Cook Has Transformed Apple's Debt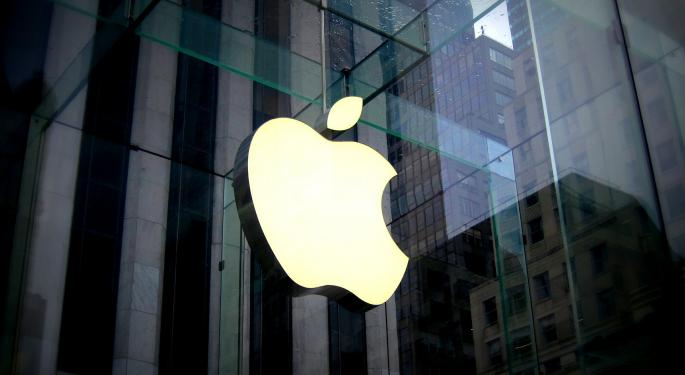 Apple Inc. (NASDAQ: AAPL) has had a bit of an underwhelming year, which has led many investors to wonder if the company's momentum over the past decade is beginning to wane under Tim Cook's leadership, particularly his strategy of generating debt against low interest rate bonds.
On Tuesday, Marketfy options expert Nic Chahine joined Benzinga's PreMarket Prep morning show to talk about his thoughts on Tim Cook's Apple and whether the company will be able to break out of its recent funk.
From Jobs To Cook
Citing a lack of risk taking and persistent faith in its products, Chahine's impression of Apple under Tim Cook was far from flattering. "I have little faith in Tim Cook. They say he's a good operator, but he's been shown to be a little gutless in his foresight as far as anything new. I think they're missing the innovation, or maybe cockiness, that came with Steve Jobs."
Chahine's main criticism of Apple's recent performance had less to do with the company's stable of products and more to do with the long-term leadership within it. "I've always said: give Apple to Bezos and it would be a monster again."
Innovation Or Debt?
According to Chahine, the biggest problem facing Apple is fostering innovation and breaking away from its core products. "Right now, it's still an iPhone company," Chahine said. "They always sell out, but it's dangerous. What if that thing is no longer a hip thing to have?"
Since taking over Apple following Steve Jobs' death in 2011, Tim Cook has leveraged nearly $80 billion in debt to investors into bonds. Chahine made clear this short-term strategy will limit Apple's future liquidity, "The more debt you have the less free cash flow you have."
While he emphasized that Apple still looked technically sound in the short term, it has barriers ahead, "The future is not as sure as it was, long term. Apple has the potential to buy the #1 position in any industry they want, and they're losing it."
Listen to the full discussion in the clip below. Chahine joins the discussion at the 34-minute mark.
PreMarket Prep is a daily trading ideas show that focuses on technical analysis and actionable short term trades. You can listen to the show live every morning from 8–9 ET here, or catch the podcast here.
Posted-In: Marketfy Nic ChahineMarkets Tech Media Interview Best of Benzinga
View Comments and Join the Discussion!