Mortgage Purchase Applications Running Out Of Time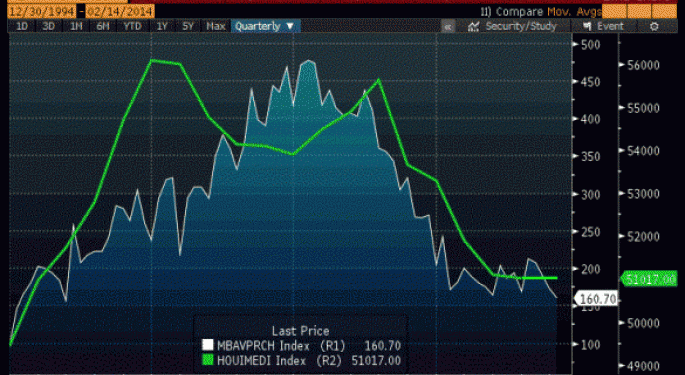 For 2013, one of the main stories in housing was the cool down in existing home sales numbers over the second half of the year, in spite of the relative strength in GDP
What was the main reason for this? Follow the data and the answer appears. When interest rates spiked we did not see the mythical sideline home buyer rush to the market place. Rather what we saw was a collapse of the mortgage purchase application index.
Thus far for this year, mortgage purchase applications numbers continue to be weak. A host of reason from the polar vortex to the lack of supply have been used to excuse the lack of demand interest. Some even say that the mortgage purchase application number is not the best tool to forecast future buyer demand.
The chart below from Professor Anthony Sanders show why I haven't
been a ranging bull on housing. Buying a home is buying debt . When median incomes don't rise logic says that once housing inflation rises on prices and rates,then the number of qualified home buyers gets impacted
On the chart below the green line shows median incomes and the other metric is the mortgage purchase applications index. I believe it speaks clearly for itself . Hope springs eternal. To be sure , there is yet time for the mortgage purchase applications to make their seasonal rise for the spring selling season. However, the clock is ticking . If we don't see a pick up with in the next 5 weeks, then the 2014 existing home sales numbers will need to be revised a little lower.
I do believe we will see some better numbers in the upcoming weeks. However,the year over year numbers will be mostly negative for the first half of 2014. We simply aren't seeing the same demand as we saw last year when the 10 year note was below 2% . One of the most disheartening items I am hearing is when I get calls from loan officers and escrow officers saying how quiet things are and express their concerns of the overall business.
So what must be in place for housing to attract more mortgage buying interest with these higher level rates.
Simple We Need:
- Wage growth
One of the economic metrics I follow just showed a first level red flag. It's the national saving rate falling and consumer debt being leveraged up again. For me, that is a bad sign in a low wage growth economic cycle
- Better Paying Jobs
The housing market can't have a strong recovery on the backs of service sector jobs going to people 50 and over.
Notice no mention made here about easing lending standards or QM. As always, the tight lending standards theory is an economic myth. All a potential buyer needs to buy a home is a 620 Fico, 3.5% down payment and a debt to income ration of 43%. Some lenders recently have even lowered their Fico score limits to 580-600 in a desperate act to create demand.
So what's the problem?
It's the economy stupid
http://confoundedinterest.wordpress.com/ Anthony B. Sander -George Mason University
The preceding article is from one of our external contributors. It does not represent the opinion of Benzinga and has not been edited.
View Comments and Join the Discussion!
Posted-In: Markets