Tune Out Wall Street Bulls: Nothing Left for S&P 500 to Rally On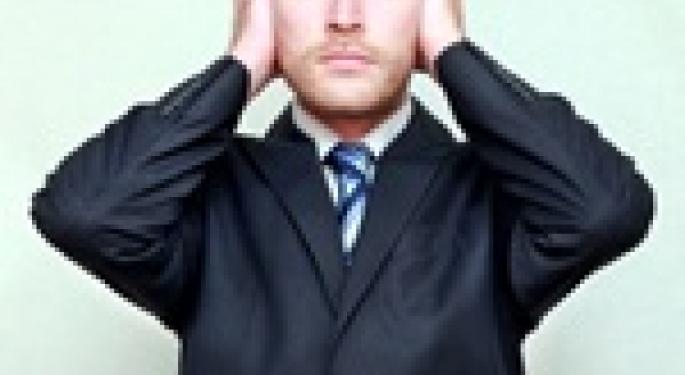 The S&P 500 moved to within 18 points of another record on Monday, and there was chatter on Wall Street of a breakout being in the works that could reward bulls. And in spite of Tuesday's pullback, the bulls continue to believe the index will soon rally above its record high set in mid-September.
Well, the idea of a sustained upward move in the fourth quarter doesn't resonate with me. The S&P 500 is up nearly 20% this year, and my view is that there's not much fuel left in the tank to take the index higher, except for maybe a few percentage points. I see more downside risk in the fourth quarter, based on what will likely be a sluggish quarter driven by the government impasse, soft jobs market, and fragile consumer confidence.
Gross domestic product (GDP) growth will clearly be affected. Confidence is eroding. Consumers will likely be hesitant to spend, especially on big ticket items, and this will impact GDP.
Wal-Mart Stores, Inc. (NYSE: WMT) is already predicting tepid growth in its key same store sales. Other retailers are also beginning to feel the hurt of an economy that is too in flux. The retail sector could likely see heavy discounting throughout the holiday shopping season to attract consumers.
The key to buying stocks in this environment is to look at areas that can benefit from the continued sluggishness in the economy and the move of consumers to look for deals and control their spending. The middle class continues to hurt, and I expect this to be the case over the next several years or more.
When buying stocks, I would be avoiding retail stocks at this time, but I continue to like the discounters, like Family Dollar Stores, Inc. (NYSE: FDO) and Dollar General Corporation (NYSE: DG), when considering buying stocks in the retail space. In the speculative discount apparel area, I like Five Below, Inc. (NASDAQ: FIVE), which could be worth a look on weakness, due to the stock's run-up on the chart.
Also when buying stocks, I continue to like the home supplies companies, such as The Home Depot, Inc. (NYSE: HD) and Lowes Companies, Inc. (NYSE/LOW), that have benefited from the recovery in the housing sector. But as much of the easy money has been made, I would wait for weakness to enter when looking at buying stocks.
In the financial services area, the easy money has been made in the big banks. I would consider buying stocks of some of the non-traditional financial plays, such as Green Dot Corporation (NYSE: GDOT) and Blackhawk Network Holdings, Inc. (NASDAQ: HAWK) in the prepaid cards market.
More will be played out as we move toward Black Friday and the weeks that follow; what happens then could help dictate how the next year will look when buying stocks.
For the time, I suggest taking some money off the table and moving it into cash for future opportunities when buying stocks.
This article Tune Out Wall Street Bulls: Nothing Left for S&P 500 to Rally On was originally published at Investment Contrarians
The following article is from one of our external contributors. It does not represent the opinion of Benzinga and has not been edited.
Posted-In: Markets Trading Ideas
View Comments and Join the Discussion!