Second-Quarter Earnings Season: Where Are the Revenues?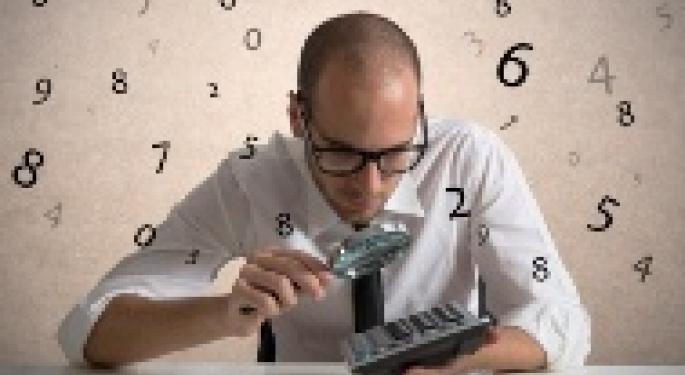 By George Leong
With the second-quarter earnings season nearly completed, I must admit the results were average at best. In fact, with about 450 of the S&P 500 companies having reported, 72% beat their mean estimate, according to statistics from FactSet. (Source: "FactSet Earnings Insight: S&P 500," FactSet, August 9, 2013.)
You may be thinking that's great, but I would counter that the primary reason for the results was the earnings season estimates being reduced by Wall Street, so it was not that difficult to beat. If Wall Street left the estimates untouched, the number of those beating earnings per share (EPS) estimates in the earnings season would fall.
Moreover, the use of cost cutting continues to drive earnings but not revenue growth, which is not what I want to see. FactSet said only 54% of the 450 companies beat estimates—this is not good.
Also Read: NYSE Holidays 2013
I can honestly tell you that after scanning the headlines from companies reporting over the past month, I was not impressed whatsoever with the revenue growth reported. The reality is that corporate America continues to face a difficult economy, and this is reflected in the lack of revenue growth in the earnings season. The soft first- and second-quarter GDP growth suggests this is also the case.
As I have said many times in past commentaries, companies can only go so far in trying to rein in costs. The fact that companies can cut costs indicates issues with the revenue side.
Now as we move towards the third-quarter earnings season, FactSet already has indicated that 68 S&P 500 companies have provided negative earnings guidance; only 17 provided a positive report.
I suspect that there could be more negative surprises, depending on whether the economic recovery stays on track. You can already see revenues suffering: revenue growth for the third-quarter earnings season is estimated at 2.9%—which I feel is somewhat optimistic—declining to a more realistic and muted 0.8% for the fourth quarter. Think about it: revenues growing at 0.8%? That's pitiful
So here we go again in a few months, when the third-quarter earnings season begins and we are seeing earnings driven by cost cutting and not revenue growth.
Folks, this is an issue, but the stock market doesn't seem to care as long as the Federal Reserve continues to bankroll the easy money into the economy and make investors richer.
My advice would be to continue to be invested in stocks, despite the hurting in corporate America. As long as bond yields don't rocket higher, there will likely be more money to be made.
This article Second-Quarter Earnings Season: Where Are the Revenues? was originally published at Investment Contrarians
The following article is from one of our external contributors. It does not represent the opinion of Benzinga and has not been edited.
Posted-In: Markets Trading Ideas
View Comments and Join the Discussion!