Alternative Investments with a Bright Future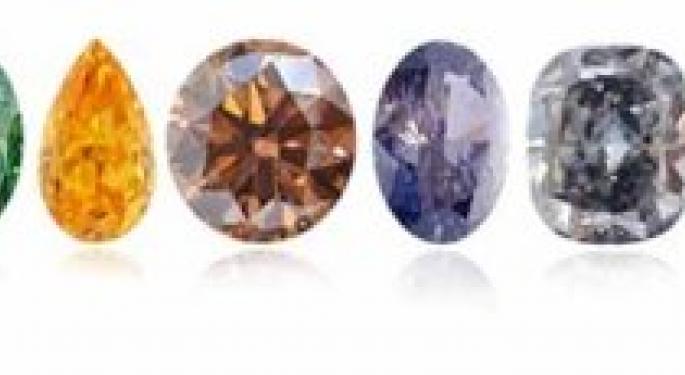 So many who have identified with the feeling that time has come to invest in your future have contemplated what the right building blocks for a good investment are.

The idea of utilizing natural fancy colored diamonds as investment pieces has been attracting a significant amount of attention in many parts of the world. Some of the largest media outlets, such as Forbes, the Financial Times, CNBC, The Street, USA Today, Globe and Mail, and more have spoken with a number of the largest diamond dealers about the topic, and published their own reports and opinions about diamond investments.

The World Market

Diamond buyers from different parts of the world are focusing their purchases on investment worthy, high-end goods. As reported in Forbes, roughly 1,305 people fall into the ultra high net worth (UHNW) range with an approximate net worth totaling $155 billion in the Republic of Singapore, located in Southeast Asia. However, the emerging markets of India, China, specifically Hong Kong, have all played important roles in a dramatic increase in the diamond market. Asia as a whole contains nearly 43,000 ultra-rich individuals with a combined wealth of close to $6.3 trillion. The diamond trade center net imports as reported by Rapaport shows China and Hong Kong with roughly 56% of the market and the U.S. and India with roughly 20%-25% of the market.

Diversify Your Portfolio

Luxury Jewelry pieces are sought after as investment pieces, and with good reason. "U.S. stocks rose, with the Dow Jones Industrial Average returning to a record, after data showed consumer confidence climbed to the highest level since 2008 and home values jumped the most in seven years," as reported on Bloomberg. The report listed the top ten stocks that should be on one's radar and Tiffany & Co., a luxury jewelry retailer, was at number one, up more than 4% over the past nine months. For some of the more conventional investments opportunities, things appear to be looking up. However, considering how versatile the market has been, diversification of one's portfolio, while it does not guarantee against a loss, is the most significant component to helping you reach long-term financial goals while keeping the risk to a minimum. With the increase in demand for diamonds and diamond jewelry worldwide, including these investments into your portfolio is definitely something to consider.

Investors Focus

The focal point of investors should be divided between the following points; the advantages the investment opportunity has to offer, the historical price performance, and lastly what the market trends show.

The Advantages

To list just some, natural colored diamonds have been referred to as the most concentrated form of wealth on earth. As a result, transporting even relatively large portfolio of say $10 million or so, can quite easily be done by simply placing the stones in your pocket. They are a very private asset, so moving your stones from one place to another, even across an international border, needn't be reported. Furthermore, there is no need to share how much was paid for the stone to anyone. For insurance purposes, one would have it appraised, but the prices paid remained between you and the seller. They are internationally recognized, extremely durable, and demand exceeds supply.

The Price Performance

Unlike colorless diamonds, fancy colored diamonds have no standardized price list by which they are sold. Therefore, the market prices are assessed according to auction results, competition, and demand. Certain colors more than others have appreciated more, but as a whole the prices demanded for the colored diamond family have steadily increased (consistently) over the past 60 years. Prices realized from the public auction houses available to all demonstrate the price appreciation over time in an excellent way.

The Market Trends

The rich and famous have collected natural fancy colored diamonds for years. However, now that so many famous celebrities are walking the red carpet displaying their colored diamond jewelry, the demand of the general public has been heavily impacted. In addition, many are using the Internet to expose the world of color to many who beforehand were not even aware it existed.

Come Prepared

Diamonds are an excellent alternative to the more traditional investments, but ensure you know what you are getting into beforehand. Especially with colored diamonds, since each stone is so incredibly unique, there are no fixed prices. Therefore, you MUST find someone you can trust who will either sell you or at least help you find the right stone to purchase for the right price. If a diamond is purchased at retail price and sold ten years later at wholesale, even with the appreciation, the return can be quite defected. Diamonds should be considered a long-term investment. Therefore, one looking for a quick turnaround should likely go for something else. Certain colors more than others, such as Fancy Intense Pink Diamonds usually above 0.50-carats and Fancy Intense Yellow Diamonds usually above 2.00-carts, will appreciate substantially, however, over a 5-10 year period of time. Lastly, while there are many buyers out in the market, it is not the easiest asset to liquidate. It can and will be done, but it might take time. Utilize the time while sitting on your investment to build up your contacts and develop connections.
The preceding article is from one of our external contributors. It does not represent the opinion of Benzinga and has not been edited.
Posted-In: Markets Trading Ideas
View Comments and Join the Discussion!